As part of the
projecteducate
Artisan Crafts Week, we are posting an
Artisan Crafts ABC
. This week long feature will introduce some popular and some unknown techniques from the artisan crafts world.
This list will by no means be complete, we are just highlighting a few techniques for each letter
S stands for Stained Glass
Stained glass is a method of using colored glass (opaque or transparent colors) to create a glass panel. The colored glass is cut into pieces following a pattern, they are then pasted together either by the lead came method (traditional) or the tiffany foil method (modern).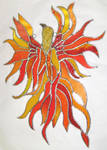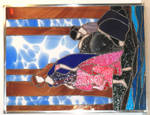 :thumb193136641:
S stands for Scrimshaw
Scrimshaw is the name for artwork created from the by-products of whaling and harvesting other mammals that live in the ocean. It is most commonly made out of the bones and teeth of sperm whales, the baleen of other whales, and the tusks of walruses.
Scrimshaw is often presented in the form of items with elaborate carvings and engravings, sometimes color is added to highlight the engravings. Sometimes the by-products are used to create small sculptures.
From Wikipedia:
"Scrimshaw essentially was a leisure activity for whalers. Because the work of whaling was very dangerous at the best of times, whalers were unable to work at night. This gave them a great deal more free time than other sailors. A lot of scrimshaw was never signed and a great many of the pieces are anonymous. Early scrimshaw was done with crude sailing needles, and the movement of the ship, as well as the skill of the artist, produced drawings of varying levels of detail and artistry. Originally, candle black, soot or tobacco juice would have been used to bring the etched design into view. Today's artists use finer tools in various sizes, mostly borrowed from the dental industry. Some scrimshanders ink their work with more than one color, and restrained polychromed examples of this art are now popular."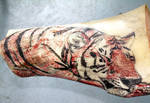 :thumb167313208: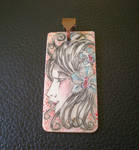 S stands for Stamps
Some artists hand carve stamps, often out of rubber or sometimes erasers. A sharp instrument is used to cut a pattern into the rubber and then the pieces outside of the desired pattern are carved away.
With proper care, these stamps can last a long time.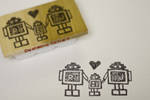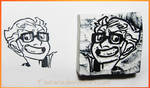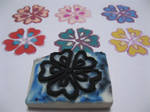 :thumb187507806:
T stands for Taxidermy
Taxidermy is the art of mounting the skin of dead animals to preserve them for display or study. All vertebrate animals can be used for taxidermy.
Rouge taxidermy is the practice of using parts from different animals to put together fantasy creatures that do not exist in real life.
If you do not approve of taxidermy for any reason, please respect the artists and simply walk away, do NOT leave derogatory comments on their work, just do not click the following thumbnails.
:thumb194276368: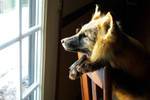 :thumb170944811: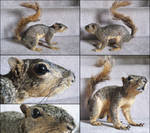 T stands for Textiles
Textiles are a great medium to work in, many artists create amazing art from all kinds or fabrics.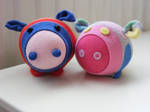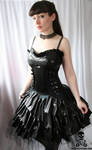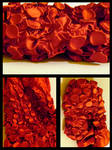 T stands for Tapestry
From Wikipedia:
Tapestry is a form of textile art, woven on a vertical loom. It is composed of two sets of interlaced threads, those running parallel to the length (called the warp) and those parallel to the width (called the weft); the warp threads are set up under tension on a loom, and the weft thread is passed back and forth across part or all of the warps. Tapestry is weft-faced weaving, in which all the warp threads are hidden in the completed work, unlike cloth weaving where both the warp and the weft threads may be visible. In tapestry weaving, weft yarns are typically discontinuous; the artisan interlaces each colored weft back and forth in its own small pattern area. It is a plain weft-faced weave having weft threads of different colours worked over portions of the warp to form the design.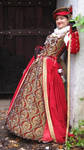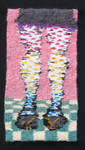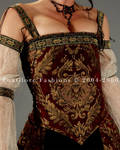 U stands for Unicorns
Unicorns are awesome, nuff said.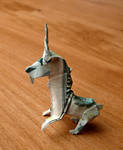 :thumb189936037: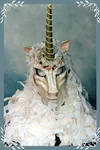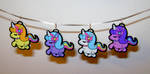 U stands for Underglaze
Underglaze is a method of applying extremely durable decorations to ceramics. Underglaze is typically made from oxide pigments and comes in a limited range of colors. It is applied to the ceramic item before it is glazed and fuses with the glaze when it is fired in the kiln.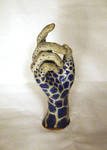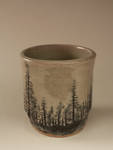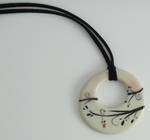 U stands for Uterus
The uterus is an amazing organ that gets much love from crafters all over the world.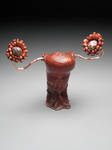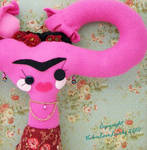 V stands for Velvet
Velvet is a woven fabric that has short fibres sticking out at the top, giving it the distinct velvety feel.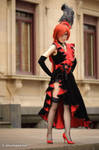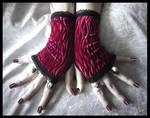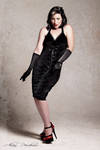 V stands for Vinyl
Vinyl is a very resistant polymer used to make many materials that can be used for crafting. From vinyl figures (like Munnies or My Little Pony figures) to fabrics that can be made into clothes and accessories. And let's not forget vinyl records, which can be used for various crafting projects too.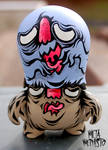 :thumb189740141: :thumb147833829: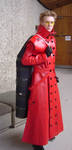 V stands for Veneer
Veneer is a thin layer of wood or stone that is layed over another surface for aesthetic reasons. Most common is wood veneer which is thinly sliced wood that is typically glued to plywood or chipboard to improve the look.
:thumb195295506: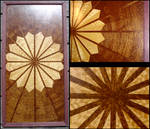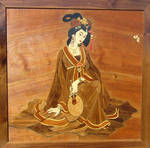 I hope you enjoyed today's installment! Please remember that all descriptions are kept short and there is a lot more information to be found. If you are especially interested in one (or several) of the above mentioned methods, materias or techniques, try a search here on dA or google to find out more.
Cheers,
MyntKat