So, for deviantART's 10th birthday I got to give out five 1 month subscriptions! I asked you to draw/paint/whatever a birthday llama and I got some pretty awesome entries. However, there can only be five winners, and here they are!

:thumb174421100:

:thumb174420251: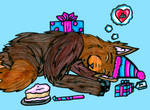 Congratulations!

Happy Birthday deviantART!
And additionally I have a little challenge for you.

Try to take part in
all ten commandment contests
! I know, it's a lot, but you have until the 15th! I will definitely try to make an entry for each and every one of them.

I.
Thou Shalt Eat Cake
- (Artisan Crafts) -
DONE
II.
Thou Shalt Customize
- (Customization)
III.
Thou Shalt Liek Mudkips
- (Fan Art, Comics & Cartoons)
IV.
Thou Shalt Self Portrait
- (Photography)
V.
Thou Shalt Write Thy Memoirs
- (Literature)
VI.
Thou Shalt Believe in Unicorns & Magic
- (Everybody!)
VII.
Thou Shalt Honor Fella
- (Digital Art) -
DONE
VIII.
Thou Shalt Embrace the Llama
- (Emoticons) -
DONE
IX.
Thou Shalt FAQ
- (Everybody!)
X.
Thou Shalt Know Your Internet Slang
- (Text Art) -
DONE