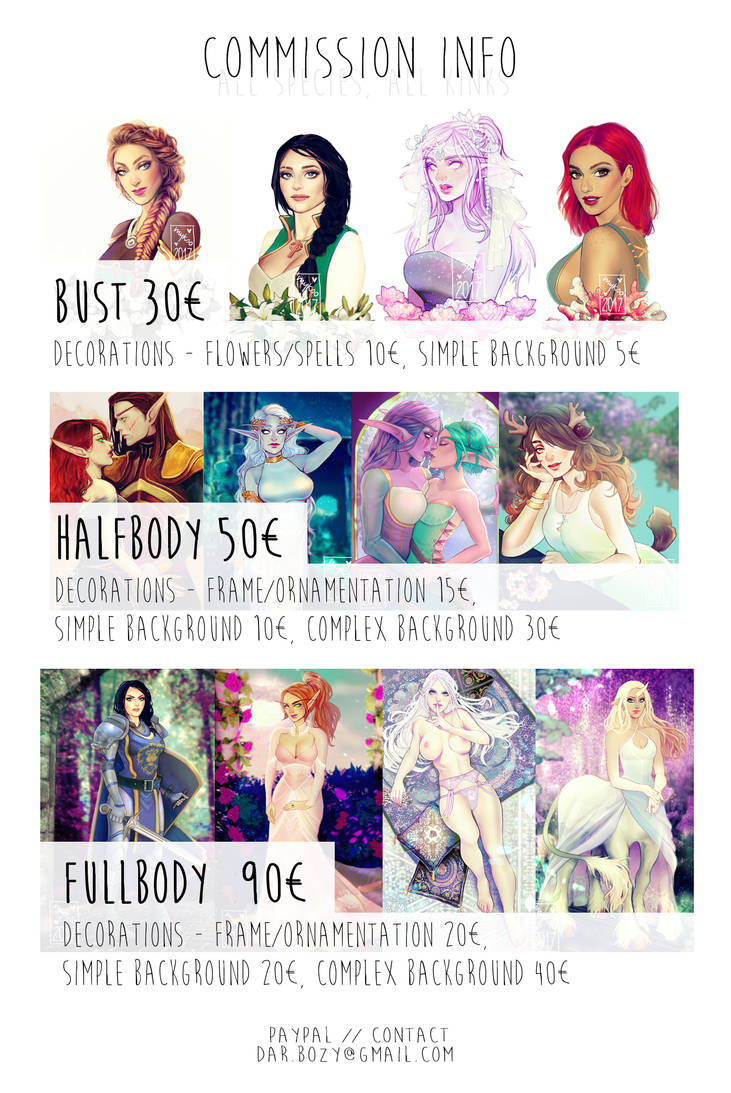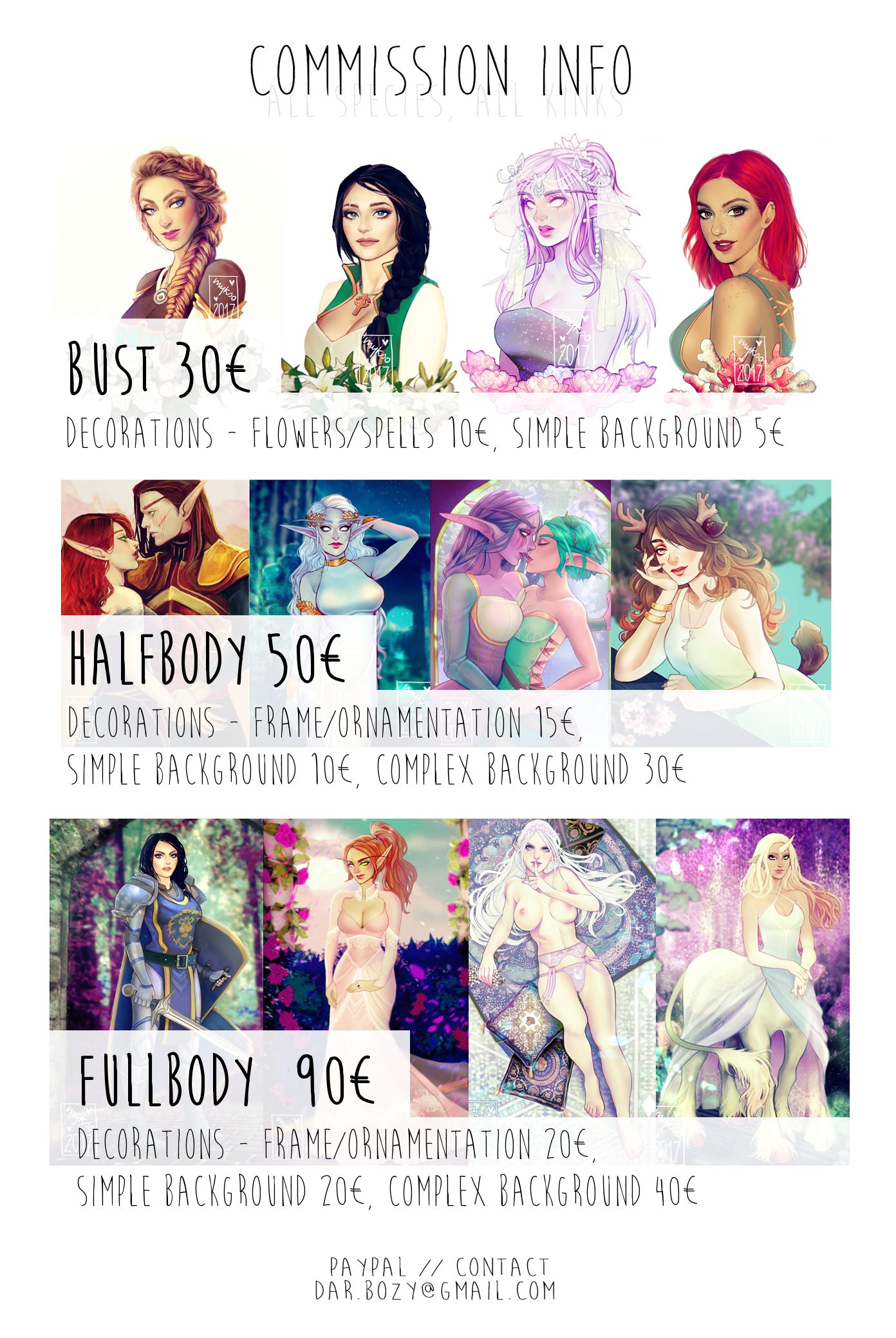 Watch
I WILL DRAW
anything you want!
+18 themes are very welcome
I'm cool with both scifi and fantasy, every kind of love - check out my gallery to get the right feeling.
I WILL NOT DRAW
I don't do anything involving children or gore.
WHAT YOU ARE GETTING
350ppi A4 high resolution file of any format you want (of course it's usually .png/.jpg)
On smaller orderings (portraits), it is... smaller, but still big enough for you to print it if you want. Also if you want, I can prepare the file in whatever resolution you wish.
PAYMENT
paypal - and it means you can pay me in whatever currency you want, it all will be converted to the one I use anyway. Please check your currency exchange here:
www.google.com/finance/convert…
Paypal address is dar.bozy@gmail.com

Also please remember the paypal fee (for some countries, like Germany)! I don't like receiving 10€ payment from which 3€ I have to pay for fees, because you forgot to do it, and I end up being paid 7€ for 10€ commission. I think my prices are a rip off already, please don't make it worse

Simply pick the 'family/friends' payment option on the menu

HOW TO ORDER
Note me on dA with description.
If your commission is something I have already drawn (pretty female, scifi humanoid race concept, step-by-step clothing progress etc.), I will confirm the price and wait for your money transfer. If it is something more complex, we will discuss it.
Once I receive the payment, I am putting you on the next free slot in the queue.
HOW LONG DO I HAVE TO WAIT?!
Each commission usually takes 1-3 days, depending on level and complexity of the piece. Commissions will be done in order, based on when the request is complete. Know however that there is a maximum number of contracts that will be accepted per month. Once the maximum number is reached, commissions will be closed for the month. On average we will accept between 16 and 20 commissions depending on complexity, size and nature of the commissions.
OUR CONTACT
My preferable ways of contact: dA note.

WHAT YOUR DESCRIPTION SHOULD LOOK LIKE:
Brief, brief, brief.
English is not my first language. "Small letters strain me overmuch".
It would be lovely if you just copied, pasted and filled in this form:
Your dA name/Your e-mail:
(something that helps me recognize who you are)
Your paypal address:
(the one that payment has been sent from)
Commission type:
(for example "three characters halfbody", "two portraits")
Character's name:
(so i know how to refer, more graciously than "this dude with scars")
Character(s) appearance:
(age, gender, race, skin/eyes/hair info, scars, jewellery, clothing. Attach links to visual references - pictures of actors, drawings of them you had already done.)
Background description:
(if you ordered one, of course - if not, you will get a nice fitting gradient or white or transparent, whatever I find fitting)
CORRECTIONS/COMPLAINTS
I will send you one WIP on the beginning of my work (usually finished lineart), and you have ONE (!) chance to tell me ALL corrections you want to make. If it is something that is wrong because of my mistake, no problem. If you want something to be changed because YOU change your mind, we will have to talk about extra payments for that.





The owner of this deviation has disabled comments.