This account needs a good dusting and some fresh news to come back to pseudo-life.
So, what happened lately?

The highlight of this summer was the release of Snow White in Germany (sorry english readers, not this time). It was handled by Splitter and I've received a few books at home. I'm pretty satisfied with how it turned, they made an amazing job with the translation. Since it's a slightly narrower size, they had to make some minor changes but everything turned out pretty and clean.

So german readers, if you're interested in my work you can now find Schneewittchen in your favorite bookstore.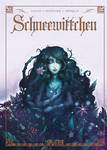 I'm working sloooowly on my next projects, I'm sure everything will suddenly rush at the same time when I'll be the less prepared. But hey, that's what makes you feel alive. (then dead 'cos lack of sleep duh)
Take care, thank you for dropping by