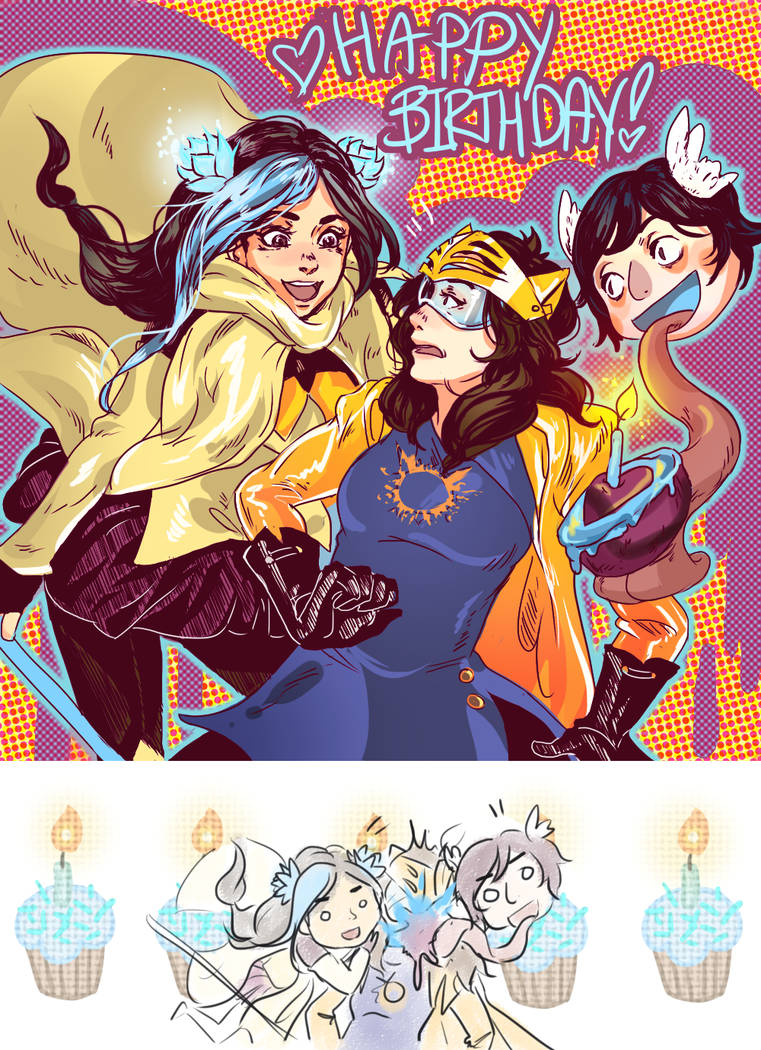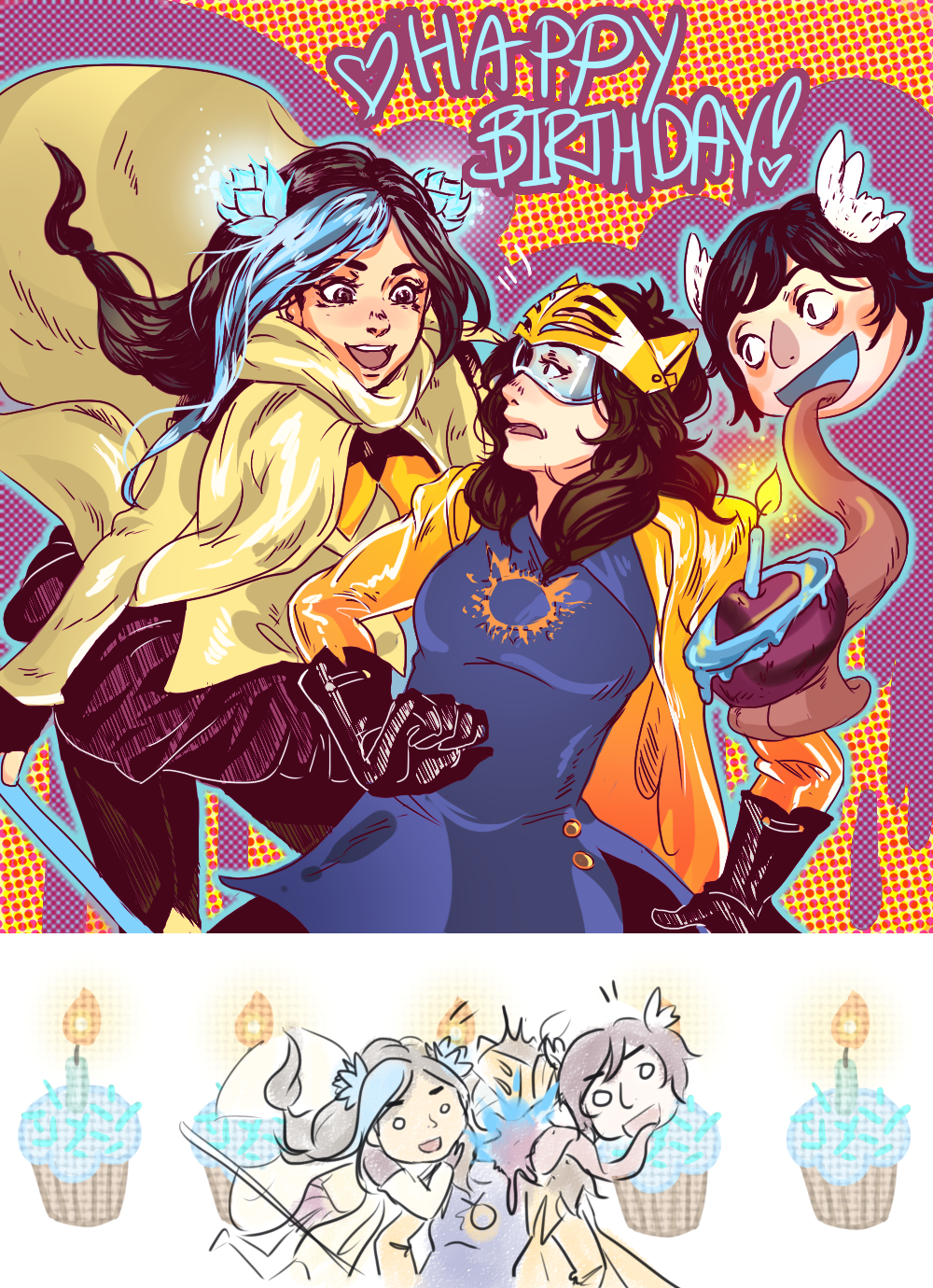 Watch
HA! MIDNIGHT! PERFECT! According to my clock anyways!
I've had this stuff finished for ages, why couldn't your birthday hurry up? xD
HAAPPYY BIRTHDAY =
Meibatsu
~~~!!! YOU ARE LOVELY AND I LOVE YOUUU!
Were you expecting Altra stuff??! LOL
WELLP, INSTEAD THERE'S ORANGEY BRIGHT ACID COLORS INSTEAD! (Because I was like 'oooo I want to try a really bright color scheme' since mine are usually kind of dull BUT THEN I REALIZED I ALWAYS DO ORANGE AND PURPLE ANYWAYS OH WELL e___e) This actually reminds me of rocket power color wise.. hmmm...
but waahhh, I love all of Mei's chars but SoCo and Dysta seemed so classic~! (And I've only drawn SC.. once before this sketchily with pokemon.. xD) ..but all of them! All of her OCs! So lovely and heart-invoking!! ;__;
okeeeyyyy! IHOPEYOUHAVEAGOODBIRTHDAYANDSTUFF!!!
Oh yeah, ummm.. basically Dysta's leaping in to glomp and I am presenting a cake and nananan CATASTROPHEEE!!
Solar Cat & Dysta~(c)~~


OH MY GOSH WOW
I
I JUST CAAAANNNNNNNNNNNNNNNN'T
WAHHHHHHHHHHH
I AM TOO EXCITED ABOUT TOO MANY THINGS IN THIS PICTURE!!
THE ACTION!
THE OBNOXIOUSLY CHEERFUL COLORING!!
THE DOTS! OH GOD THE DOTS I LOVE THEM SO MUCH
THE LUMPY CAAAAKE WHAT IS HAPPENING IT LOOKS LIKE THERE IS SOMETHING IN THERE XD
AND ALSO THE STYLE HERE I JUST
WAHHHHHHH I CAN'T HANDLE ALL THIIIIIIIS I'M OVERCOME BY EXCITEMENT

Reply

YOUR COMMENTS ARE ALWAYS SOS SWEET AND FULL OF FERVOR AND GUSTO AND EXCITEMENT!!! ;_____; GOSH, YOU'RE SO NICEEE!
THANK YOU SO MUCH! YES, THERE IS SUPRISE TONSILS IN THAT CAKE.
JUST KIDDING MAYBE IT'S LIKE.. GOEY MARSHMELLOW FILLING OR SOMETHING!
AND ALL IN ALL ROCKET POWER COLOR SCHEMES, BAM!
Reply

WAAAAHHHH~~~!!! Q_____Q
THANK YOUUUUU!!!!
I love the ways you colour~~~ xD

HNNNGGGHHH.. FLOATING HEAD AND DYSTA WORKED TOGETHER TO LIGHT SOCO'S FACE ON FIREEEEE XD
Dys: o__o SURPRISE!
SC: MY FACE MY BEAUTIFUL FACE!!! DX ALSO I AM BEING TONGUED! HELP!!
Dys: .... >_> .. SURPRISE!!! xD
SC: .. MMm.. chocolatey red-velvet aqua icing cake..

Hahahaha.. I dunno what I'm even gonna do on my birthday! XD
Maybe buy my own birthday cake cuz I didn't book the day off!
URGH I FEEL SO OLD.. C'MON ASIAN GENES, KEEP ME YOUTHFULLLLLL!!! GOGOGO!! XI
Reply

IT WAS A NEW COLORING EXPERIMENT STYLING THING!! WOO WOO!
YOU'RE VERY VERY MUCH WELCOME!!! <33333

Fh: SURPRISE! SURPRISE! xD *wiggles tongue* I CAN SLURP IT OFF YOUR FACE FOR YOU HAHA!


Oh no!! Silly, why didn't you book it off?! xD ..Well, maybe you'll get fun surprises for having a work day birthday xD Maybe you can get some free cake from the bakery!
YOU WILL NEVER BE AS YOUNG AGAIN AS YOU ARE RIGHT NOW! YEAH! YOU'RE ANOTHER YEAR WISER TOO!
Reply

SC: It would be sexual harassment if you did! Plus, it's MY cake. >_> You forfeit all rights to it when ti hit my face.

Because I need money and I am bad with remembering things like "booking days off" LOL.
I am too awkwarded by telling people it's my birthday. Q___Q I just bought a strawberry shortcake instead and some fancy cupcakes. xD
Reply

THE TONGUE WAS STILL TOUCHING IT?? *_____* THEREFORE, STILL FAIR GAME??

Even on your on birthday? XD Oh man! Wellp, I'm having family guests over so I'll just pretend there's a sudden influx of food and good stuff in honor of you, haha! xD
MMMMMMMMM! Strawberry shortcake!!<333 And cupcakes, delicious!! I really wanted cookies today!
Reply

PFT. Oh, floating head... I hope there's a small plate underneath that cake you have. XD
Reply

NOPE! NO PLATES! PLATES ARE FOR THE WEAK! YOLO
Reply

Omg the background and colours are sooo good. I love the pose as well, very dynamic!
Reply