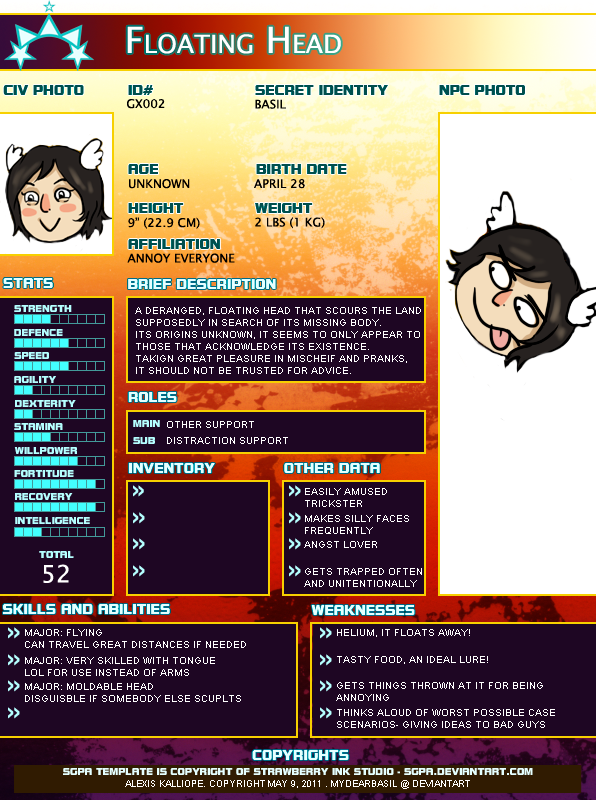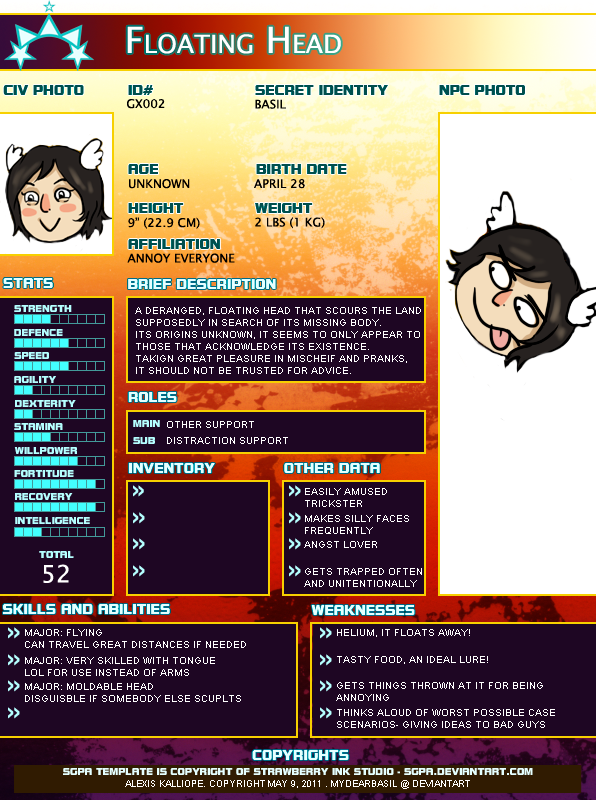 LOOOLLL~ lololol is this going to be a meme.
WELL OBVIOUSLY HEIMDL IS MY ROLE MODEL LOL.

BASIC STATS
Secret ID: LOLBASIL~
Superhero Alias: FLOATING HEAD.
Group / Alliance Affiliation(s): The floating head messes with everyone! And also sticks by Ezra... His Navi haha. WHETHER FOR BETTER OR WORSE! (I mean, seriously he has a really nice place! xD)

Nickname(s): Anything goes!
Age: It's rude to ask a lady her age! (The floating head will not give out such data! ohnoes!)
Gender: HEADS DON'T HAVE GENDERS. Supposedly female by account...
Nationality: Look like some slavic/mediterranean mutt, HMM.
Current Residence: Floats around, taking shelter where available!
Height: ..Maybe 10 inches? I just measured my head via a paper so...
Weight: QUICK, HOW MUCH DOES A HEAD WEIGH?
Eye Color: hazel
Hair Color: brown in floating head form, Black/blue DURING FINAL DIGIVOLUTION.
Hair Type: Some sort of end wavy mess!

Personality
General Personality: Insane.. I mean.. Quirky. Kind of loopy.

Good Traits: Will try to make people feel better, PROVIDES HUMOR AT OWN EXPENSE, a pinnacle of random information, smells good
Bad Traits: NOT VERY HELPFUL, advice sucks, annoying, lazy

Quirks: has a very long tongue. Rolls around a lot.
Fears: Drfiting off into the unknown!! Or getting stuck somewhere..

Memorable Quote(s): "WHEEEE~"

Relationships
Closest Friends: clouds
Enemies: baseball bats
Girlfriend(s)/Boyfriend(s): HEADS DON'T HAVE HEARTS.

Battle
Power(s)

POWER/ABILITY 1: Floating/flying
PROS: Transport! Dodge! (Also rolling is good for this)
CONS: Not very useful, haha. Not very good for agility either.

POWER/ABILITY 2: Floating! Has a putty-like/cartoon-like way of transforming the head.
PROS: Lessens the shock/blow so no injuries!
CONS: It's no elastic man, man. Only helps for not dying.

Weapon(s): a long tongue? :c
Style: ROLL AWAY, ROLL AWAY!
Strengths: Motivational encourgament? Can get hit around, but won't get seriously hurt, yay!
Weaknesses: NO OFFENSIVE PRETTY MUCH, and easily whacked around and stuff. Easily trapped! (But maybe the long tongue can pick locks! Ah-ha!)

Background: Is it a digimon? A stray meatball from the FSM? A freak experiment gone wrong? A ghost? spirit? Nobody knows! The origins are mysterious!~

hey.. this kind of counts as a self insert. XD I am omnipresent like Heimdl, but also will present myself ONLY IF YOU BELIEVE IN MEE!