An interview with
noeling
, thank you so much for sharing your thoughts with us!!
1) First off, please introduce yourself? Who are you, where are you from?
Hello everyone! My name's Noel Cruz and just like all of you, art has been my life long passion. I was born as well as raised in the Phiippines. English is part of standard education so I am blessed to speak both our native language of Tagalog as well as English. I am the third of 6 boys (that's right - all boys!), so growing up was chaotic. My other sibling also possess natural artistic talent. It's rather sad, however that none of them nourished and pursued quite the way I did.
2) How did you get started doing your craft?
Being raised in a relatively poor family in the Philippines, I grew up without the comfort of material things. I found comfort and satisfaction from immersing myself in imagination. At the onset of my adolescense, I discovered and I had a particular fondness for drawing. At first, I would try to draw everything from landscapes to still life and people. But not for long, I gravitated more towards drawing faces, specifically beautiful faces. Just like most everyone, my ideals of what's beautiful were formed from images that surrounded me: books, magazines, tv, advertisements, etc. From this point on, I would only draw faces. Faces have always intrigued and fascinated me and I know that this will always be the crux of my artistic existence.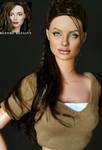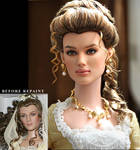 3) How would you describe your personal style? And when did you know you had one?
Early on, I had developed a desire for realism - pencil portraits that looked like black and white photograph. In college, there were a couple of art studios close to the school, and I would frequent those places and watch the artists in action. I was completely stunned and mesmerized by how one can achieve such realism with just the use of a pencil. I knew I had to learn how to do this for myself. I believed that I could do it I just felt it in me. I knew it would only be a matter of time. Of course, at first it turned out more daunting than I had anticipated. But I wasn't going to give up. I saved up all my allowance - skipped a lot of meals in school and sometimes would just skip a ride part of the way to and from school, so I could have money to buy charcoal pencils and art board/paper. Soon, my drawings were evolving and this was the beginning of what has now become my personal style which is one of realism.
With the emergence of the internet, I discovered a new love - repainting doll faces. With online trading, a new hobby was formed - collecting one of a kind repainted dolls. The collectors of these dolls are mostly high-end collectors who desire realistically-painted doll faces. The concept of repainting basically means taking an existing doll and completely removing its original factory facial paint. With the face now blank, this then becomes the repaint artist's canvas. The concept is essentially the same as painting on a flat canvas. The only difference is that with a doll's face, you have a three-dimensional canvas and some of the techniques involved in producing a portrait are different. But whether I'm creating a portrait on paper or on a doll's face, my personal style is unmistakably realism-inspired.
4) What tools and materials do you use? Where do you create - home, studio?
For traditional two-dimensional portraits, it has mostly been graphite pencils, charcoal pencils and sometimes a combination of both. For quite a while, when I first started to develop my style, I used primarily art boards. As I evolved, I shifted to using charcoal paper because the paper's texture added more appeal and depth to my portraits.
For my repainted dolls, my medium of choice is acrylic. Acrylic is quite hardy and applies wonderfully to most surfaces, including vinyl and resin, which are what dolls are mostly made out of. I use ultra fine brushes for the tiny details. Sometimes, certain facial features are so fine that even the tiniest brushes available still need to be trimmed.
I have a dedicated room in my home that serves both as my work studio as well as lighting/photography studio. My computer station is also housed in the same room, that way, everything I need is all within easy access.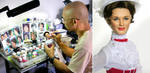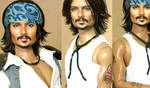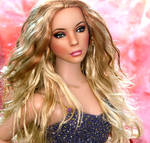 5) In your view, what makes a great crafted creation?
A great crafted creation is one that is not only visually appealing, but one that inspires the imagination as well as communicate to the viewer. In my case, I strive for my portraits to convey a sense of emotion and aesthetic appeal either thru the subject's expression, composition. The mood being created is also very crucial to an artwork. If necessary, it also should tell a story. You can be technically superior with your piece, but if it doesn't communicate or convey anything, then it is not as effective and will most likely be easily forgettable.
6) Do you take your own photos? Any tips you want to share for presenting your work?
Absolutely! I've dabbled in photography for years and am self taught with photography courses along with thousands of hours of experience. I am very hands on with my work and prefer to photograph my own art because it allows me to carry out my vision of how a certain piece should be presented. Since I run a very small business, this also serves an advantage on the economic side of things.
7) What inspires you when you create?
My portraits are mostly based on actual people, whether these portraits are done on paper or on a doll's face. And so my inspiration are celebrities or famous people who I believe have made a substantial impact in our society. It could be a particular actor portraying a very famous character or a legendary celebrity such as the hollywood stars of the the 1940s and 1950s.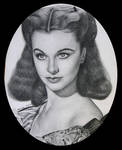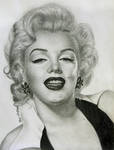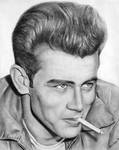 8) What are you up to? Any projects planned?
I have just finished another repaint on a Sybarite doll. A Sybarite is a 16-inch ball-jointed doll made out of resin and highly sought after by collectors. The repaint is one that is straight out out my imagination, with a look and makeup that's cutting edge. I'm also working on another Orlando Bloom repaint. I've always been my Mr. Bloom ability to adapt to many different roles. So watch out for these on ebay.
9) Where would you like to see deviantART head in terms of it's Artisan Craft galleries and community?
I'm so glad you asked me that. I really feel that the Artisan Craft galleries should be given more exposure and promotion. This is one aspect of art that has been around since time immemorial and I feel that we should really raise this consciousness here on dA.
10) What are your fav pieces of art on dA?
"Amy Lee" -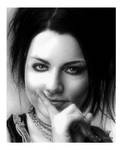 - The overall execution is superior, the subject very engaging, and the piece's mood very dreamy.
"The Story of a Hundred Years" -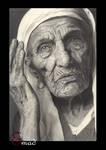 - The title says it all. You can almost discern in her eyes her life's trials and tribulations.
"Portrait of Cordelia" -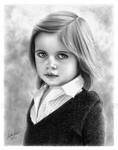 - The child's youthful innocence is perfectly catpured. Vibrant use of shading and highlights really underscore the portrait's dimensionality and realism.
11) What's your favourite creation of your own?
"Jesus of Nazareth" -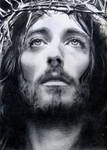 - This portrait to me personifies the essence of the Lord's ultimate sacrifice. I am very pleased with the outcome of this portrait, especially since this was done at a time when I was really trying to hone my shading skills. The lighting of the subject, the powerful emotion and expression as well as the technique all come together to make this piece one of my favorites.
"Mom" -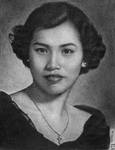 - My mother, Carmen, has always been a woman of grace and beauty all her life. Sadly, she passed at a very young age of 52, but the memories of her love, devotion and affection will forever live. Thirteen years after her death, a very young photo of her turned up, which has been kept all these years by my cousin. The photo was the reference for this portrait. Never have I been enthralled and mesmerized by a photo as I have been by this particular portrait. It captures her true essence and gentle beauty at the prime of her youth.
"Doll Repaint - Mary Poppins" -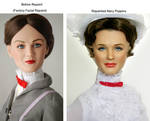 - Mary Poppins is one of my all-time favorite Disney movies and Julie Andrews' portrayal was phenomenal. The doll started out looking very funny and sadly failed to capture Ms. Andrews' likeness. At first, I wasn't sure that the doll's sculpt was spot on. But, I took this as a challenge and carefully reworked the doll's hair and repainted her face to faithfully replicate Julie's likeness.
12) What is the best tip you can give to others?
There are a few tips I can share. The first is to hold on to your dream. Never give up and never let go. I know this from experience. It's when you let go that you stop growing as an artist. I believe that as an artist, you never stop growing and evolving.
Second, keep pushing yourself. Don't keep yourself confined in a box. Art has so many possibilities.
Third, find your own style. Never copy another artist's exact style. Let other artist serve an inspiration, but in the end, you have to come to your own and establish a style that will uniquely identify you as an artist.