Just thought I'd update this journal.
Nothing much really new in my world. Just keep on trucking on with lifes. I am looking to get promoted at my job which is quite awesome! Who doesn't love more cash? XD
Thanks you
C-91
for featuring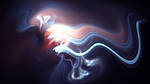 as a daily deviation! It is quite an honor. Thank you to all those you enjoy my work. I love you!
That is really it. Until next time moochiboos.