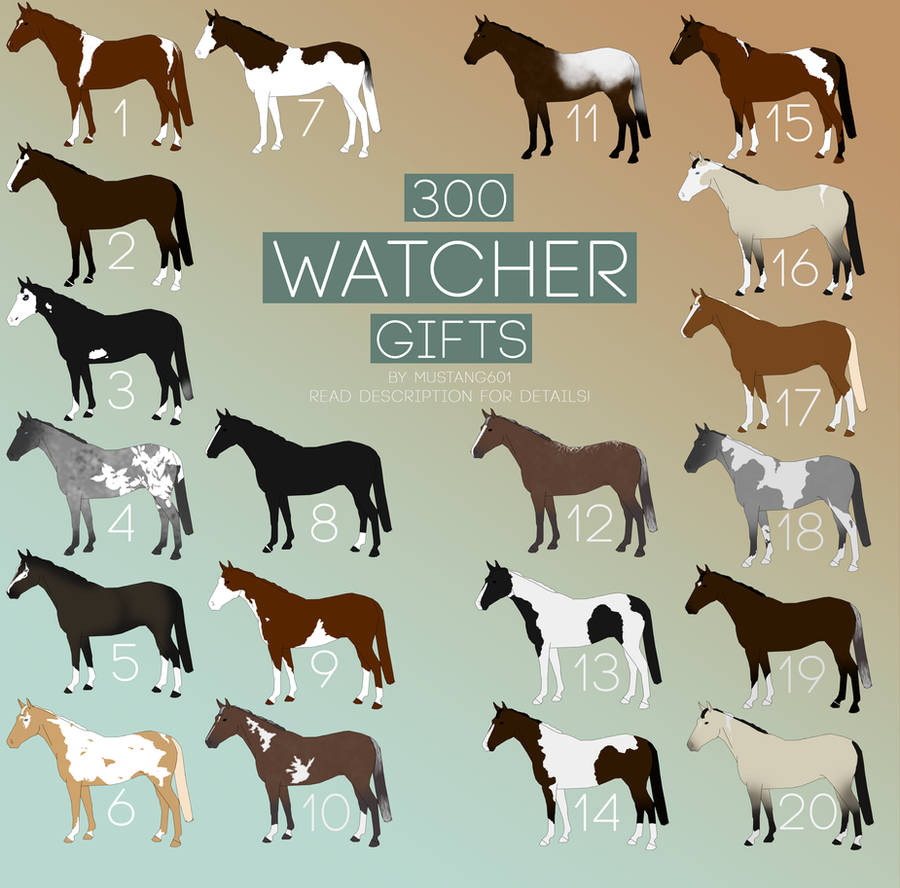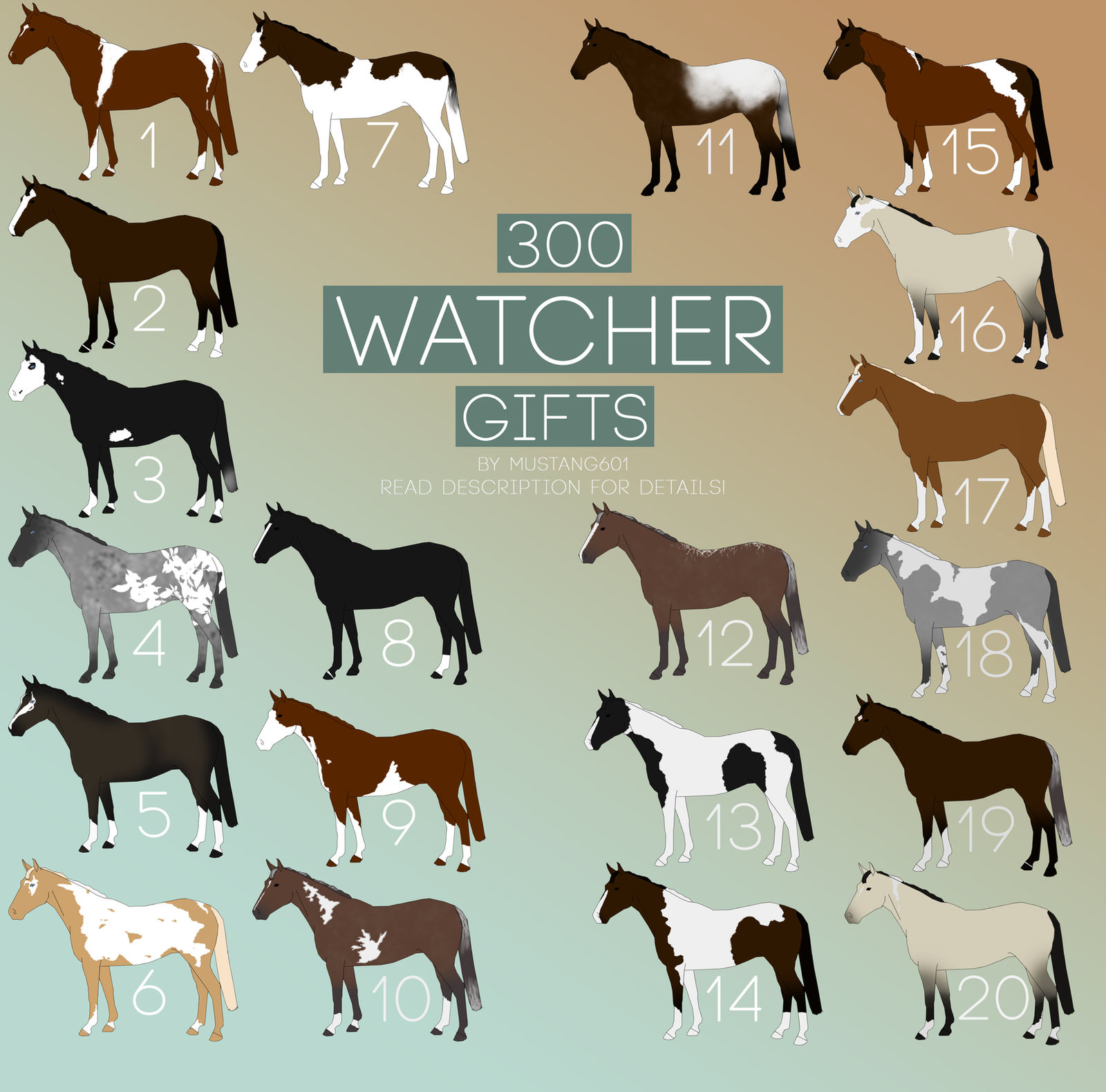 Watch
In celebration of my 300 watchers/50 subscribers, I'm doing a giveaway!
Thank you all for sticking with me throughout the years and for all your support. You guys are amazing!

Rules

Designs are Free!
One per person
for watchers only!
***EDIT: leftovers up for taking! No restrictions on how many you can have!***
-- Just comment with the number(s) you want


Please credit me for the design and show me once you've drawn it!

Please don't sell on the design (selling a horse later if you've drawn it/named it/shown it is okay, though

)

Designs are first come first serve. There will probably be more if there is a lot of interest.

If you decide you no longer want it, please return it.
You can choose the breed, gender .etc and make slight changes to the designs (such as eye colour, or making it more realistic) if you'd like

Designs:
** Please view in Full Size for full details!**
1. Chestnut Tobiano with stripe/snip -

TAKEN by
cutewolf1233
2. Bay with blaze/2 socks -

TAKEN by
B3AR-CH13F
3. Black overo -

TAKEN by
killada
4. Unnatural (Dapple grey/Blue Roan/Roan Appaloosa - your choice!) white leaf pattern -

TAKEN by
appieloosa
5. Grullo with Badger face/socks -

TAKEN by
slayingallhumans
6. Palomino Manchado -

TAKEN by
StarGTDealership
7. Bay splash -

open
8. Black with stripe/sock/coronet -

TAKEN by
Blackberryrabbit28
9. Chestnut Sabino/Overo (?) -

TAKEN by
appieloosa
10. Silver Bay frame overo -

Keeping!
11. Bay blanket with star -

open
12. Silver Bay with Lacing(aka cat back) -

TAKEN by
Synnovve
13. Black Tobiano -

TAKEN by
Samara0621
14. Bay tobiano -

TAKEN by
cutewolf1233
15. Bay/Chestnut Chimeric Tobiano -
TAKEN by

BlackBloodIsle

TAKEN by
Serenade-The-Wolf
16. Buckskin Medicine Hat Tobiano (?) -

TAKEN by
stephaniedraw
17. Flaxen Chestnut with Blaze/Stockings -

TAKEN by
oakhollowd
18. Blue Roan Tobiano. -

TAKEN by
MiszD
19. Bay Gulastra Plume with star/sock/stocking/coronet -

TAKEN
SilverCreekEquestria
20. Buckskin minimal tobiano with stripe/socks -

TAKEN by
MammothEquine71
Any questions? just ask