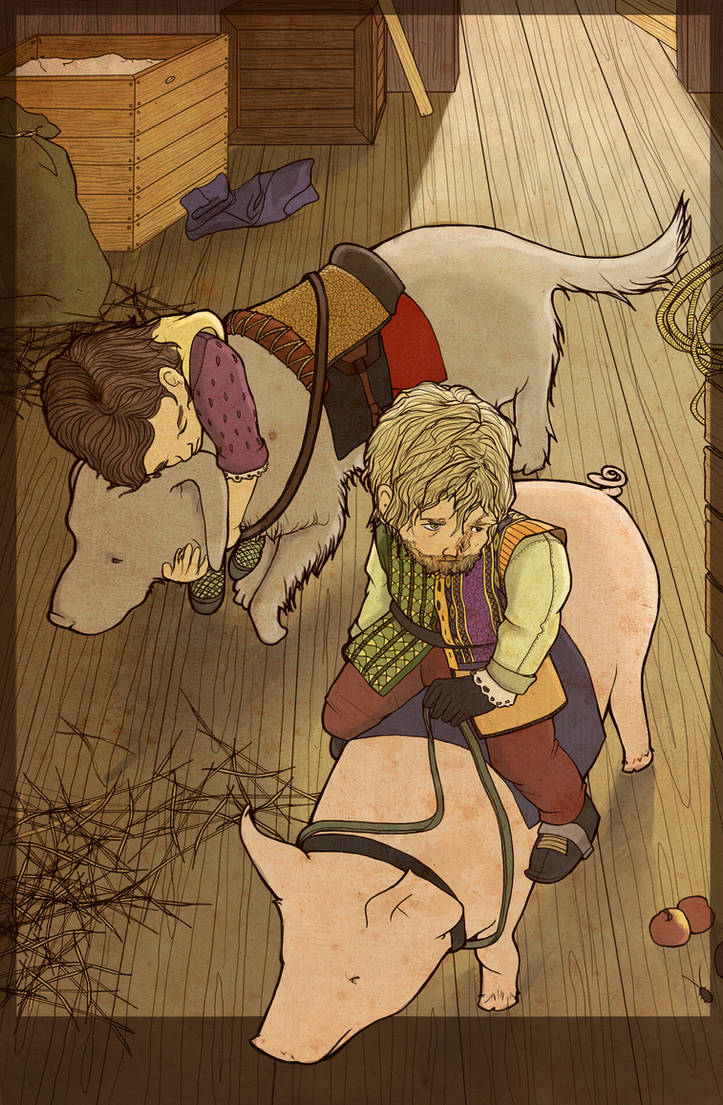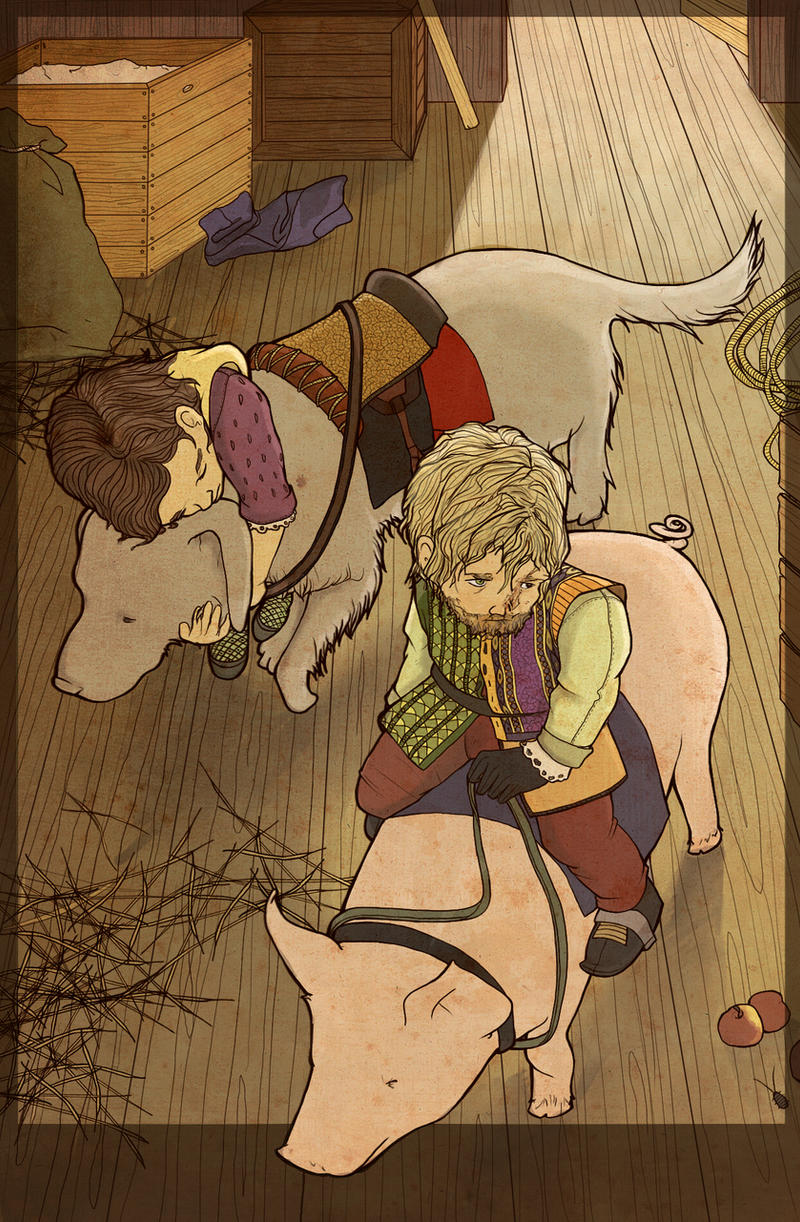 Watch
I finished this a long while ago, but didn't submit because this is the exact example of an "looks amazing in my head but turns out to be horrible" drawing. But nowadays I put that blackish border on it (because it looked way too empty without it), and decided to upload it, since I haven't produce too much lately. Damn art block just don't want to leave me alone.

Anyway it was nice to draw Pretty Pig and Crunch! I used reference for them.

Tyrion, Penny, Pretty Pig and Crunch belong to George R.R. Martin

In my headcanon Crunch and Pretty Pig both escaped the Yunkish camp unharmed and are having adventures in the countryside.
Reply

MIlyen formásan bekanyarodik a koca farka.

Mit csiláltáltál a deszka mintával? Nekem bári lehetséges ami az eszembe jut egy örökkévalóságig tartana. Gondolom a szalma is eltartott egy darabig....
Ott egy Gregor a kép sarkában.

Reply

Deszka minta: lendületből húzni halvány vonalakat, némelyiket kanyarítani. 1 perc.
Szalma: lerajzolni 1 szalmaszálat, utána duplicate a tetszőlegesen megforgatott szalmaszálak összességével. 2 perc alatt ott a halom.
Amúgy én minden rajzomnál ott használom a duplicate-t, ahol tudom. Ruha mintákat például egy pillantásra lehet vele alkotni egy egyszerű hullámvonalból pl.

Ki az a Gregor?
Reply

Akkor felbérellek deszkázni... Most tanultam egy új trükköt.

Gregor a csótány-bácsi irodalom óráról aki egyszercsak csótánnyá változik. A családja meg tesz a fejére onnantól, pedig szegény Gregor mindig érük dolgozott. A végén meghal és kidobják a tetemét a szeméttel.
Reply

De jó lesz nekem, én leszek a deszkázó! Tiszta Köbjani!

Ja, hogy a Kafka Gregor bácsija! Így már világos. Akkor ezt a képet nevezhetjük crossovernek.
Reply

Reply

Reply

Thanks, it looks like I imagine the scene and the situation. Good work!
Reply

Awww, Pretty Pig is so cute

Reply

I've probably written this on quite a few of your artworks, but I simply love the scenes you pick!
Reply

Interesting perspective! Thanks!
Reply

Neat!

Reply