Salaamoalaykom.  
This is an activity.  It is like a contest, but we don't give prizes like subscriptions, but we may have a poll and the winners will have their artwork featured on Muslim Manga.  
Ayeh is the girl in our logo.  She wears a green hijab- occasionally orange.  (Her favorite colors are green and orange.) She has a very nice and positive personality.  She likes to help out her friends and classmates whenever she can.  
This activity will be about Ayeh and her classmates.
She has been going to high school in Japan, but she stills covers up properly.  Recently, she decided to start a Muslim Manga Club in her high school to teach her friends about Muslims and Islam.  
Use your creativity and draw her with her classmates.  He classmates can be Muslim or non Muslim or both.  Be creative.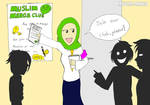 :thumb346535052: :thumb347564633: :thumb347347556: