AsSalaamualaykum.  Sorry for the long delay but the winners of the Muslim Manga anniversery contest (original post here: muslim-manga.deviantart.com/journal/Muslim-Manga-5th-Anniversary-Contest-Closed-448862717 ) are finally available.  
Here are the winners:
first place
Happy 5th Anniversary Muslim Manga by Rahimi-AF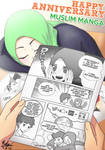 second place
Muslim-Manga 5th Anniversary! by Ukhti63
third place
contest entry for muslim-manga (5th anniversary) by piyochann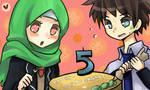 Any prizes that are mentioned in the original post will be given by the person listed next to the prize.  The subscription and points prizes will be given shortly inshaAllah.