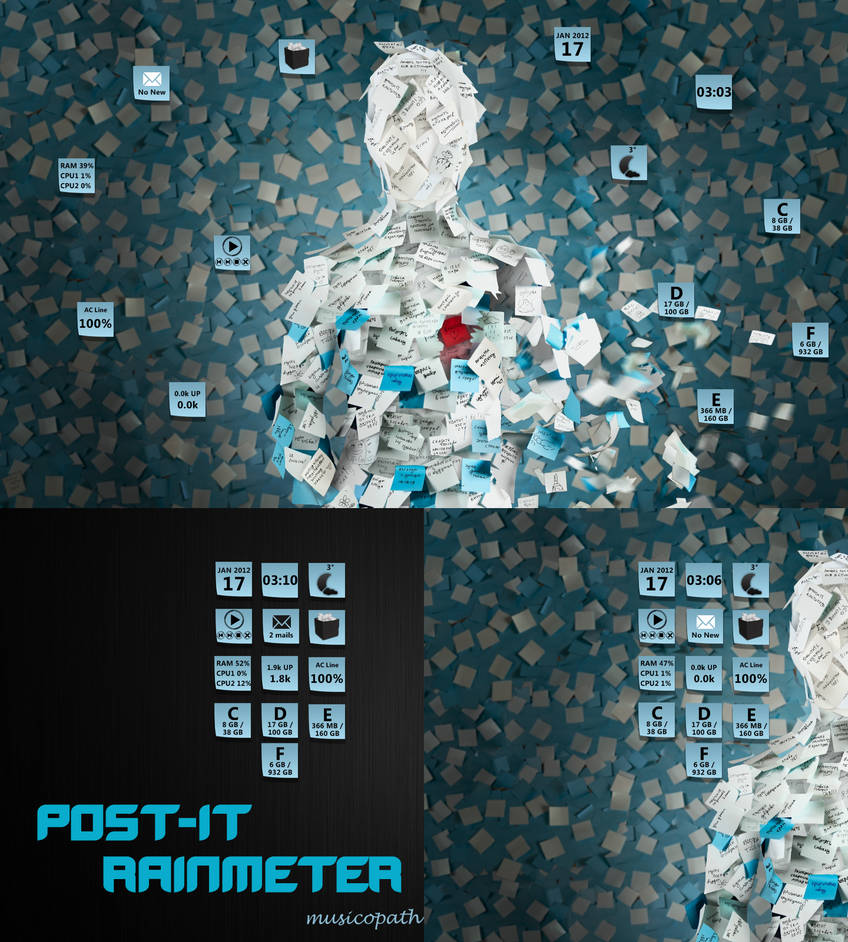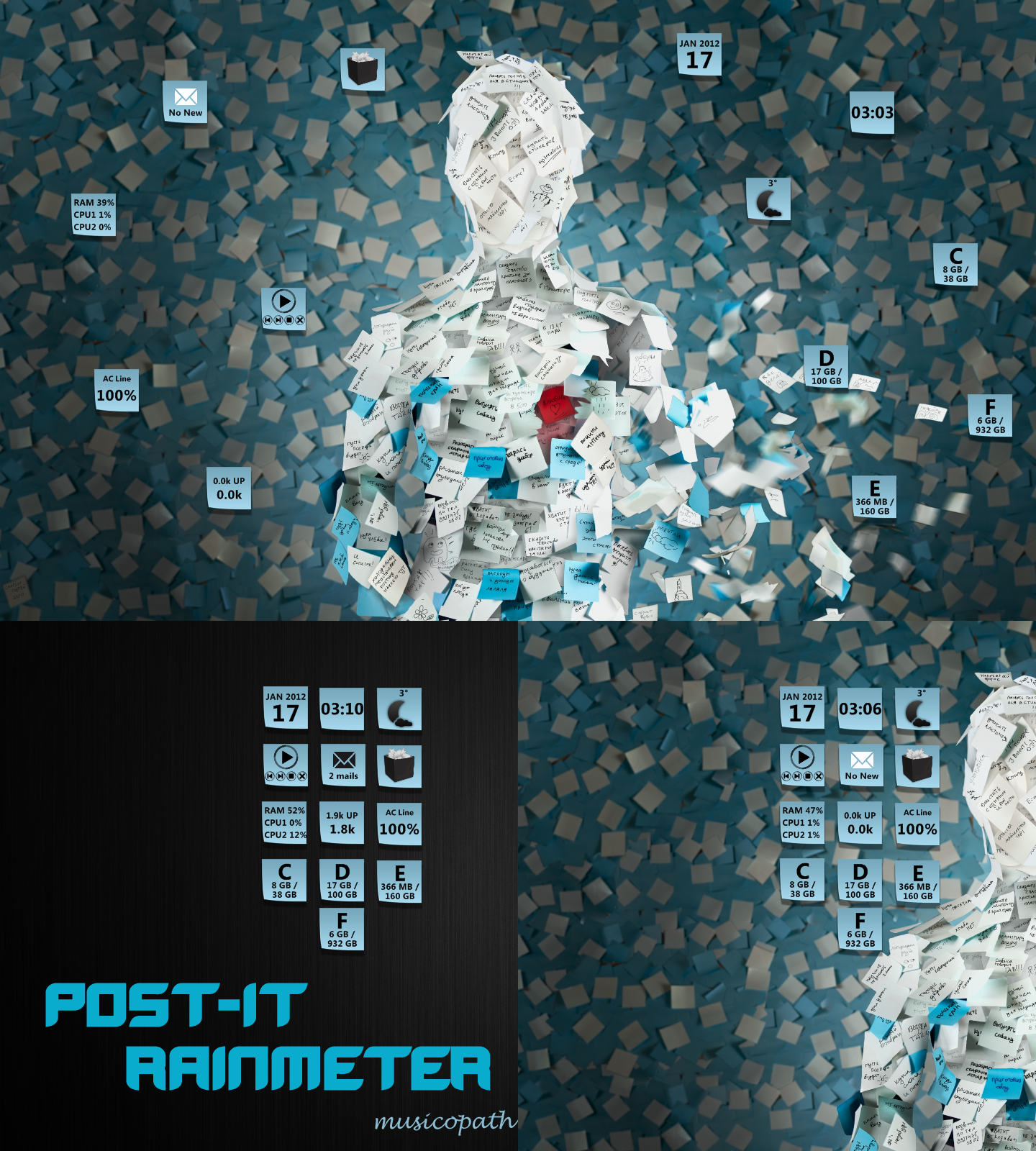 Watch
POST-IT for RAINMETER
Includes 10 skins.
1-Date
(Shows date, day, month and year)
2-Clock
(Shows time, 24H and 12H AM/PM)
3-Weather
(Shows current weather conditions of your city, find your
Weather.com
and paste into .ini file under variables section)
Weather Icons:Plain Weather Icons by ~MerlinTheRed4-Player
(Player Skin for Rainmeter NowPlaying Plugin)
Rainmeter 2.1 beta r816 (or higher) is required to install this skin. Download it from rainmeter.net
NowPlaying.dll?
- It can display track information, including cover art, from multiple players (AIMP, foobar2000, iTunes, MusicBee, MediaMonkey, Winamp, WMP, and more. View list of supported players at
[link]
) and allows the control of the players
- Supports ton of file formats (OGG, OGA, FLAC, MP3, MP4, M4A, M4B, M4P, 3G2, WMA, ASF, APE, WV, MPC)
- Only requires a one line change to switch between players
- Unicode compliant
- And more.. Read the
manual entry
for detailed information.
Credits to ~poiru for Soita skin.5-Battery
(shows battery status of computer)
6-Network
(Shows network status for both upload and download)
7-System
(Shows 2 CPU and RAM)
8-HDD Drives
(Shows free/total capacity of hard drives)
9-GMail
(Shows new emails for Gmail account)
10-Recycle Bin
(shows recycle bin information)
Recycle Bin Icons: Box Style Recycle Bin by ~azad720Credits to wallpaper artist, just don't remember where I found it.
Wallpaper:
[link]

Reply

very nice idea

Reply

Shouldn't one of the Postit notes be a Postit Note where you can actually write notes on?
Reply

definitely it should, maybe will come within first update

Reply

Well it just seemed like it should have a Post-It Note as well.
I have a question if you don't mind answering...
I am trying find out how to create the .rmskins file or compressed files, but the link that explains it is dead. Here is the link that is posted here on the Rainmeter site :
[link]
Thank you in advanced... it'd just be nice if I could upload a couple of skins sometime.
Reply

nice,,,

+Fav it,,
Reply

very nice, i love the concept! Nice wallpaper btw!!!
Reply