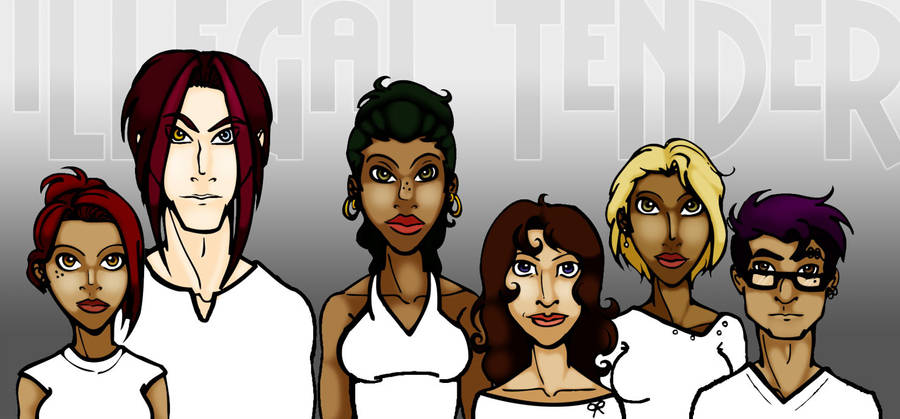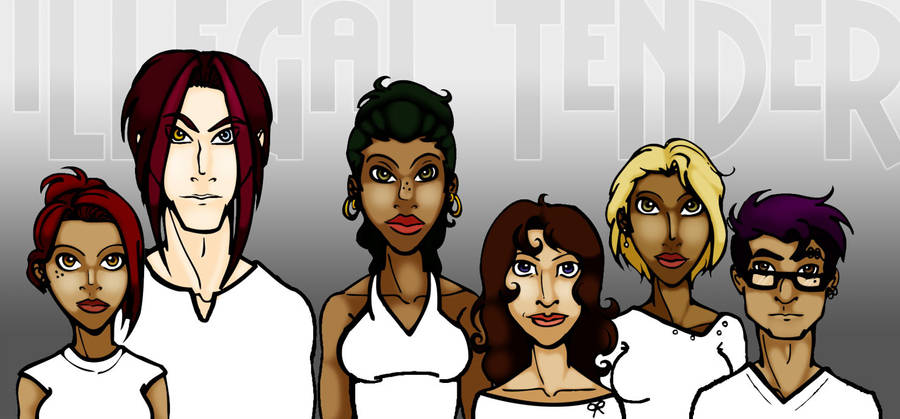 Watch
New comic for the new year. Meet the main cast of Illegal Tender, from left to right: Lily 'Kiddo' Breland, Emil Zell, Zen Love, Del Landau, Sonya Dey, and Darkly Vegas.

Sonny and Dark kind of got a little make over. When I did the sketches I realized all the girls had long hair and I wanted someone to have short hair so Sonny's hair went on the chopping block. I just squared out Dark's jaw - this is actually how I wanted him to really look when I first created him.

Please download for the non-blurry condensing of DA
They all belong to me

Humm... it's funny. The anatomy in the faces changes dramatically from character to character and is strangely inconsistent. The eye shape seems over-slanted and frequently too big, while the faces seem too long and narrow. the features also seem to fill the face too much again and the eyes look too close to the head in some of them.
Keep working though you'll get it.

Reply

But...they are supposed to look different on each person. I did that on purpose so they wouldn't look related. As for long faces and necks I've decided that's going to be part of my style. Plus I like big expressive eyes. I really did sketch them out to correct facial specs and I hated the way they looked, it just didn't feel right.
Heh, like any artist I'm constantly refining my style

Reply

Well, I'm sorry but the eyes are in the center of the head in all people. Everyone's eyes are the midpoint of the head, and being consistent with facial anatomy and proportions won't make them look related, it'll make the picture look better.
Reply

Agreed. I'm working on that.
Reply

Good.

You'll be surprised how much your work improves with continuity in anatomy and proportions.
Reply

Yeah, please don't get annoyed with me and my inconsistencies

I'm actually a little better than I used to be about them.
Reply

Now lets see what they can do.
Reply

From left to right:
Energy based powers.
Enhanced Agility.
Super speed.
Super strength.
Flight.
Genius.

They may have multiple powers. I'm still fine tuning it.
Reply