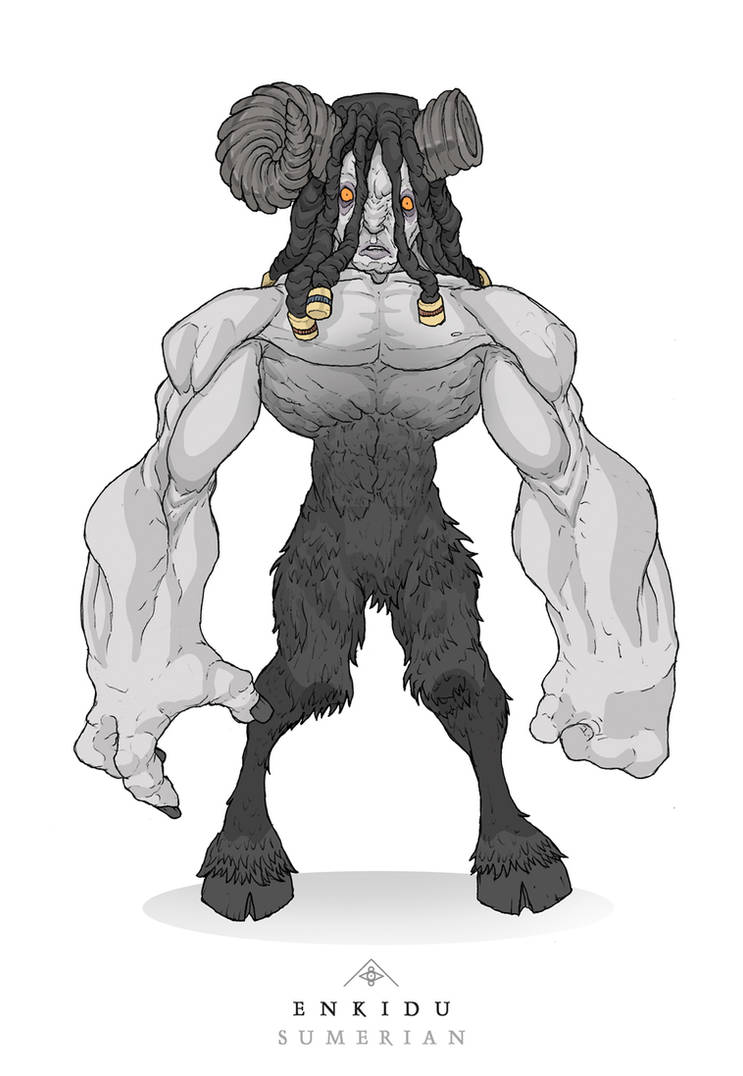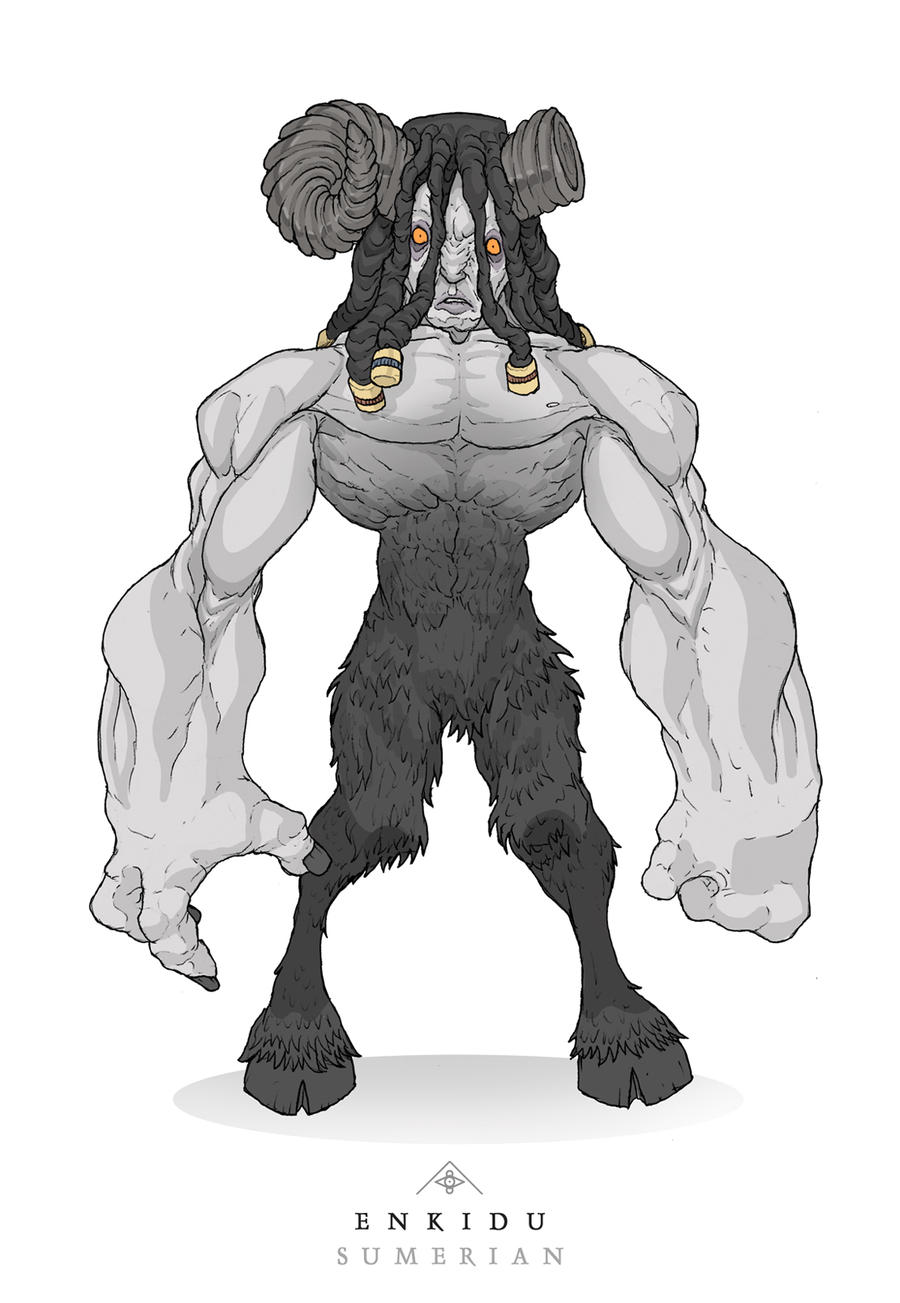 Watch
It's been a while since I did one of these! This Grumpy Gus comes to us from ancient Sumer, from The Epic of Gilgamesh. Ol' Gil was an arrogant king, so the gods created Enkidu--a wild man of incredible strength--to be his rival and humble him. Gil eventually won their wrestling match, but they became the bestest of friends afterward, and went on many wacky adventures! ...until the gods struck Enkidu dead for killing their divine bull. Man, do these gods run hot and cold, or what?

Anyway, though there really wasn't much mention of his appearance, aside from being a "wild man", he was often depicted in art as a satyr-like creature, with horns and hooves. That's one wild and crazy guy! Also, I didn't intend for him to look so much like Necalli from Street Fighter, but that's where I landed.


Nice...

Reply

Thanks, Brannon! He's a bit more straightforward than my other designs, but I guess in some cases it works.

Reply

Really like this interpretation of Enkidu! The "wild man" look to him is pretty fantastic here

Reply

Thanks, man! After I drew it I worried it was a bit plain compared to the other designs, but I guess it's good to mix it up. Plus I just really wanted to play around with cartoon anatomy!

Reply

I never heard that tale before. Seems like the Gods of Old were still up to their crazy games. The story reminds me of Basajaun from Basque mythology. Wild giant men although supposedly they were gentle giants.
Reply

Yeah, it's a really cool story! If I'm not mistaken, it might be the first written narrative. It goes way back!

I hadn't heard much of Basque mythology, but that sounds cool, too! I'll have to check that out!

By the way, sorry I'm falling behind with answering comments! I haven't had a chance to get on dA as much as I'd like lately! Work and the holidays are gettin' me busy again, plus I had two comic conventions this month. Bonkers!

Reply

Oh are they as old as the aboriginal stories? My favorite one is of the of the Rainbow Serpent. The Aborigines don't have a written language, but they make bark paintings and other illustrations using simplistic shapes to tell their stories. It's really remarkable that they practice these traditions today.

Ah don't worry bout the comments as these are your works no one else's so you get to choose when, and who's to reply to. Plus work is good more business is more money. If you make another Creepazoids character sheet might I suggest the inhabitants of the Oddworld franchise. It has some strange beings yet not too much artwork on them. I know you can make an amazing depiction if you ever want to take a shot at it.
Reply

Oh, that's a good question! I think it's supposed to be the first to be written down in primitive words rather than images, but I can't say for sure. The Aboriginal stories sound pretty amazing! I feel like I've heard of a Rainbow Serpent before, but nothing specific comes to mind. I'll have to look into those! Are those from stories from Aboriginal Australians, or are they from a different part of the world?
Ah, gotcha! I try to make it a habit to answer them all, but I start to fall behind, and then I'm like, "Well, this comment if from at least a month ago... it's probably better to just let it be."

I let that happen too often, but it can be hard to keep up when things get busy! Thanks for understanding!

Oh, that could be interesting! Not sure they'd fit as Creepazoids, but they do sound like fun to play around with! I'll check them out. Thanks!

Reply

You're correct, they're the Aborigines from Australia and the Rainbow Serpent is one of many stories they know. It was said that the Aborigines roots go back as far as 60,000 to 40,000 years. They are the the eldest people I've heard about, but I would think there would be some even older than that.
No problem just do what you can in the order that you can.
Here's a little website to on some of the creatures in the Oddworld universe to help you out:
oddworld.wikia.com/wiki/Catego…
Reply