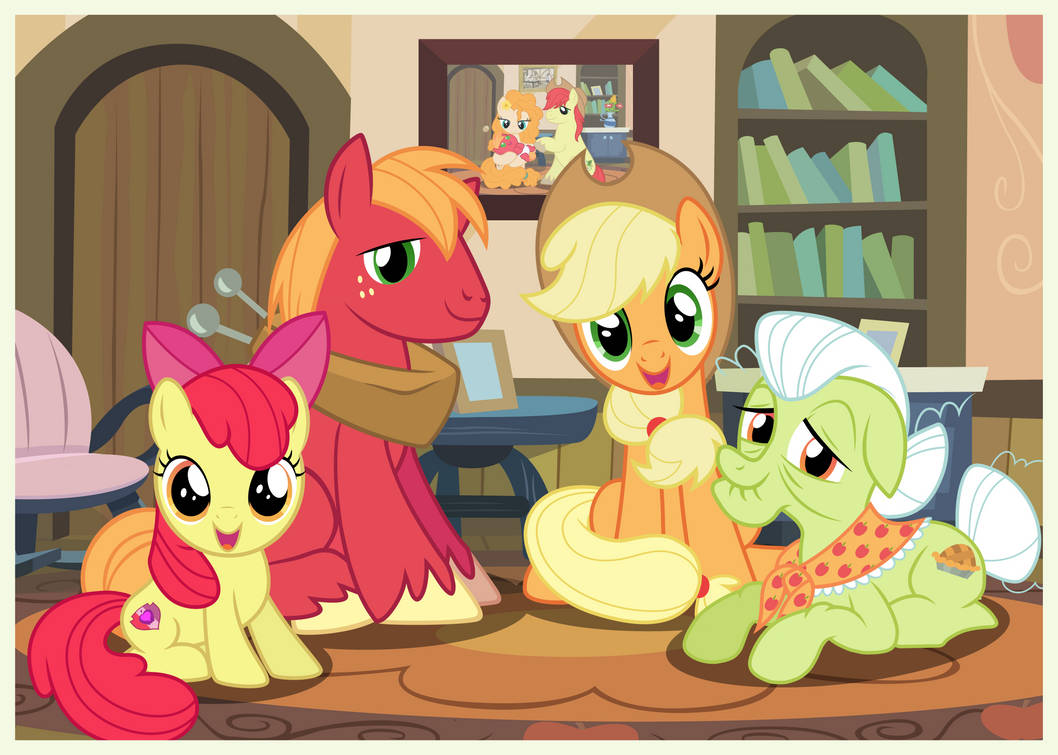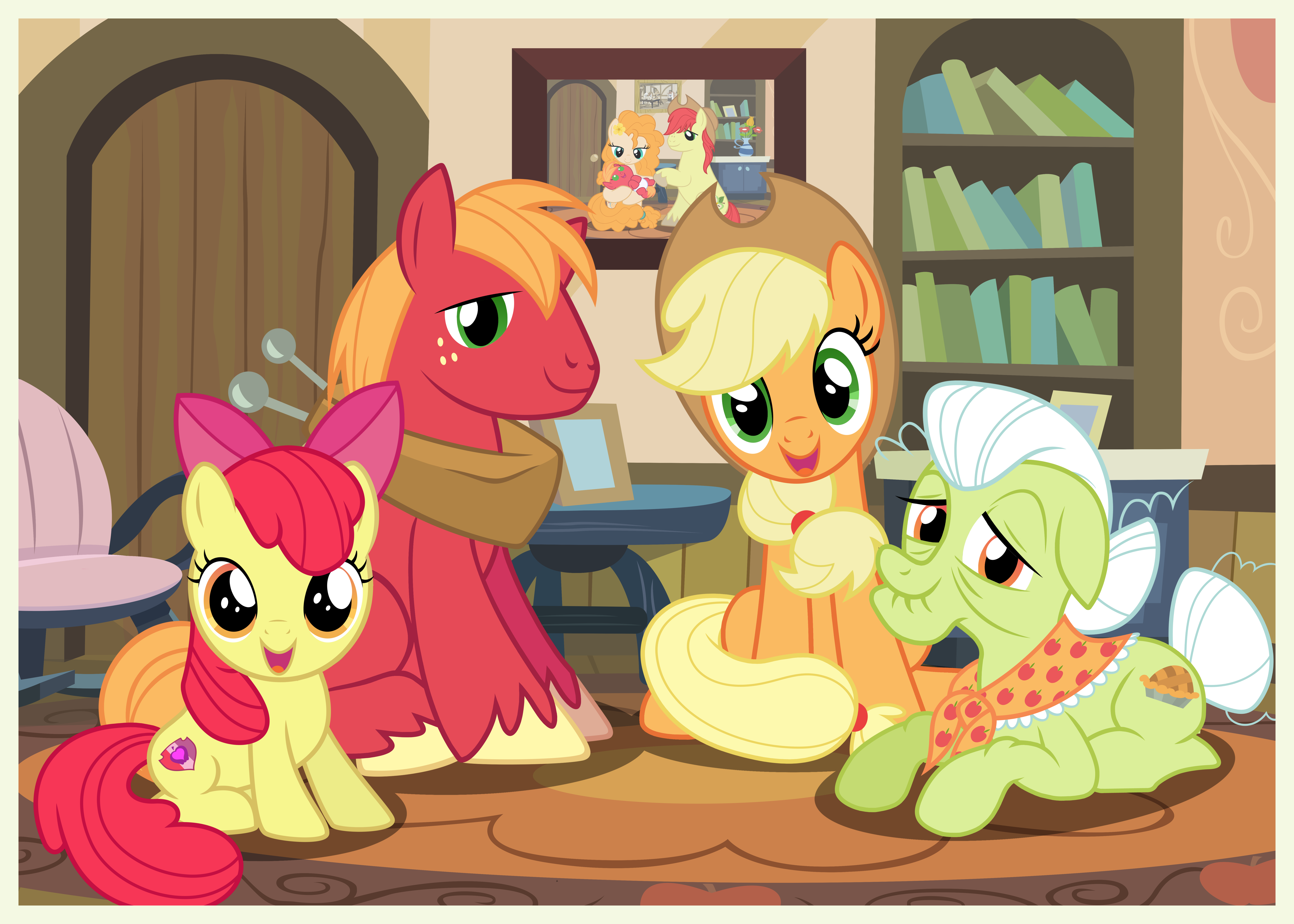 Apples! Lots and lots of them. It would have been way too much work and way too confusing to put up the WHOLE Apple family here, so I focused on the Apple's core, so to speak.
Before we fully descend into the realm of bad Apple puns, let me just say that the idea to making this picture was basically the seed of this whole project. I imagined how it would be to make such a portrait for every of the Mane Ponies, and one thing led to another.

I definitely wanted to include Pear Butter and Bright Mac, though not as ghosts or stuff like that. Hence the idea with the picture on the wall. Already seeing the questions coming, I intended it to be released
separately
as well from the get-go! So don't worry, all you Apple parents fans

Credits roll:
Background by the great and powerful
BonesWolbach

once again!
Big Mac and Granny Smith completely drawn by me

, Granny's cutie mark by
The-Smiling-Pony

Apple Bloom mostly by me, based on a vector by
thatguy1945

, cutie mark by
KyssS90

Cuteness bomb AJ based on two different vectors by
EStories

, with some tweaks here and there by myself

I loved it! Goooood job!!!!!!!!
Reply

Reply

This Deviation was featured in the following Equestria Daily Post
www.equestriadaily.com/2018/08…
Thank you for providing pony material for all of us to enjoy

(This bot is unofficial, it is NOT affiliated with Equestria Daily. If you do not wish to get these notifications anymore, please just block this account.)
Reply

I love the Apple family, I love the spirit between them, like Big Mac and AppleJack, a good brother and a good sister, and Granny Smith is wise and little bit funny, and I love the little Apple Bloom, she is soooo cute.
(How many of you knows that in the Japanese version Apple Bloom has the voice of Pikachu?)
Reply

Reply

I thought very hard about including him or not, believe me. But I ultimately decided against it.

It may sound a bit harsh, but in my opinion he hasn't quite earned a spot on a picture like this yet. Please don't take me wrong, but he just doesn't quite "feel" like part of the family at this point...
Reply

That's understandable in it's own right. Part of me feels like he needs to earn that after what he did relating to the feud. Although, I also feel that Granny Smith should have lost some trust from the Apple Siblings for, by a certain definition, lying to them about their Pear bloodline, especially to AJ and Big Mac.
Reply

I'm absolutely with you there. The Siblings would have every right to be mad at Granny, for keeping all this under the carpet for so long. Especially for a family like the Apples, who cherish family above all! I'll cut her some slack, she's known for being extremely stubborn (knowing how that feels, my own mother actually is quite the same

) but she should at least show some genuine remorse.
Looking back at the flashback memories, both Granny and Grand Pear are equally guilty of letting this feud escalate. And they both made terrible mistakes, Grand Pear right away by walking away from his daughter and Granny later by hiding/lying about their ancestry from their grandfoals. Now I'm wondering why Pear Butter never told them. Maybe she didn't want to think too much about it either.

Reply

I lost respect for Granny Smith in that episode despite it being a favorite in season 7 and all of mlp. I also could have seen her renouncing Bright Mac and him going with Pear Butter and the pears after that; the situation is easily reversible.

I cut Pear Butter slack in that regard since she probably was going to tell them; I want to believe that. But since she and Bright Mac are gone we don't know their feelings about it, especially hers. I want to believe that she doesn't hate her Pear origins after what her father did not do I believe she hates her entire family. It does bring to question what happened to the rest of the Pear family since I want to believe some of them did not like what Grand Pear did and broke ties with them. The reason why we haven't seen them is just due to the lack of long term communication not really existing in Equestria like in our world.

Personally, it probably would have benefited Bright Mac and Pear Butter to just have runaway all those years ago; not renouncing their families mind you but just getting away from them for a while
Reply

My thoughts are pretty much the same, again. That's the reason why I'm disappointed that we didn't get a follow-up episode to "Perfect Pear" yet. It would be nice to see some solution to this whole situation, preferrably a solution that wouldn't make Granny and Grand Pear look like complete jerks. Though if the show contiunes it's current course, I serioulsly doubt it...

Reply