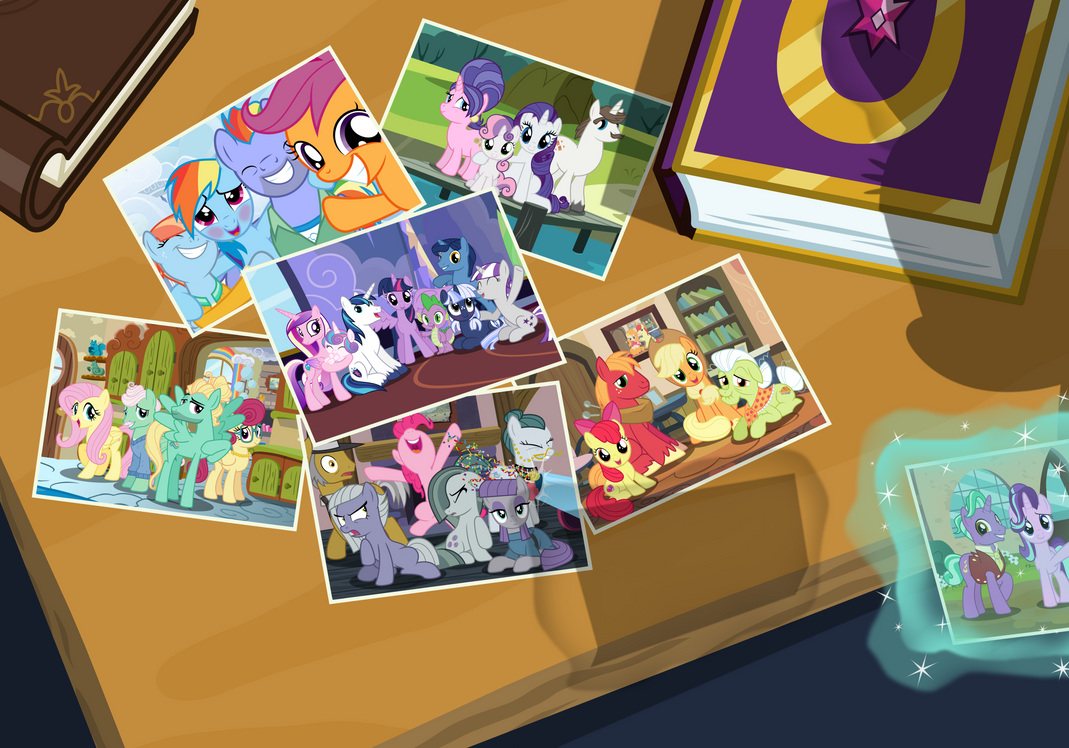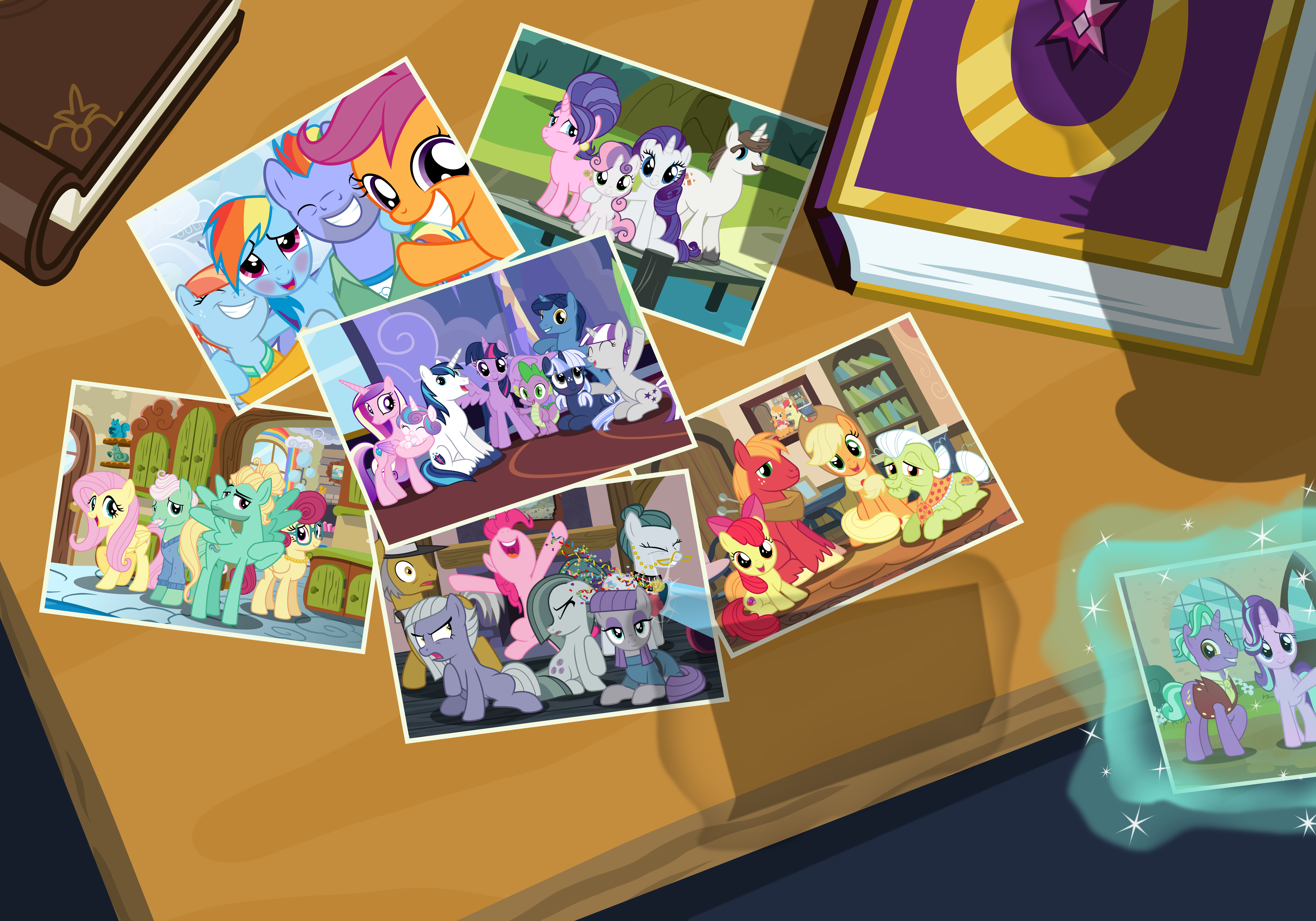 Obviously this piece concludes my family photo arc. I guess nopony expected there NOT to be a collage of some sort.

Plus, I really wanted to include Starlight in this project. At the current point, she's just as much part of the Mane Group as any of the others, in my opinion. There's just the tiny little hindrance that we haven't got any information about Starlight's mother yet, at least not anything I'm aware of. And I didn't want to do any half-baked solution like coming up with something or doing a torn-in-half photo or any other cliché'd stuff like this.

So by having her in this final picture, adding her own, just halfway visible picture to the batch, it seemed like a nice inclusion for her and an easy solution for me

If we ever gain more information about her mother, i'll do an appropriate family portrait for her family as well! Pinkie promise!
Credits roll:
Meager bit of background, shadows and obviously the photos by me

Books by
Tralomine

and
ZuTheSkunk

Starlight's photo:
Background by me

as well, traced from screenshots out of "The Parent Map"
Firelight by
jhayarr23

Starlight by me

For those who don't like strolling through my gallery, here are the single pictures' single versions right away:

Do you think Starlight is an only child?
Reply

Judging by all the information we've got, her type of character, her past and the interaction between her and her dad... yes, definitely.
Reply

Reply

Thanks!

Concerning Starlight and her Dad... Honestly I'd preferred if we would have gotten an episode during, let's say, mid to end of S6 centering around Starlight meeting her dad/parents for the first time in ages. I guess she hasn't met him/them during all that cutie-mark-stealing-villain time.

Would have been a great opportunity for her to really reflect on her past for once, confronting her inner demons and to really appreciate how big of a second chance Twilight gave her there. Topped with some reconciliation with her parent(s) at the end, it could have become quite an interesting episode.

Reply

I didn't particularly like the idea of Starlight having parents, but I totally agree, it would have been better if they had a reconciliation episode since her supervillainy instead of them just suddenly being part of the show out of the blue with no explanation.
Reply

I'm guessing the Starlight picture being half way added in is because we don't have any info on her mom yet, right?
Reply

Exactly! Like I wrote in the description

Starlight will get her own portrait once we gain some more information on her family.

Reply

Oh, didn't notice. I probably should've read more of it. Oh well.
Still, is it possible that we might also get one for Sunburst (while we don't have much on his personality, we at least have both his mom and dad,..., course it'd be nice to know if he's related to Sunset Shimmer or not given their color schemes), as well as the Student 6 families (Yona, Smolder, Ocellus, Gallus, Silverstream, and Sandbar)?

Reply

I doubt that I will do another family portrait anytime soon. This little photoshoot here was my kind of heartfelt tribute to the Mane 7 and the CMC, and of course their families... and it would kind of lower the meaning if I would include Sunburst here, who hasn't earned that place yet, in my opinion.

Concerning the students: I better don't start on my opinion about season 8 and this whole school thing now, because... well, some wise person once said "If you can't say anything nice, better don't say anything at all"

Reply

It's great to see all the Mane 6's families together in the same pic!

Reply

Good job I love it its so cute but I don't like Starlight and her dad I was kinda hoping for her to be an orphan Either way Great Job
Reply

So cute,well done

Reply