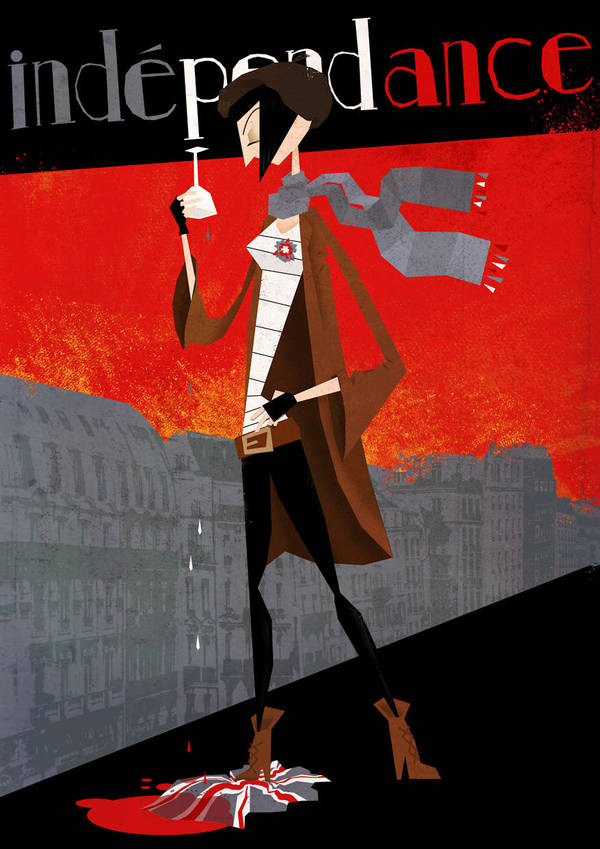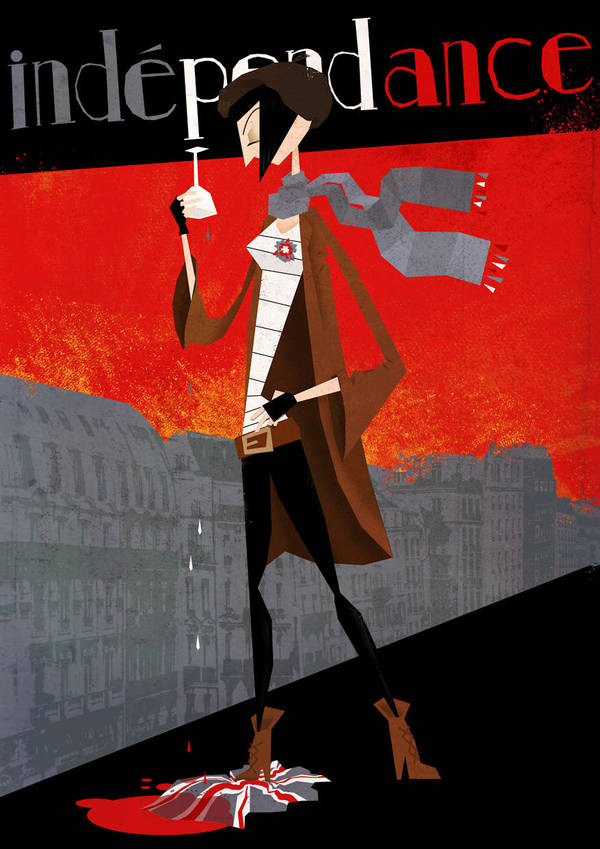 Watch
Response to the 'New Nation' project where we had to come up with persuasive imagery for or against a unification of France and Britain. I did 3 posters, set after the unification has taken place from the French perspective.

Here, the French youth are revolting. Rebels are visually identified by their appropriated use of the traditional sans-culotte clothing. This poster would be used to spread the word, though I think it looks slightly more like a magazine cover.

you are a genius, i adore your gallery.
Reply

Ooh! Graphic! And what's a more interesting side of poster design than protest posters? (Cuban propaganda posters are a particular favorite of mine)

The minimal colour is very nice and I like how the quite understated photo-montage with the buildings (Russian constructivism much?)

The only thing that bothers me in any way is the girls hat (it kinda fades out of my vision tonally)
Reply

The thing with the hat is a lot to do with the fact I did it on my laptop. I didn't realise then but the colour varies vastly between this and my proper monitor. I'm pretty sure the monitor is the most correct, but it's pretty frustrating having no idea how my work is being seen.

Thanks though, glad you like it!
Reply

Ah! I had the exact same problem for a long while, although it took until I had a load of expensive prints made for me to realise it!
Reply

The wine is a good touch, how come none of the posters are from a british perspective? Somehow I don't think all English people would be gung ho for escargot.
Reply

Well, I just chose to focus on that side of it. If I'd had more time I would probably have explored the English reaction.
Also I guess I liked imagining the English as invaders who would just try to stamp out French culture anyway.
Reply

What's this 'New Nation' about?
Reply

It was just a project set for us.
The idea was, France and Britain are going to join to become one country, so research both of their cultures and produce something for or against it.
Reply

So do you think France would be against it or are you against it?
Reply

I was of the opinion that it would be a good thing for Britain but a very bad thing for France. So these posters were from France's perspective against it.
Also I would be against it just because it's a pretty silly and pointless idea.
Reply

Why do you think it would be good for britain?
It's really a strange idea to unify France and Britain.
Reply

Because France is a lovely country and I like it a lot. Whereas Britain is.. pretty miserable. As much as I have an attachment to the place I have lived my whole life, I don't think France would benefit much from added 'Britishness'.
Reply