Yay~!! Grades are out! And with that ends my University life (for a long time). I will be graduating with a 4.00 GPA on October 27, 2013 and will be receiving my diploma thereafter. My walking ceremony won't be until January 10, 2014. In the meantime to celebrate this occasion, I bought myself a new drawing tablet early to commemorate my upgrade from student to hopeful professional. WOO HOO~!!!
[Warning Huge Text Ahead]
After much research, I decided to get the Yiynova MSP19U+ rather than a Wacom Cintiq or a Bosto Kingtee tablet. The Yiynova MSP19U+ has not officially released yet to the public by Panda City, who is the US Distributor of the Yiynova product line but it is already available as listed in the
website
. There have been numerous reviews of its predecessor: the Yiynova MSP19U that has made the product a popular alternative to the Wacom Cintiq. Frenden's
review
as well as video footage from a gaming studio has convinced me to jump the bandwagon towards the Yiynova MSP19U after initially deciding to purchase the Wacom Cintiq 13HD.
One month ago, I saw another review by Frenden of the Yiyvnova MVP22UHD revised from its previous release of the MVP22UHD, coincidentally around the time when the Wacom Cintiq Hybrid Companions had also come out. Yiynova had also started releasing its own updated versions of several of their existing brands that it made me wonder if there was an upgraded version of the MSP19U and there was. There were no reviews for the MSP19U+ so I decided to be one the first to not only own it but review it as well.
So without further ado, this is my review of the new and improved version of the Yiynova MSP19U: the
Yiynova MSP19U+
Essentially, the U+ is no different from the U in its specifications, save for some additions. What is different? For one, the tablet monitor now has 8 express keys that are user programmable and is located on the left side of the monitor. It also has a VGA out 15-pin D-sub in the back which should not be confused with the VGA in that connects to your computer on the left side. Two big notable differences are the design of the packaging box and the design of the tablet pen.
Diverging a little but relevant, I wanted to share with you the journey behind my U+. 4 days ago, there was a train derailment accident in California where two trains collided in the Mohave Desert. Out of all the luck in the world, guess whose order was in there..... Mine! So, not only was my order late but there was a chance that my tablet was damaged in the process and that I may have to wait another week to receive a replacement. I was not only ticked off but scared...
After receiving the UPS notification that my order was at my door, I left work 30 minutes earlier and rushed home. With anticipation, I carefully surveyed the box and its contents. The outside of the shipping box and the packaging of the tablet were thankfully in good condition. As is customary to Yiynova products, the tablet had the seal of approval that it was tested with successful operation. The tablet itself was wrapped in a protective plastic bubble covering which shielded it from outside forces of its own packaging box. There were no missing hardware components and there were no traces that the product was used in anyway. Apart from the warranty, there were two manuals, and the driver CD. Now, this is the part where I hear a lot of people have a lot of problems with the Yiynova tablet lines. My only advice to you is to FOLLOW THE INSTRUCTIONS and DO YOUR RESEARCH. It only took me 2 hours to set everything up which included calibrating it and setting up my resolution.
If you own a Yiynova tablet or at least know about them, then you know that you should never download the drivers in the CD because it is outdated in comparison to the ones in the website and you also need to remove all of your Wacom tablet drivers. I own a Wacom CTE640 so this rule applies to me as well. Do not plug in the tablet before you download the drivers and remove the Wacom drivers. You will know it is successful when your computer asks you to reboot and the UC-logic driver desktop notification icon shows up once you plug the tablet in. Make sure to research whether your computer has a VGA port and whether it is compatible with the Yiynova's VGA cable. If it is not compatible, buy a VGA to USB converter. My laptop is an ASUS G55VW model so I already have a VGA port and it is compatible with the Yiynova's VGA cable (for those who need a reference). The cable also has a USB plug-in so have a free USB port close to your VGA port available. The tablet has a separate power cord that needs to be plugged in so it is imperative that you make preparations. This is a 19 inch tablet monitor that requires a lot of room and space for not only you but for the tablet as well.
Similar to the newer versions of the U, the U+ has the VESA rest base that allows you to angle the monitor from a 15 to 90 degree tilt. There is a safety latch that needs to be pulled before adjusting the base.

The U+ has 8 express keys that are user programmable with most keyboard combinations with the ability to rename them as well. Unfortunately, these keys can only be set for one program at a time which is reasonable since no two design programs will have the same keyboard shortcuts. My only advice to resolve that issue is to change all of your keyboard shortcuts to be the same for every design program. Since Photoshop is my primary design program of use, most of the express keys are catered towards its keyboard shortcuts. I set up my Enter express key as Photoshop's Undo key with Ctrl Alt Z, the up express key with brush size increase, the down express key with brush size decrease, and so on and so forth. The symbols for the express keys cannot be changed and the actual buttons to press them are located at the back of the monitor.
Apart from the inclusion of the express keys, the pen also had a new re-design treatment. It has a slim Sharpie pen look and feel with two programmable buttons. Unfortunately, it is still battery powered and requires two AAA batteries which come included in the pen. The pen comes with two extra nibs along with the help of a pen nib remover. Some people complain that using batteries to operate the pen will make the pen heavier. I am happy to report that it does not especially with the new pen design. If I had to describe the weight, then I would say that it weighs just as much as a big oil brush. A nuisance that I have found with the pen is the pen/ eraser toggle control (if you choose to use it). It does not function properly. Sometimes, it takes one click to switch to pen or eraser and other times it takes 5 clicks. The feature is not stable and I am not sure whether it is the driver or the pen itself that is producing this problem. The battery is also difficult to take out which is not a problem now but I hope it comes out easily later when I do need to replace it. Other than that, there are no problems with the pen, I have resorted to using the two buttons of the pen as the left and right click while using the express keys to toggle between the pen and eraser.
So let's talk about the most important parts of the tablet which is its responsive time, pressure sensitivity and its ability to recognize tilt angles in conjunction with its pen. The responsive time of the pen with the monitor is great but it does have its shortcomings. There is a short lag response with the pen when it touches the monitor. It takes nanoseconds to a few seconds for the monitor to recognize the pen before it responds with your movements but once it does, it does not become a problem. This only occurs when the pen stops touching the screen for a long period of time which pretty much tells you that the battery in the pen is not in use all the time and at some point the monitor does detach its connection with the pen to conserve the pen's battery power. The pen does work if you have a mouse plugged in at the same time and does not interfere with its lag time.
The U+ has the same pressure sensitivity as the current Wacom brands with 2048 levels. This is a line test that many traditional artists do as a warm-up exercise and shows the U+'s ability to seamlessly transition from light to dark. You can set the pressure sensitivity controls from light too heavy to cater towards your pressure style. The harder you press, the darker your lines become. The U+ does recognize pen tilt angles as well but there is a slight lag response at first once the tablet goes lower than 30 degrees while you maintain a 90 degree angle. I would not recommend maintaining that position when drawing at those angles because it can wear out your back really fast. I don't know if anyone is curious about this aspect of the tablet, but I sure was on whether the tablet's drawing surface was scratch proof as I was considering in purchasing a screen protector. The tablet's screen monitor is made of thick glass and after pressing down numerous times to test my dark lines, it did not produce a scratch but it does smudge easily. So, I would recommend an anti-smudge glove for the hand that is leaning on the screen to draw. Thankfully (for now), I do not have any dead pixels and after 16 hours of use, the screen has not given out. It has flickered twice but apparently in the manual, it's because of interference with other electronic devices to which my phone was next to it and my internet connection kept giving out.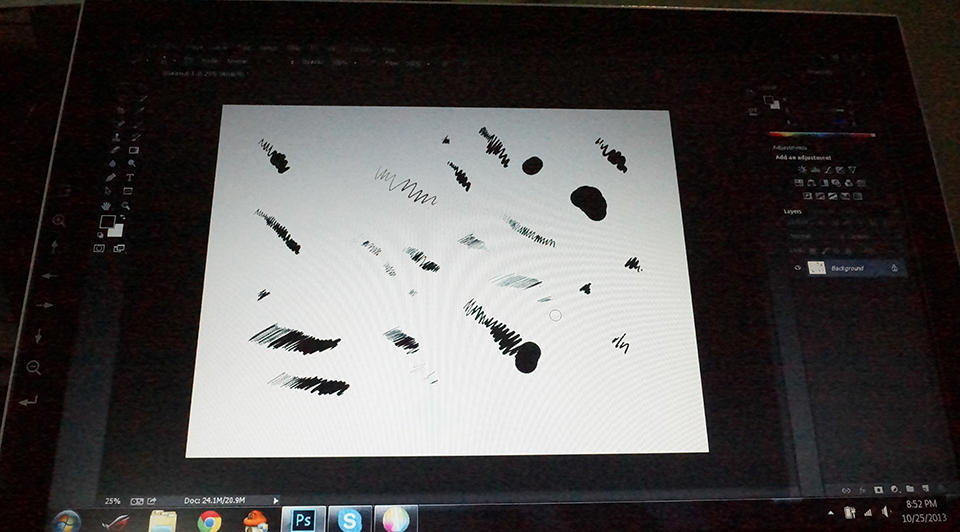 By default, the resolution of the U+ is warm which gives off this red/ brownish hue to the screen. This is adjustable and can be changed using the buttons on the right side of the monitor under the power button. Mines is set on user mode theater, 46% contrast, red 50, green 37, and blue 50. I keep changing the brightness level on the U+ because it is really bright especially on 100% and it strains my eyes over a long period of time. My vision needs to get used to it. Something to point out is that the pixel resolution is really crisp and defined. I can literally see the crisp edges of everything especially in low quality images and in text. Black font text on a white background produces this light neon green cast behind the text which I find a little odd but not a severe interruption to my design process. Another piece of advice when setting up your resolution, test your line quality in two different design programs because there will be differences on what you can see with the opacity of your pressure sensitivity. While I could see the lightest lines in Photoshop, I could not see the lines of the thin copic brush in Autodesk Sketchbook Copic Edition. Whenever I use the U+ to draw, I duplicate the monitor views so that I could see the differences between the two screens, and when I am not drawing like playing games or surfing the web, I use the U+ as a dual monitor and extend displays.
To conclude this review, I am proud to say that the Yiynova MSP19U+ is a solid tablet that was able to withs
tand the forces of the train derailment. There were no physical or internal damages to the monitor or the pen. This is an amazing tablet that is a great alternative to the expensive Wacom Cintiq and performs perfectly for its purpose in digital design. As much as this tablet is durable, it remains to be seen whether it will outlast or live just as long as my Wacom CTE640 with the test of time. I would definitely recommend any Artist whether you are on a budget or exploring your options to consider the Yiynova MSP19U+.
----------------------------------------------------------------------------------------------------------------------------
Extra:
The main reason why I decided to switch from Wacom to another brand was not necessarily because of cost because I was able to afford it. It was a culmination of reasons that led to my decision. I love Wacom and its products; I bought my first drawing tablet with them for my 18th birthday: the CTE640 for $160. I remember it being the most expensive item I had asked my parents to buy for me at the time. I had to produce reports of charts, lists of pros and cons, reviews and investment incentives just to beg to my dad to buy it for me. It is now 2013 and the tablet still functions to this day despite having visible signs of wear and tear through the years of intense use. Initially, I waited for the much acclaimed Cintiq portable tablet version which was introduced as the Cintiq Hybrid Companions. It did not meet my needs. I wanted a portable Cintiq that had a wireless module that connected to my computer not a tablet that only lasts 8 hours of continuous use and did not even have Haswell. There were days where I would draw 16 hours straight and I did not want to limited by the use of wire especially due to my sensitive back. My back has a slight curvature that does not make my spine align in a straight position so I cannot maintain one position for long periods of time. I quite literally developed a science with the use of my bed and 3 pillows to help me achieve the impossible. Unfortunately with the U+, I would need to sit on a chair, but it does not mean that I can't find a way to make it comfortable for me. I would rather wait for Wacom to release the perfect tablet that meets my needs rather than purchase a second best one and for that I am willing to spend $1000.
As much as cost was not an issue, it was a factor. My dad is an Accountant so I have learned to apply his teachings in regards to money with the scenario above in application to the things I buy. For $600+ I can get a Yiynova 19 inch tablet monitor that functions just as well as a Wacom Cintiq and still be able to have enough left over to buy a 10 inch version of the tablet from the same brand for $300 (yes, I'm talking about the
DP10U+
) which would be $1000 for the Cintiq alone as opposed to two. I know many will argue that Wacom is an established and trusted brand to which I agree but it does not justify the cost of the 13HD which has a lower resolution setting as opposed to the Yiynova tablet as well as other notable negative reviews.
I also would like to make a point that a tablet whether it is a Wacom, Yiynova or a Bosto will not make you a better Artist. If that is the sole reason why you are purchasing these tablets then it is not for you. At best, the Cintiq type tablets will help you render your work faster. Skill is more important to have first otherwise you will be severely disappointed. Before I received my first tablet, I was drawing with a mouse and to this day, I can still draw with a regular mouse. If you want to be a better Artist, you will persevere with or without a tablet.