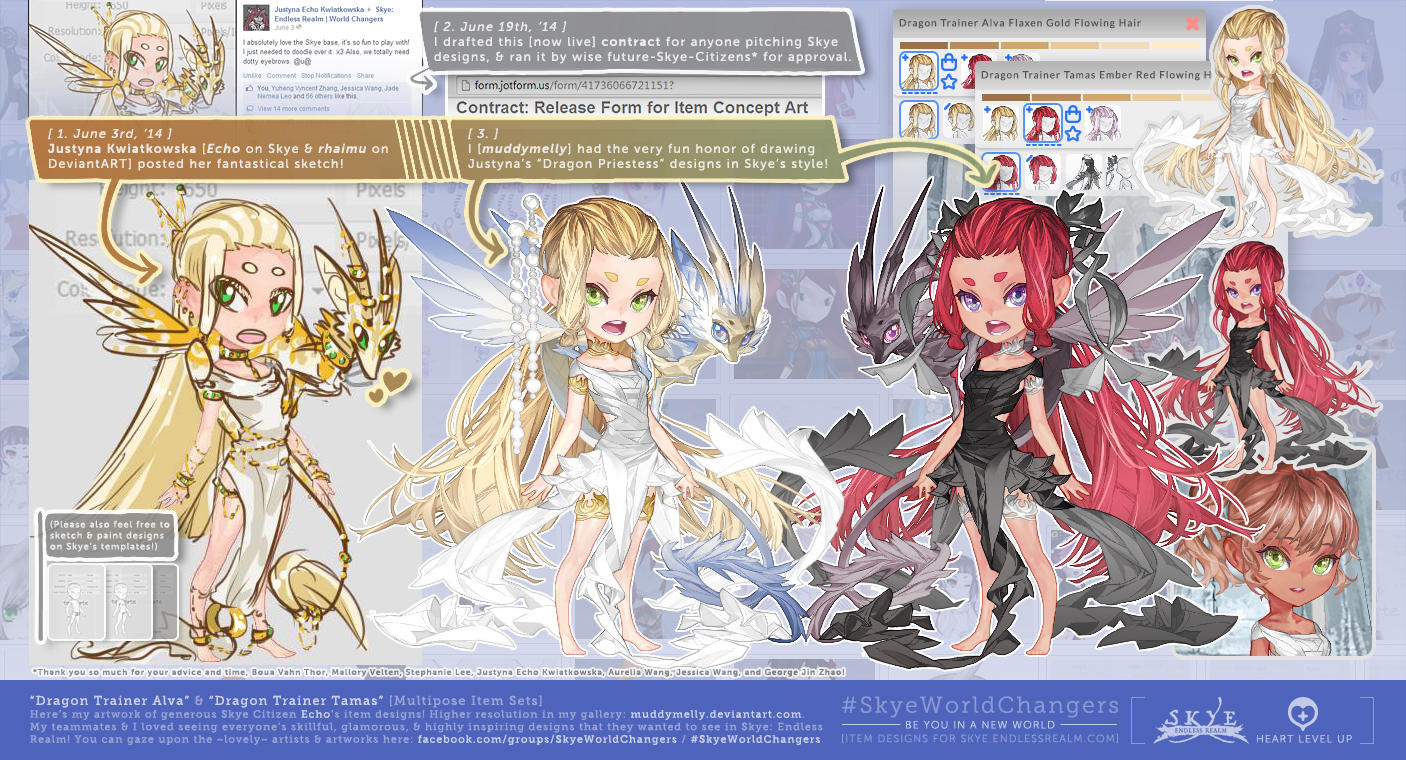 Watch
(My
Facebook
,
Tumblr
, and
Twitter
be here; I'd be very glad to connect with you!)
What do you call a collective of fast, driven, detailed, and talented ideators
? (Besides "DeviantARTists."
You all are so inspiring to +watch as you create and post.)
In the past two months, 646 members in the Facebook group "
Skye: Endless Realm | World Changers
" have submitted 669 art pieces showcasing several unique designs that they would love to see in the un-released virtual world social network Skye: Endless Realm. (I created this group to bring everyone's design ideas more exposure and appreciation, in lieu of everyone not being able to display / create petitions for their designs on Skye at the moment, as Skye has yet to launch. Therefore, prior to Skye's launch, the Facebook group will also be used to connect Skye artists with Skye Citizens who have Skye item ideas / requests; this will also happen on Skye post-launch!) Please take a minute to relax and view
everyone's plethora of dreams
!
[I made a contract to ensure idea-submitters retain ownership of their sketches and designs, and receive copies of the items based on their designs after Skye launches.]
= = = = =
Item breakdown - and fit on female and male avatar bodies --
= = = = =
As of Aug. 22, '14 -- Skye: Endless Realm / Endless Waiting has not been launched yet --
-- and my team and I are definitely not alright with making you wait even longer for Skye, and are working to release main tenets and features of Skye as soon as we can for y'all. [Dates are TBA at the moment.]
For now, you can meet your fellow future-Skye-Citizens -- wonderful, whimsical people on
our unmodified test forum install
!
Please do take a minute to exchange contact info with new friends you meet
-- because the data on
bubblegum.endlessrealm.com
may not be preserved in the future due to install problems. I am so sorry for this great inconvenience; every measure was undertaken to try to avoid loss of data - as your interactions are precious. Our goal is to faithfully preserve your interactions! I'll strive to make sure this never incurs again.