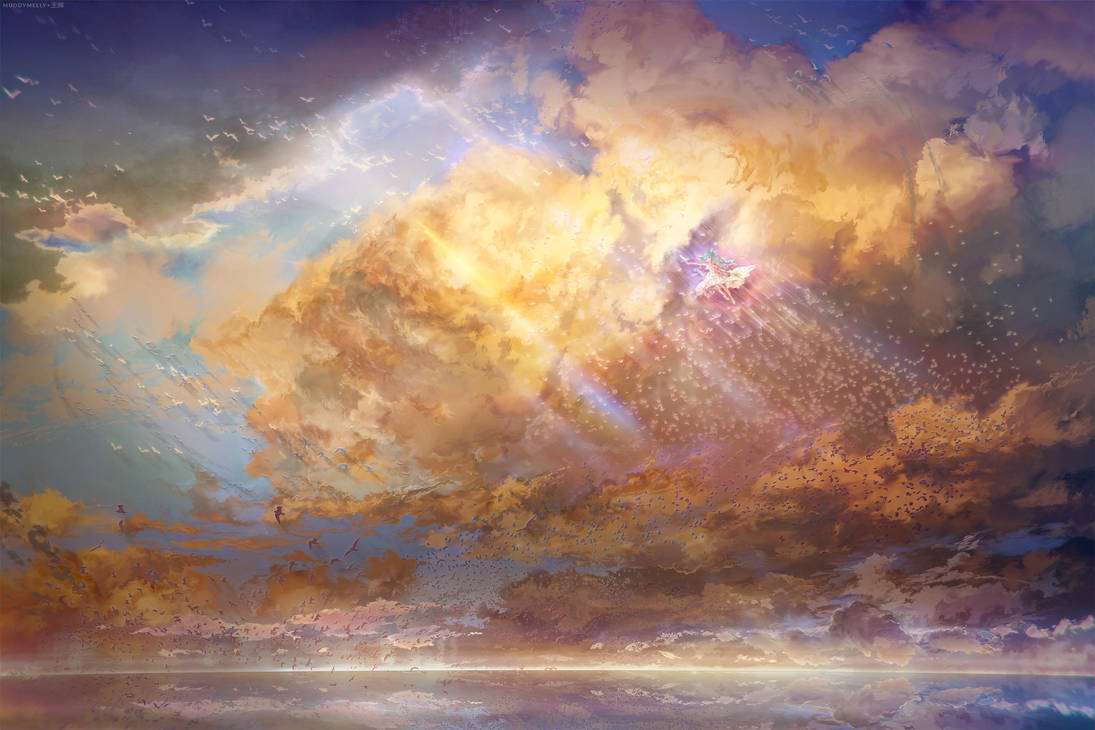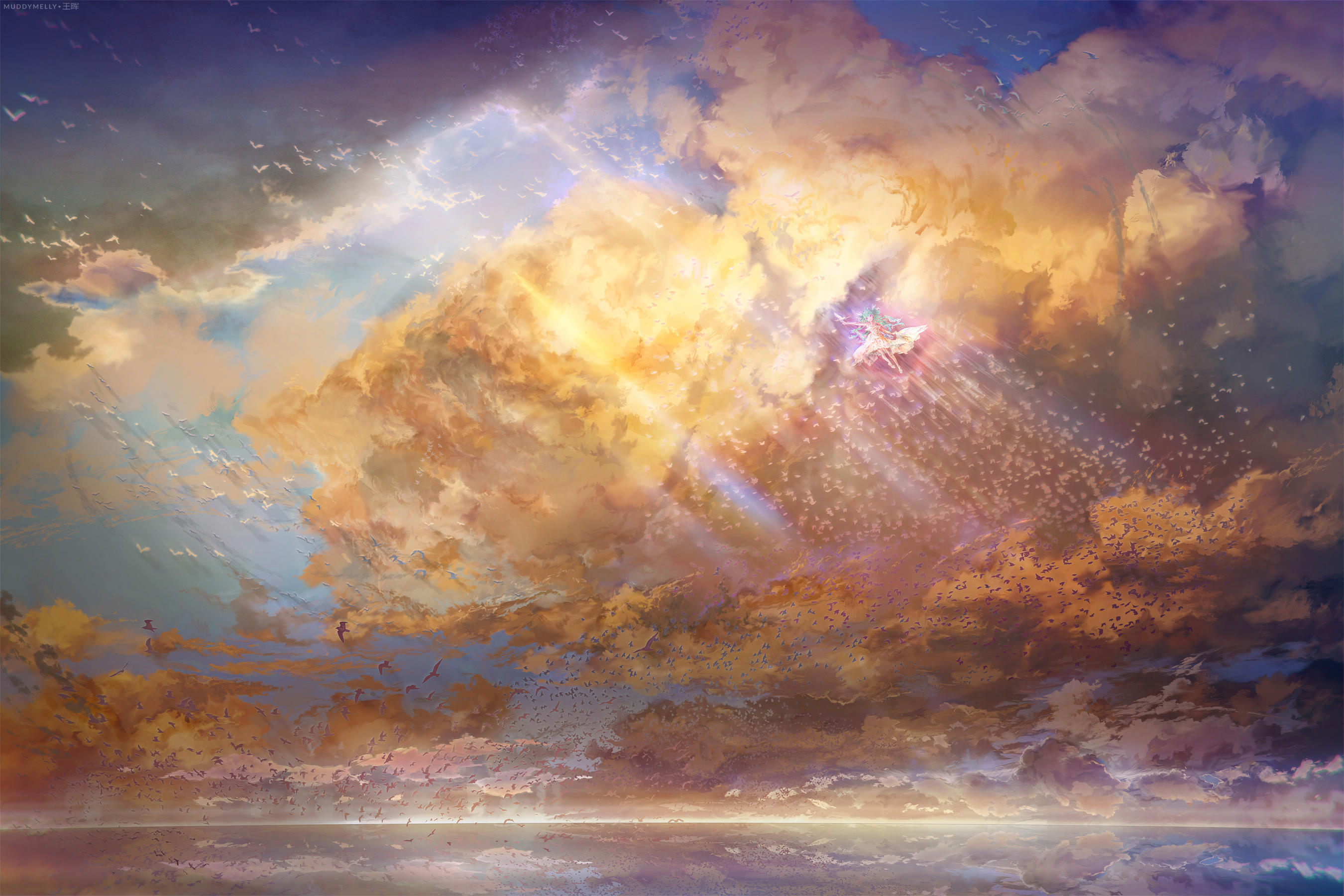 Watch
~Free~ Photoshop steps/final files (and high-res steps/final images) of this artwork are up on my Patreon
, where I
regularly upload big freebie packages
that I hope you enjoy!!
Closeup* and steps:
<-- It's Charit**, who's in your corner!
*Please do lemme know if the steps are too blurry! Crisp and much larger steps are in your
free Patreon package
that everyone can freely download!
In titling this piece, I was reminded of a movie that my sisses and I haven't yet seen... Has anyone seen the Disney live-action film Sky-High (about superhero children?) (Despite existing in the U.S. since birth, I only first heard about when a netizen compared its cast to that of our beloved Boku No Hero Academia [My Hero Academia]... I'm even more behind the times than I thought I was!) 💦💦
**The tiny white floating thing in the artwork is indeed our digital girl Charit (original character,) born to cheer you on!
She's flying with really blobby birds (birbs? borbs? What's your favorite way to refer to round birds?)

(Oh my God, 'borbs'! I've never seen that before, I'm using that to refer to round birbs now!)
This is so pretty!The lighting looks amazing, and I love how Charit is just flying up with the birbs! The clouds look incredible, they appear shaped and more real, which I think I rarely see and I love that! The rays of light, shining down and lighting up Charit and the water below gives a beautiful touch to the picture, and I love the glow across the horizon!
Charit looks amazing! She's so pretty, and I love how much detail there is on her. Her hair, eyes, outfit, all look really good.
And of course, the borbs (love that word now) flying about, the ones around Charit lighting up with the light on them, and the more shadowy birbs around the surface of the water.

I love this picture so much! It's so pretty!
Reply

Ahahaha, "borbs" (and "birbs") are such endearing words! Even though I've used these words incessantly since I learned them, their charm only intensifies with time... Especially now that it's winter in the Northern Hemisphere, and birds are becoming ultra-fluffy orbs to stay warm...!
(Oh, which reminds of this touching comic that I think a Wiz like you would appreciate:
www.explainxkcd.com/wiki/index…
)
My heart dares to feel relieved when receiving your gracious words, especially about Charit!!
-- who somehow ended up pixelated in areas! I shall smooth her pixels out next time!
May borbs brighten your day, and also avoid poopin' on your car (yet another thing to send you - this one is rather silly:
imgur.com/gallery/Khnuk9K
)
I'm so, so, so happy that you like the picture!!!
Reply

"Borbs" has taken over my life. I can't help saying it in my head when I see one of those fluffy birbs. My favourite word now. lol That's a funny comic! Though, now I can't help but ask the question as well! Where do they go!?
haha Silky smooth pixels on Charit. I shall look forward to seeing super pretty art of Charit again!


lol Another hilarious picture, would be a nightmare to have that happen. That is one vain birb, I love it!
I look forward to seeing more art from you! I love it all!
Reply

Reply

Melly!!! It's been so long! *O* Happy New Year!!

This is breathtaking!! The scene is so calm and beautiful!
I've never seen Sky-High before, but drawing the character so tiny (or the environment so vast!!) makes the whole scene that much more awe-inspiring!!
It looks like the climax of a classic coming-of-age or slife-of-life film where the character finally finds the epitome of piece among the majestic clouds, on her way to the place the gods call home
I wish you a wonderful 2017 full of love, happiness and success!!


Reply

Destiny~!! Yes, it has been too long...! That realization hit me yet again when I went to your gallery and swooned over your latest paintings aaaa!!!
I've always deeply loved your incredibly diverse styles... and I'd be remiss not to tell you that I love the way you grow as an artist.
And...! Your uplifting correspondence has always parted the clouds and filled me with energy!!
-->
Also, you fill my heart with relief (because of your very kind words about this piece's composition /)//////(\)
Oh, oh!! Your descriptions make me think of the beautiful ending of Disney's Hercules, when a godly Herc is welcomed back to Mount Olympus...! (Oh... I hope that wasn't a spoiler for anyone!) Now I've got the hit "I Can Go the Distance" in my head... Destiny, it's time to listen to a Didney Worl playlist :3c
Reply

AAAAA!! Your praise leaves me speechless!
I haven't had much time to draw the last few months and every time I start again it feels as if I have relearn
using my tablet again so it takes some extra effort to really get into it. I'm really happy that you like them! Knowing that
is very motivating!

Your correspondence does the same for me as always!
Haha yeah! I saw Hercules three times! It's such a great movie! Yeah Disney playlist time!!! :3
Reply

The fact that you took the time to make it look amazing far away close up as well far away using your sense of detail is fucking outstanding!

Great Job, seriously amazing job. Also I laughed because I was thinking the film Sky High when I saw your title too, I love that movie.
Reply

I always smile when I see your tiny cheerful icon!! And her chubby cheek!!
And it's just so relieving to hear that you think the artwork looks okay close-up...! /__\ Such extraordinarily kind words!! *Weeps o'er you*
Because you love Sky High, we sisses have to watch it now! Far be it from me to not check out something you adore!
Reply

Oh my god I feel like this is one of those historic, classical paintings you see preserved in church murals
Reply

!!! Oh, heavens! Your divine accolade hath left me breathless!!
*Squishes air back into cheeks*
This highly generous comment shall be my benchmark; I will strive to make stuff that is worth the [digital] paint used to create it...
Thank you for saying such extraordinarily uplifting things!
Bless youuuu, Rainuuuuue
Reply

Ahhhh I will always admire your works!!! Your art is the kind of beauty that brings admiration and awe
Reply

Reply

Reply

Reply

Whoa this is so amazingly impressive! I really have to say this is honestly astounding! You put so much hard work into a heavenly piece!
Reply

Reply

You're welcome melly! I have to say it has been a long while since I have seen your works and your character. It is good to see you are still making great works! I certainly agree this piece is amazing overall!

Reply

Reply

I know you are doing great overall! I see how much work you put into this and it really shows! I really hope to reach these levels one day soon! Keep up the amazing work, and inspire others!

^^
Reply