Cropped closeup: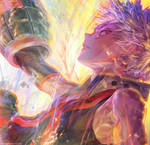 Our spicy Katsuki Bakugou still needs a good hero name...
Hmm... Blasty McSplode (cheerfully suggested by the warm-hearted Kirishima) is a strong contender. LOOOOOLLL
KlausTougaard
aptly suggested "Peasant-Destroyer;" what are your suggestions?

I would love to hear!!! I am awful at name-making. I should ask y'all to name my future children, for their sakes...

Boku no Hero Academia will put hair on your chest and tears in your eyes!! We sisters have been loving how the inspiringly large cast has been developing, in particular --- Bakugou's very in-character, comprehensively thoughtful, quite inspiring character development...! Everyone... all the strong-hearted hero kids... is growing up in such wonderful ways that incite a fire of pride in our hearts.



Image details
Image size
3000x2000px 5.25 MB