Deviation Actions
Daily Deviation
April 18, 2017
BNHA: Uraraka Ochaco + Midoriya Izuku by
muddymelly
is a whirlwind of color and light with a wonderfully dizzying composition

Process and final Photoshop files for this artwork are now on my Patreon
! Dear you,
if you'd ever like any of my Patreon files for free
, just let me know, and
I'll gladly send them to you
! I also have
my free Photoshop files listed right here
!

===
Full-sized version
,
steps
, and
process GIF
of the artwork: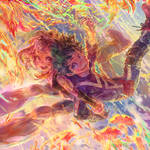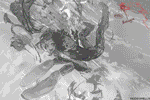 It's definitely high time I finished
anything
- especially one of my Boku no Hero Academia fan arts - because we sisses have been immensely enjoying the manga series together... I am a huge sap for it, dear y'all. Have y'all had the time to catch up with it yet? Who's watching the new season 2 of the anime?
I must excitedly high-five you! And cheer you on if you haven't yet gotten to it yet, but think you might give it a gander! And offer you, hmm, some grapes and rice crackers (my dinner) if you want a bribe before picking the series up...
To your left
, may I present... the darling, caring, brave-hearted, and innocently-very-honest
Uraraka Ochaco
-- who has such a sweet-sounding Japanese voice actress!!

To your right
, we have... the devotedly diligent hero-in-training and the #1 fan of All Might... It's
Midoriya Izuku
(also known as "
Deku
!") My heart is always cheering for this passionately hard-working and ever-thoughtful young lad (like Izuku's long-suffering mother, I'm always rooting hard and shedding tears for underdogs...)

... And
to the tiny top-right corner of the screen
, we have a small, fiery, and upside-down
Bakugou Katsuki
!
The character arcs in Boku no Hero Academia inject one with lasting encouragement!! I cried whilst reading because I so intensely appreciated that encouragement, which author Horikoshi Kōhei seeks to imbue in readers. And then I mopped the tears, grabbed my sweet and patient sisters, and we all have been reading and whoopin' and feeling inspired by everyone in BNHA ever since! Such an endearing cast of admirable characters...

Image details
Image size
3200x2133px 7.38 MB