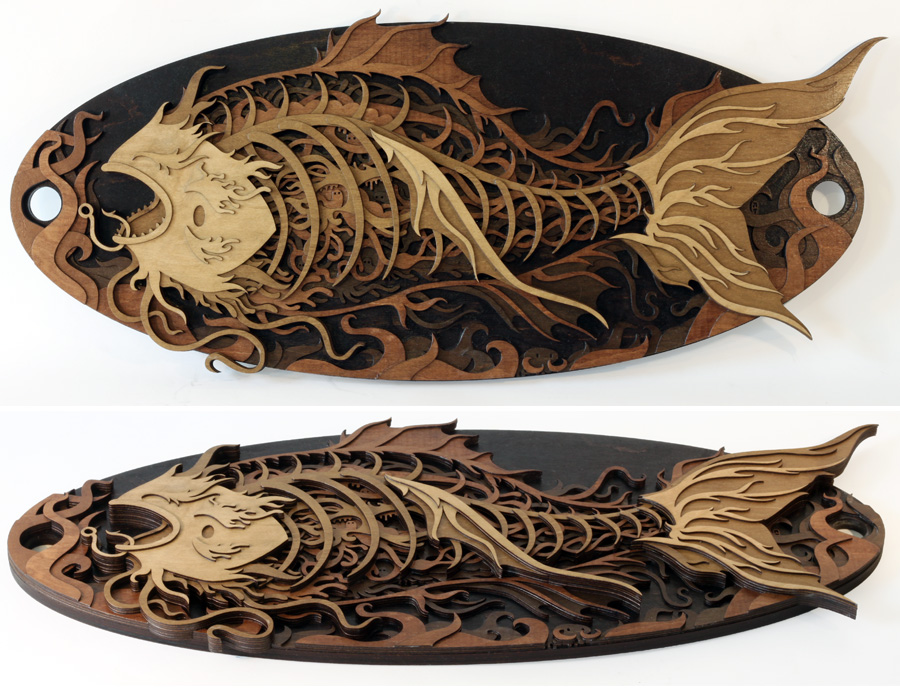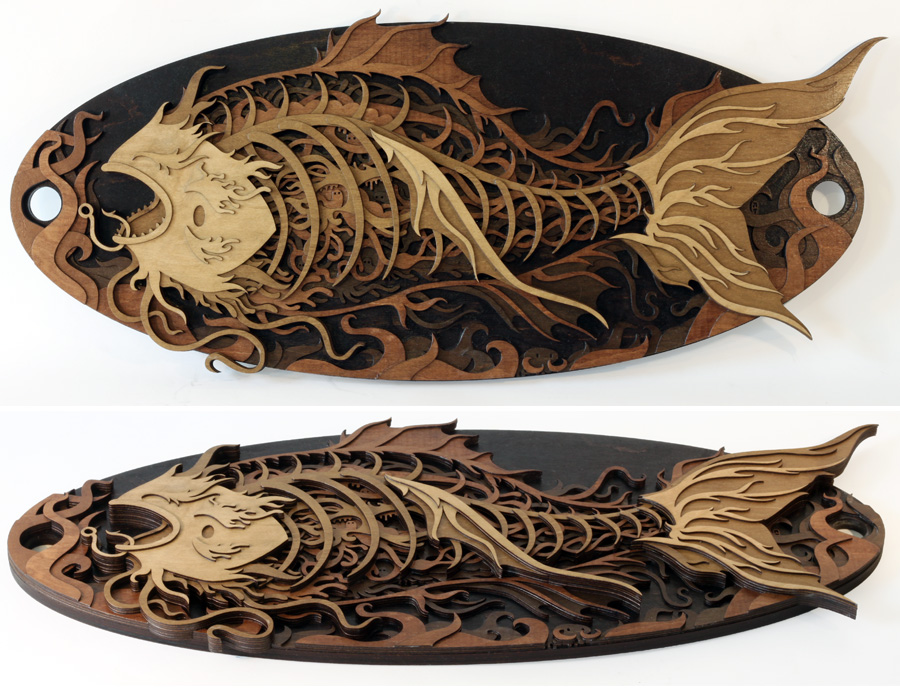 Watch
Layered, laser cut, plywood illustration. Inspired by my friends father who recently passed away, he loved fishing and mounted his own fish.
Approximate size is 580mm by 260mm and 20mm depth.
This is available to by on Etsy here
[link]
as well as most of my other laser cut pieces.
***
Like my work?
Follow me on Twitter -
[link]
Like me Facebook -
[link]
I am thoroughly impressed with all the pieces in this gallery, but I stopped on this one as a common feature throughout really caught my eye on this piece.

This piece has a dark, saddening tone to it, not only brought on by the darker wood stains used, but in the expression on the fish's face as it's snagged by the hook. The skeletal structure is a definitively morbid reminder or the mortality of all living creatures. Perhaps the saddest part - and my favorite element - is the cute illustration style in the fish's face. One likes to think of cute little creatures as being eternal in a way, but no one likes to think of cute little creatures dying or otherwise being harmed. So there's definitely a certain heart string being tugged at in this piece.

Method-wise, the usage of a laser cutter throughout the gallery (like this piece) brings a fresh, modern take on wood working. I've always thought traditionally carved wood reliefs and mignets were interestings, but the layers approach to this makes it so much more interactive to the viewer. As a viewer, the layers make me want to look at it closer, to follow certain lines and see if my eyes call out new details as I dig deeper into the piece. The possibilities for hidden features in this method are endless, and the reductive color scheme just makes that interactivity more enjoyable.
The Artist thought this was FAIR
2 out of 2 deviants thought this was fair.