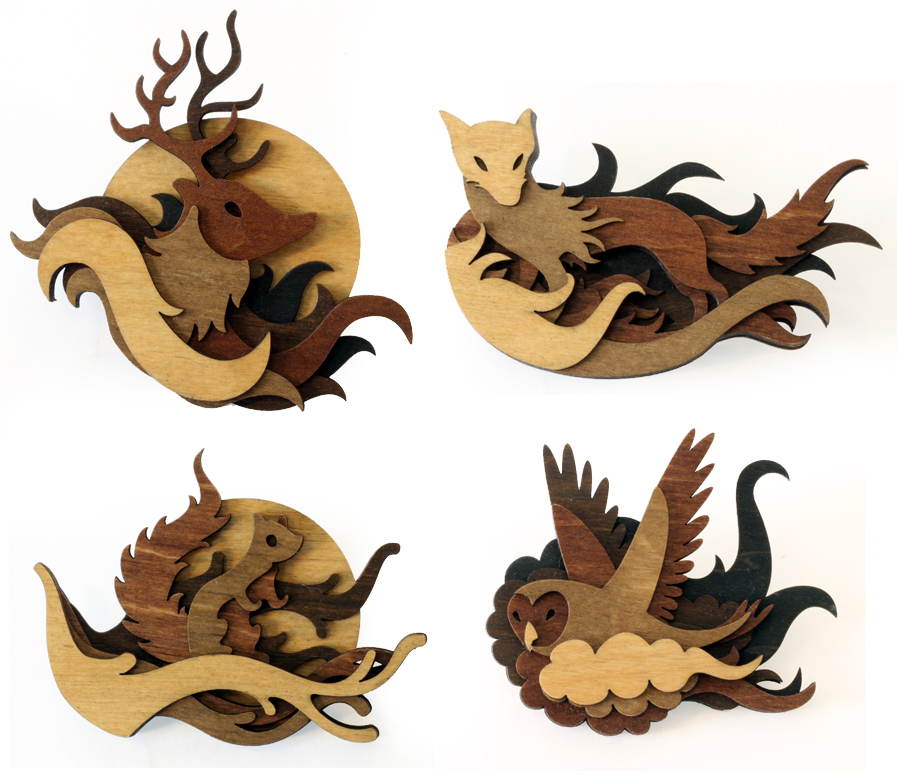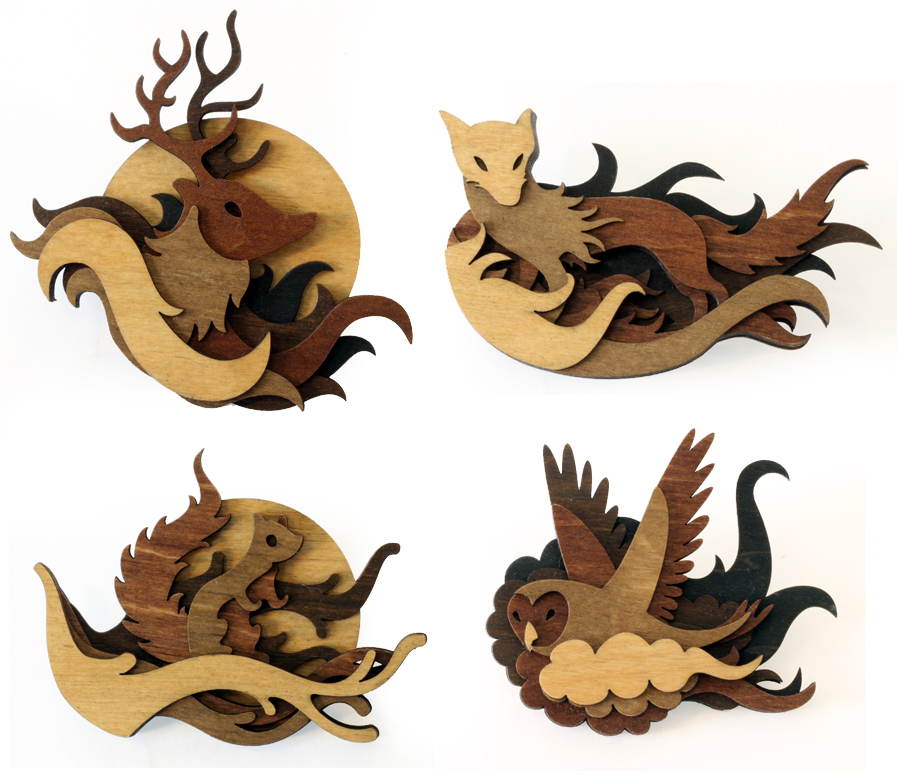 Watch
Layered, laser cut, plywood series of four miniature wall mounts. Approximate size of each is 80-100mm by 60-90mm.
These originally began life as prototypes for some brooches but were a little large and work quite well as little stand alone pieces. The brooches are still happening, with slightly tweaked designs, so watch this space!
***
Like my work?
Follow me on Twitter -
twitter.com/mtomsky
Like me Facebook -
www.facebook.com/tomskyillustr…
Buy work from Etsy -
www.etsy.com/shop/mtomsky
These are beautiful!
Very lovely and well done!
I adore the colours and textures and especially the flowing quality of the shapes. I can movement even in this supposedly rigid material.
The animal shapes are adorable, but not gosh, and the alternating colours also add a sort of depth to these little pieces. Oh, but I can imagine buying these for presents, or myself.

The folk-lore, natural theme is really very appealing, at least for me.
Really classy and fun work you have done here.
I hope that you will continue this line of Art as it seems to suit you very well indeed!
Cheers!
R-chan out!
<3
The Artist thought this was FAIR
20 out of 20 deviants thought this was fair.
Looking through your work, this piece particularly caught my eye; all you piece's seem to be amazingly detailed, apart from this one...
This, however, is not a bad thing! You give just enough detail for these animals not to be overly complicated, but, quite frankly, gorgeously cute and aesthetically pleasing!

I love how each animal stands out, due to the variating shades of brown you have used, and the way you have built up the materials through layering; this gives a more textured look.
The way these beautiful pieces are presented are, also, rather uncommon, giving off the idea of movement. Many people try and fail when attempting to portray the idea of movement through art.

The world we live in is filled with naturally beautiful forms, and I personally believe you have captured these forms perfectly.

These pieces of work are adorable, as many of the public, I'm sure, would agree. I cannot think of a single thing I would change about these.
Keep up the amazing work

~Skye
<3
The Artist thought this was FAIR
5 out of 5 deviants thought this was fair.