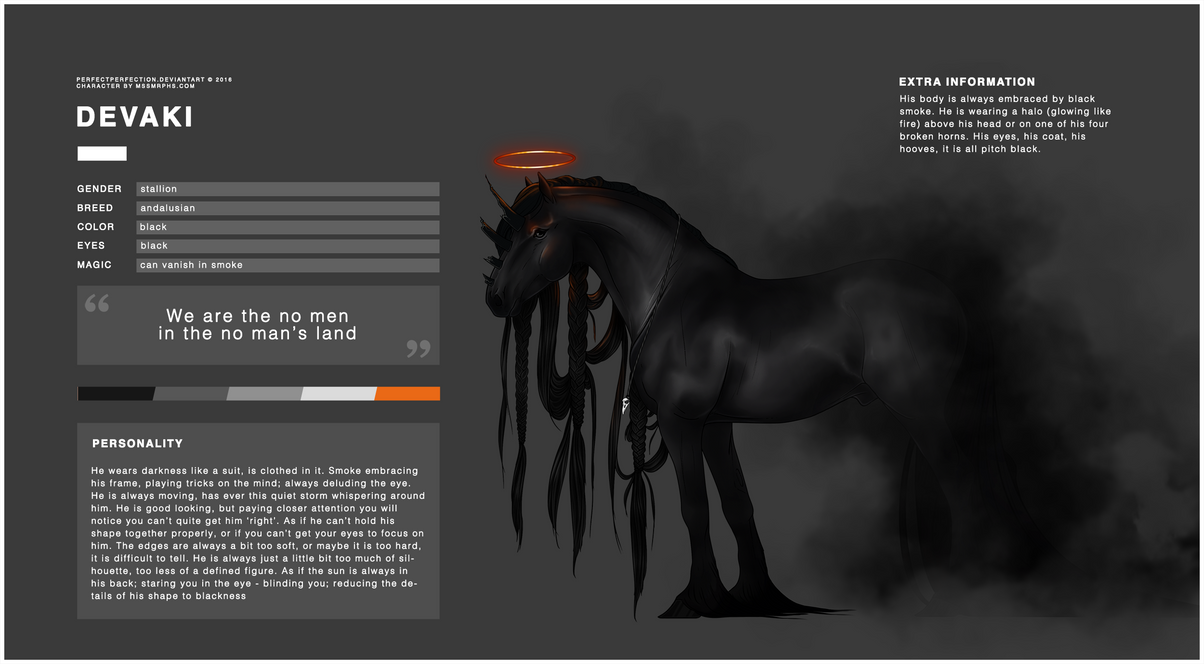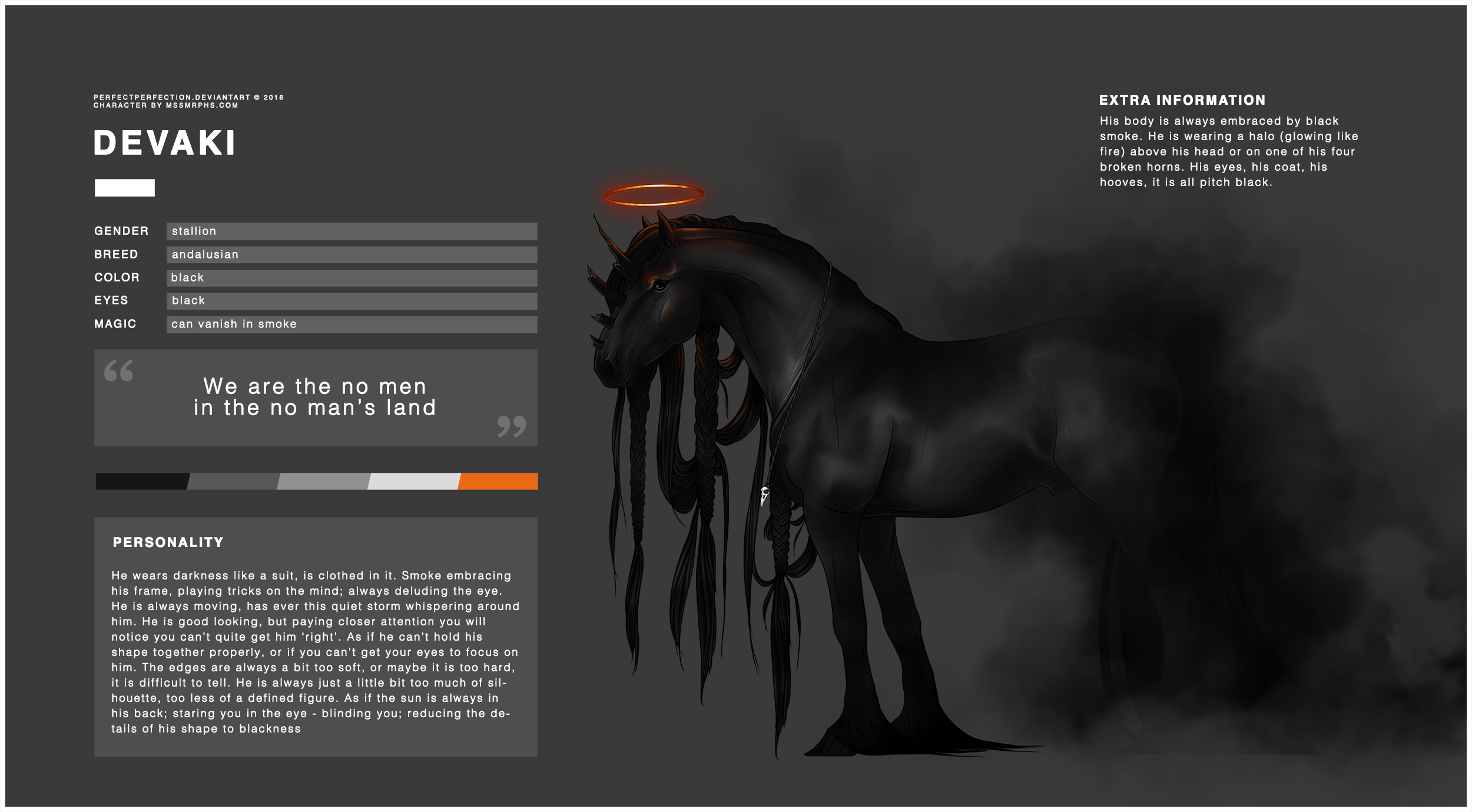 Watch
May you be in Heaven a full half hour before the Devil knows you're dead.
Ok. This is my newest baby. And I am totally in love. I can't even put it in words how much I am in love with him. As if I don't have enough dark mysterious black stallions yet. Oh well. This is my god of death. I hope you will love him as much as I do.
Name
: Devaki
Lineage
:
Jackdaw (father)
Moodboard
•
PageCredits
reference sheet
& drawing by
alimarije

I am slightly in love with his character - wow. His design and concept
make me drool a little!
Reply

He is so freakin gorgeous omg xD
Reply

Reply

ugh yess haha tell me he's at ChewingonPearls?! I'm bringing a character or two there soon and would die for a thread with him!!
Reply

I will create him an account! But I have to warn you: I am a lousy rp-er, I usually do about two / three posts and then I am distracted by life and other things, lmao. BUT, I love plotting, so I am always up for that (:
Reply

Honestly dont worry, I'm fairly similar unless its something im super super excited for haha right now I havnt set up my character's accounts, im still getting used to the whole set up since human/sandbox rp is somewhat new to me xD
I love plotting too so its all good xD i actually have a death-obsessed character
OC | Ausiris
although im not sure whether to keep him as an equine rather than human because id have no idea what he would look like xD but anyway, he worships Death and often makes sacrifices to please him xD though i do have a load of other characters as well that i am wondering about bringing
Reply

Ooh, he sounds cool! I can always try and rp again in horse-shape (although that is years ago for me) if you prefer c:
Can't wait to see you there!
Reply

Haha well we could always skype rp either human or equine. I think I'll see if I can find him a face claim over the weekend and possibly set him up an account on CoP

Reply

Just so you know: a face claim isn't a strict requirement or anything. One of my favourite characters (Flight) has still no face claim, and lot's of his avatars just include things that represent him (lightning, motorcycles, or people with not a clear face, etc). It might be handy though to have an idea of what you want him to look like

Reply
(1 Reply)

BAAAAAABBEEEEE UGH, his hair is amazing. <3<3<3
Reply

Yes yes yes, Ali just put it exactly like I had it in my head. Idk how she does it, little miracle worker <3
Reply



!!
Reply