I usually start with a rough idea for the canvas size I'm using. I don't really know how to stretch canvas by myself, so I do buy
them pre-stretched even though that's less efficient than doing it yourself. This canvas was a bigger size, and I wanted to not only do a long time-commitment painting, but also one that came from the same principles as
Stars and Clouds
, which has been really successful. But the size was intimidating, since I had no idea where to start. Finally, I set a deadline to begin painting. The night that I was supposed to paint, I drew this after an inkling of an idea: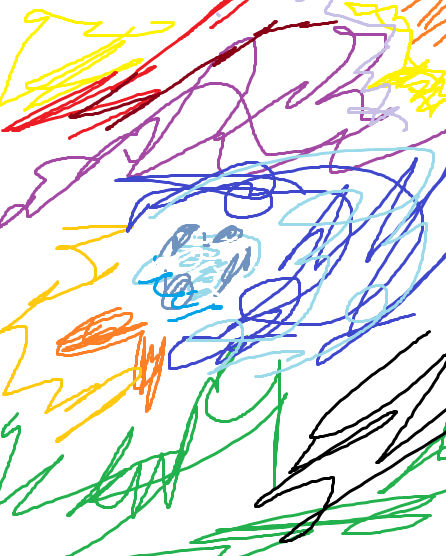 It doesn't look like much, but I knew I wanted circles that mimicked galactic formations, and that I wanted some color symmetry or balance while having some bright tones. I started painting.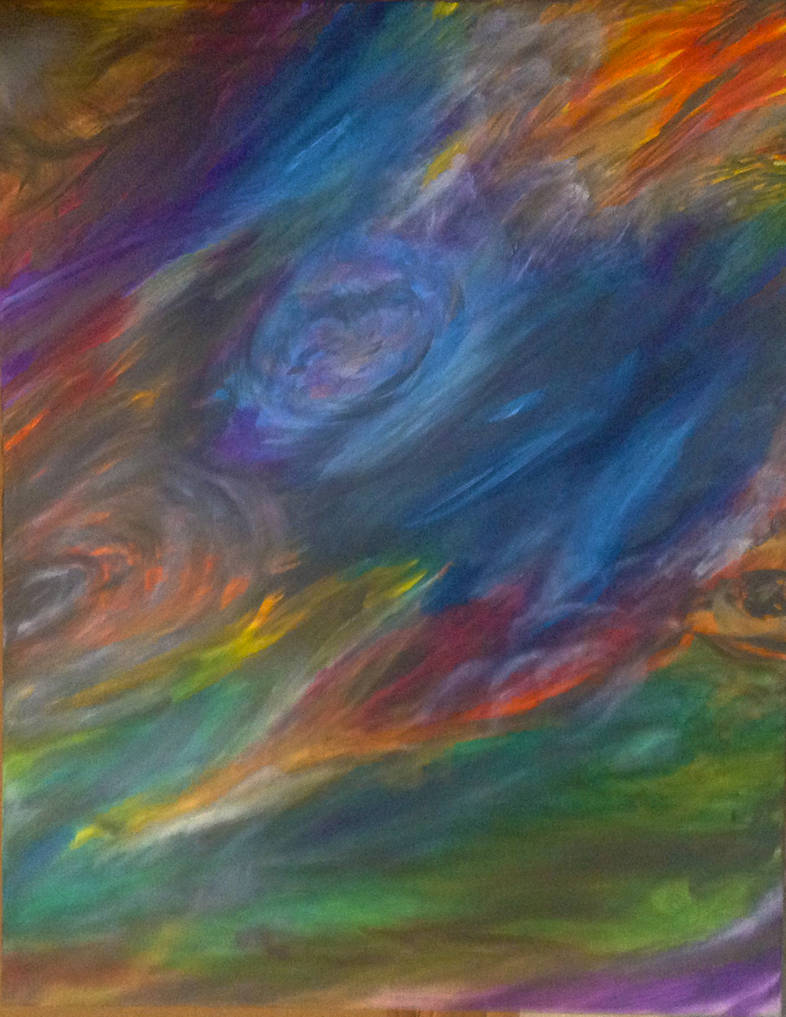 Here's a blurry picture of what it looked like after a few layers had been applied. This is a stage of my painting that I loathe, because I feel that it always looks weak. I actually wanted to drop this one at this point. I was afraid that nothing I could do could fix it. But I kept painting. This process took about four or five months. I paint thinly and I layer colors, so I actually can fill up the canvas in one or two sessions, taking care not to smear the light colors or cover them up too much. The challenge is filling with the right colors so that it doesn't look too chaotic or too neat. At this stage, I thought I had gotten it wrong.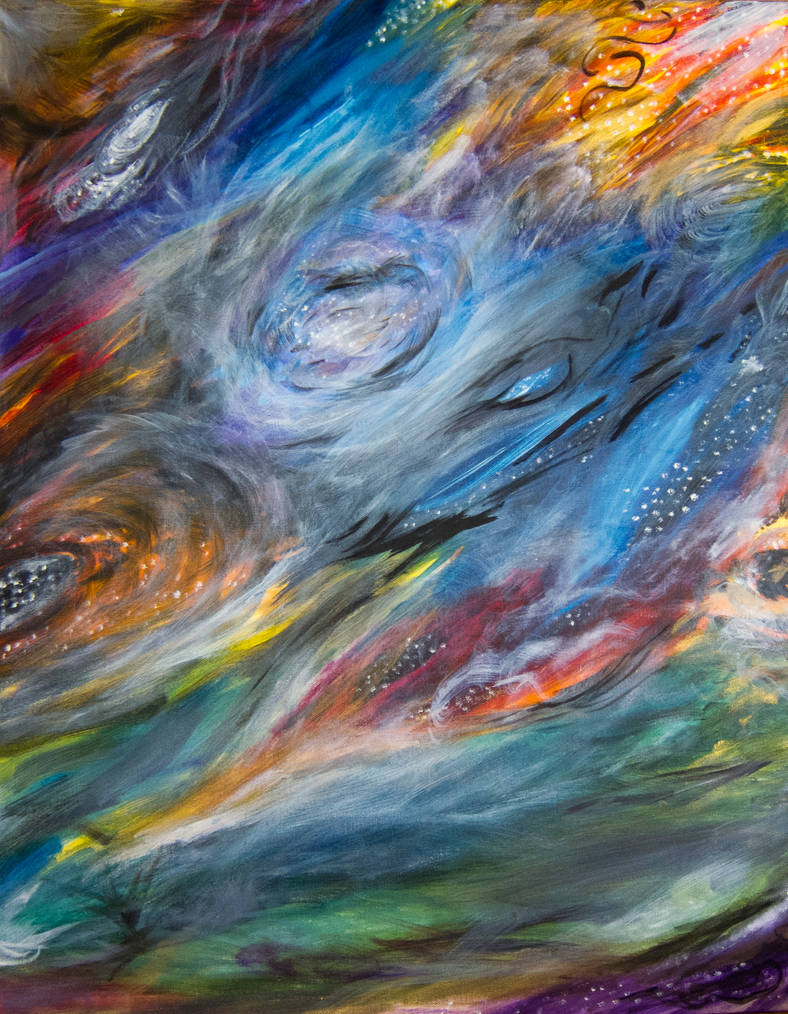 Even though it looks radically different, the jump from this picture to the previous was very small: I applied some daring streaks and areas of black paint to get the contrast back to where I wanted it, and I got bolder with the white areas of misting and detail. I hadn't liked how they looked in the last shot, but I doubled down on their effect and got to a better effect. I had originally wanted the misty areas to mimic movement, in this case the residue of stars and galaxies forming. Adding more of that helped. It also cleared up my other big worry, which was that the two central galaxy clusters were too close together and too awkwardly-placed. In the second picture, they look like two separate entities that are rubbing against each other. In the first picture, they just look a bit weird to me.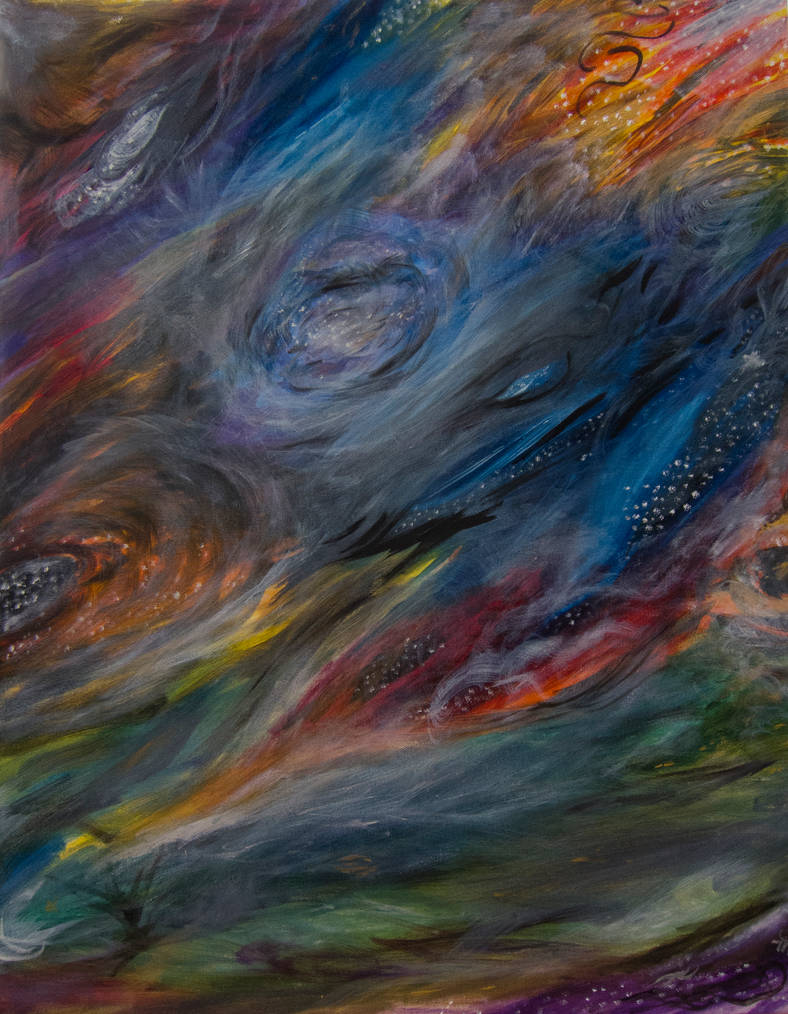 It's harder to tell the difference between this picture, the final version of the painting, and the last one. There are two reasons for this. One, after adding in just a few more details, I decided it was time to let the painting dry. I then applied the gold and silver metallic acrylic paint, which doesn't come out as well on camera. The gold and silver in this painting has three main effects--not too unusual for my paintings: 1) I sign my name in gold or silver when I can, or a complementary oil color if neither of those fit. Although the skew of the camera forced me to crop away part of my initials, you can still see the ~M in the bottom right hand corner, above the black swirl; 2) I use silver in this painting to enhance both the effect of the white dots scattered about the painting--those are about 50/50 silver and white oil paint respectively--and the white 'mist' areas, which have a subtle layer of acrylic paint I swiped on with my finger. This helps the highlights stand out in any lighting; 3) The gold paint adds depth and countercolor to areas of the painting that were a bit too straightforward. For instance, in the bottom regions of the painting, you can see streaks of gold that were not in the second picture. There is also some gold layered on top of the yellow at the top of the painting for the same reason. I felt those areas were too yellow but could not afford more color.
You can tell what I'm talking about more closely if you examine these details closely: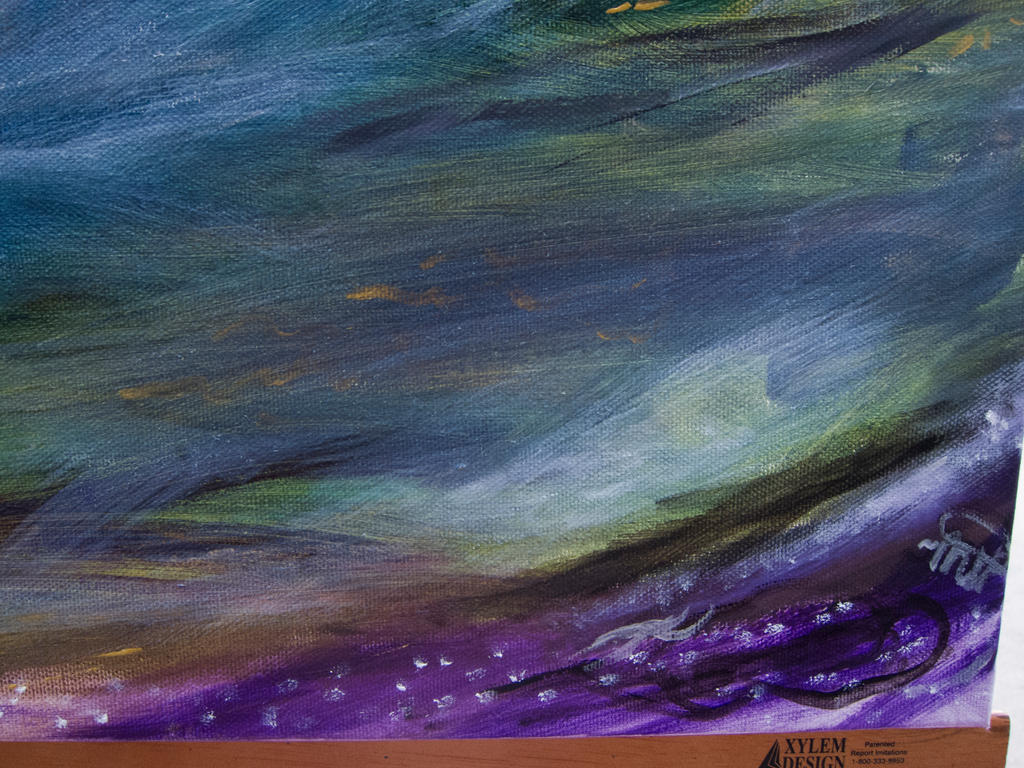 Gold spotting and my silver signature, ~MSP, in the corner, along with some silver acrylic detail.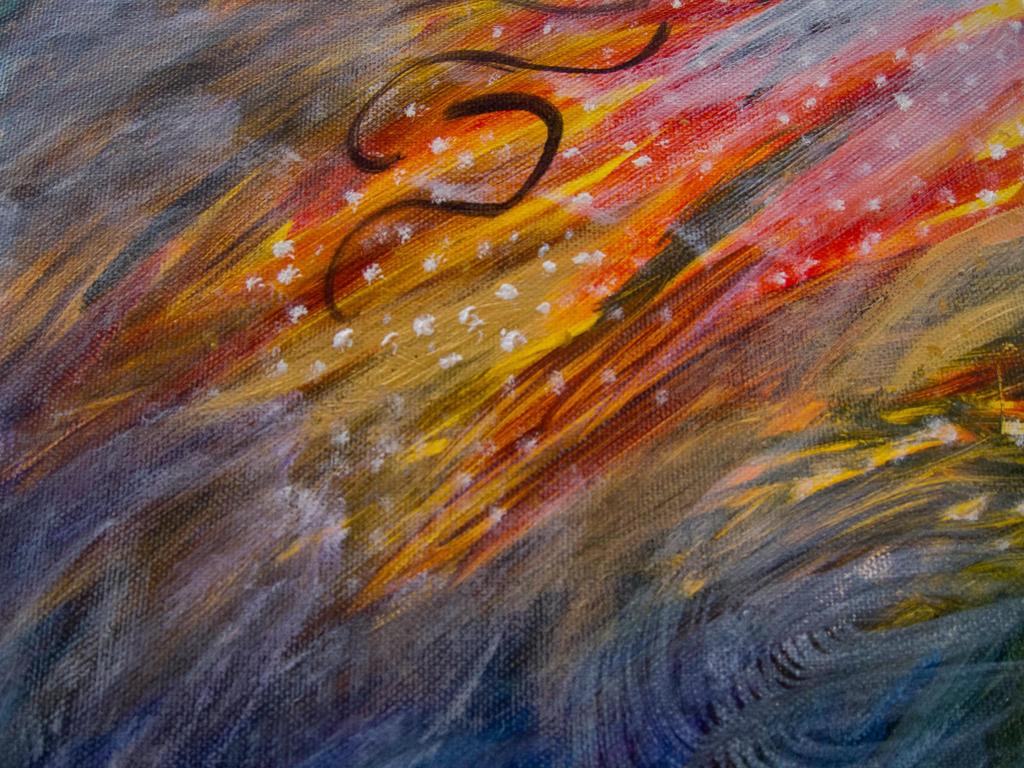 If you look closely, you can tell the silver dots from the white ones, and also see the blurry areas where the camera 'forgot' how to capture metallic sheen, versus just a white oil mist layer put on with the traditional thin paint + paper towel technique.
More acrylic details in the golden circle formations that are meant to mimic the circular formations done with oil, and to accentuate the effect of the white paint.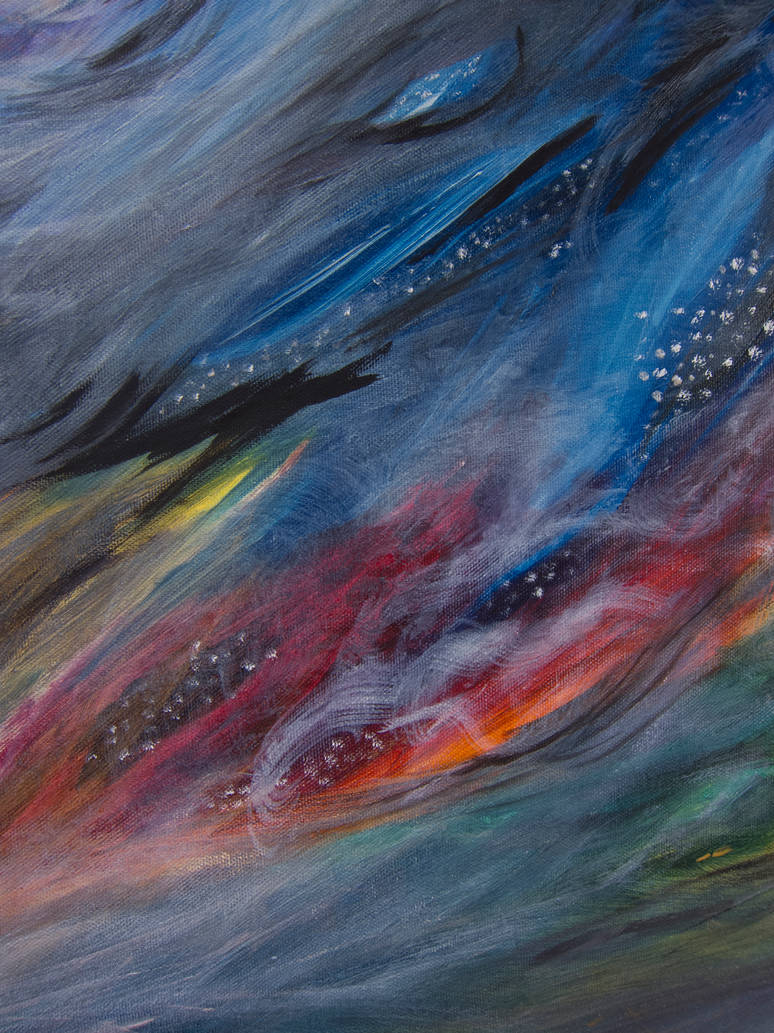 Some gold paint in the center left side was layered on by hand, and the two gold bars on the lower right were also a quick detail that I felt pulled the painting together. You can also catch more silver shimmering on the white, and see how my fanbrush strokes with the white oil paint--using two different sizes and clumpings of fan brush bristles--were made.
I hope this has been inspiring and helpful. I definitely plan to keep painting and refining my process, and to post more schemata and WIP pictures so that people can understand what I do.
Thanks,
Maria <3