Quite a few things about me:

I'm a HUGE fan & lover of animals and would not judge them based on their looks or actions!

I used to collect lots of Owls in the past, which i have left behind in my life though inside i still love them, all the drawings i made of Owls where the main reason why i wanted to join DA.

I love videogames with my favorite series being Mario, (Super Mario & Paper Mario) Pokemon, (Core Series & Mystery Dungeon) & Yoshi
- Minor series: Super Smash Bros, Kirby & Zelda.

i absolutely adore video game music and even much more then the music which you hear on the radio. It's one of the things which i can ramble on for it for hours.

I love & adore characters and series which have a small or huge chunk of tragedy in them, it makes me relate to the characters much more which makes me love them even more!

My favorite mythological creatures are Mermaids, Fairies, Dragons, Kitsunes and if they count Ghosts.
Stamps that pretty much describe me:


:thumb606954682:























Characters which i adore the most

:



:thumb471897961::thumb471897889::thumb471897936::thumb471896954::thumb471898021::thumb471897981::thumb471897911:









:thumb469729382::thumb398272296:








:thumb617250345::thumb623352195::thumb572078457::thumb572650483:


:thumb585684995:
Top 3 Favorite Pokemon Types:
1.
2.

3.


:thumb198573260:
All time favorite cartoons:






All time favorite anime:






Videogame(s) currently playing:
- Pokemon Sweet 2th (romhack) 19-04-18
Profile pic that i use: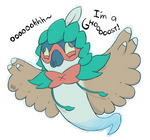 >Made by

One of my all-time favorite Pokemon
which is also my fave. Grass starter: Decidueye!
Pointing out the obvious by stating that he is a Ghost!
I love this so much. XD
My alternate account:

< CONTAINS LOTS OF OWLS!!!