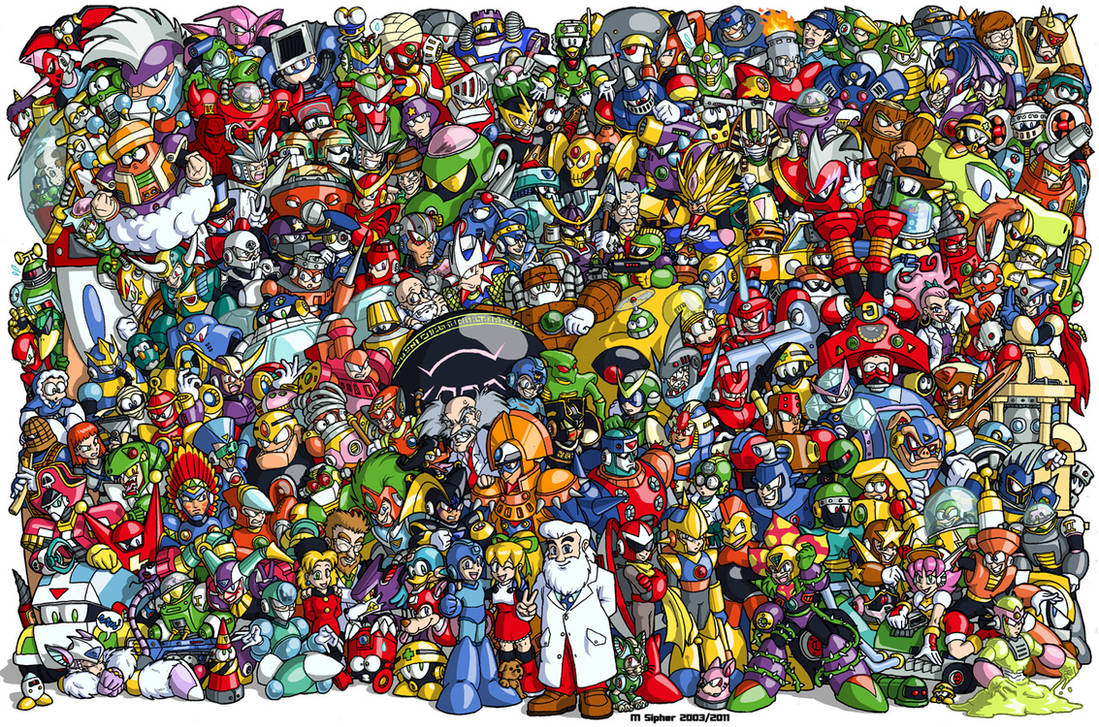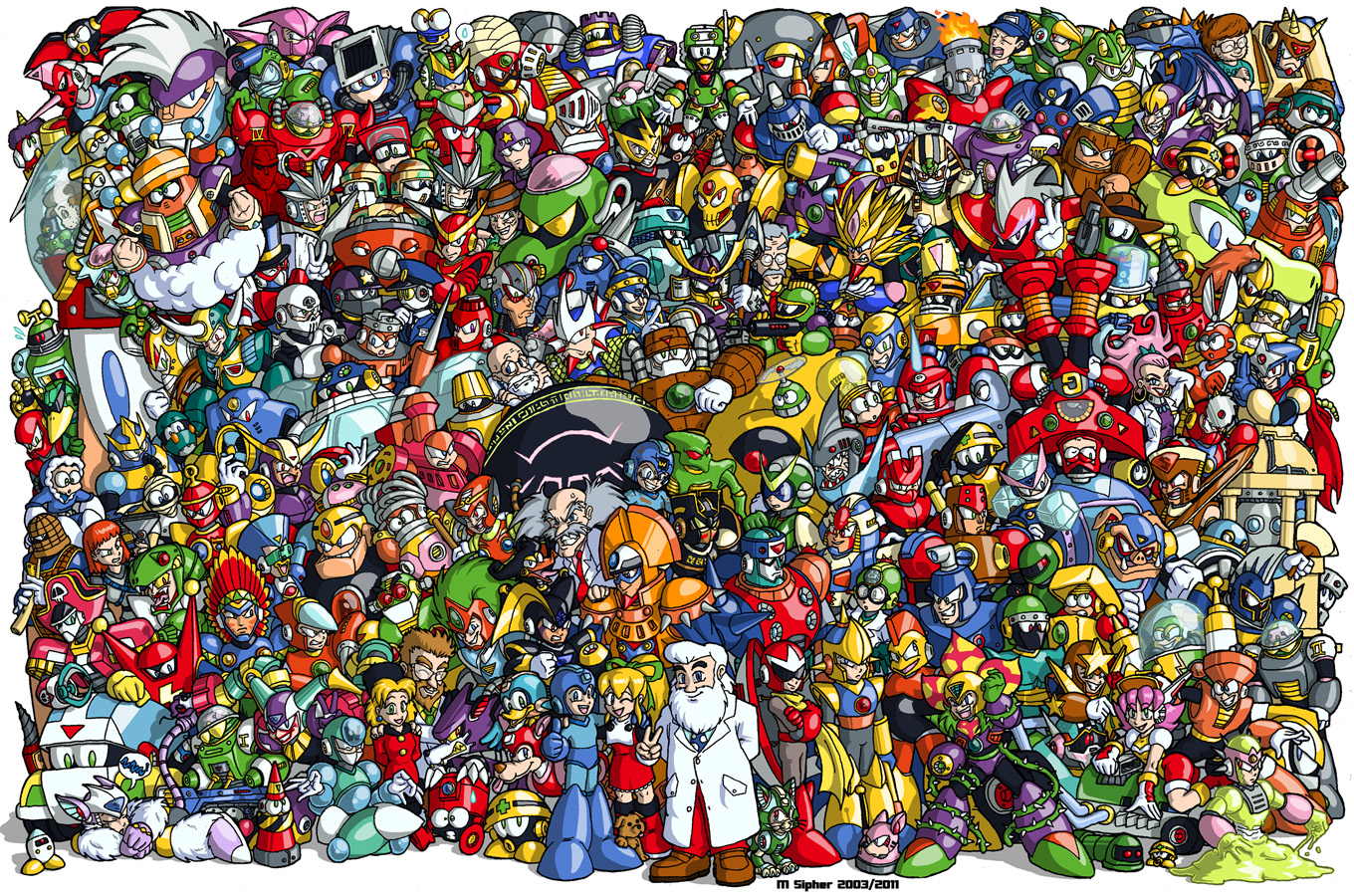 Watch
MARCH 9, 2011: MAJOR EDIT! Bigger file, and majorly tweaked colors! Plus, 11x17 prints are now available!

Now this is a lot of bots. And a few humans thrown in to boot. "Classic" MegaMan/RockMan characters culled from the games from all systems, the Japanese mangas, even the American cartoon (which I enjoyed for what it was, frankly), up through 2003.

This was hand-drawn, inked, then scanned and colored digitially.

Despite minimal new... anything, really, in classic MegaMan over the last five years, The series has actually brought us a handful of characters since I did this that I would like to add to the image, but damned if I know WHERE. And this is the second version; the original lacked the cast of the Wonderswan game, which I very carefully added into whatever space I could find (draw on paper over the original, scan, trim, paste).

I'd love to add "upsized" versions of OilMan and TimeMan. LavaMan from that crappy "Upon a Star" edutainment video. Those guys from the Chinese PC strategy game. And... yes, the original characters from the Dreamwave comic series. But where? I can eyeball a few spots... and theoretically I could replace some of the "small fry" enemies, but I'm loathe to do so.

As much fun as it is to rag on Dreamwave (if I didn't laugh, I'd cry), I have to say I genuinely enjoyed their MegaMan series... well, the first three issues. #4 was vacuous even for friggin' MegaMan, an obvious OH JESUS WRAP IT UP NOW toilet-flush that ignored all the charm the first three issues had built up for an exceedingly unsatisfying deus-ex-machina festival. I wonder if the rights to do MM comics are still in limbo thanks to DW's tactics. Then again, how long has it been since there was even a Street Fighter or DarkStalkers comic? I haven't been to the store in months, and there was a lonnnng gap even before then.

Enjoy. And maybe I'll wedge in some more characters.

*****EDIT 08-03-08*****
So, I didn't check in yesterday, and I pop in today, and HOLY SHIT 800 MESSAGES?! Wow, people... thanks, I'm floored. And yes... you can expect an updated version of this. It's just a matter of where to put everyone... though I might get quite crafty, heh.
Daily Deviation
Given 2008-08-02
Classic MegaMan - 1987 to 2003
by ~
MSipher
. From the suggester:
"This deviation by ~MSipher is just incredible - let your eyes wander across the bright shiny colours, and it will take your mind back to the good ol' days of Megaman... The obvious love and attention paid to the crowd of characters, heroes and evildoers, is really what fanart is all about!"
(
Suggested by Miyukitty and Featured by aunjuli
)