So I made this manip yesterday: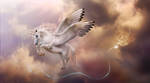 When I went to bed, it had about 60 likes - the most any of my manips have got before - and I was so so happy with that.
Well.
Got up this morning... and it now has over
140 likes
. And it's still going! So I just wanted to say to everyone, thankyou so much for your support. I'm so sorry I can't thank you all personally - I normally would, but the site thought I was spamming when I tried to do it last night! So I'll have to thank you all like this. This is absolutely amazing, and I'm so pleased people are enjoying my work. Its actually a lot of fun to look back at the quality of images I used to make - check out my Older Work folder if you want a laugh! - to the images I'm making now. I guess persistance, hard work and practice really do pay off in the end!