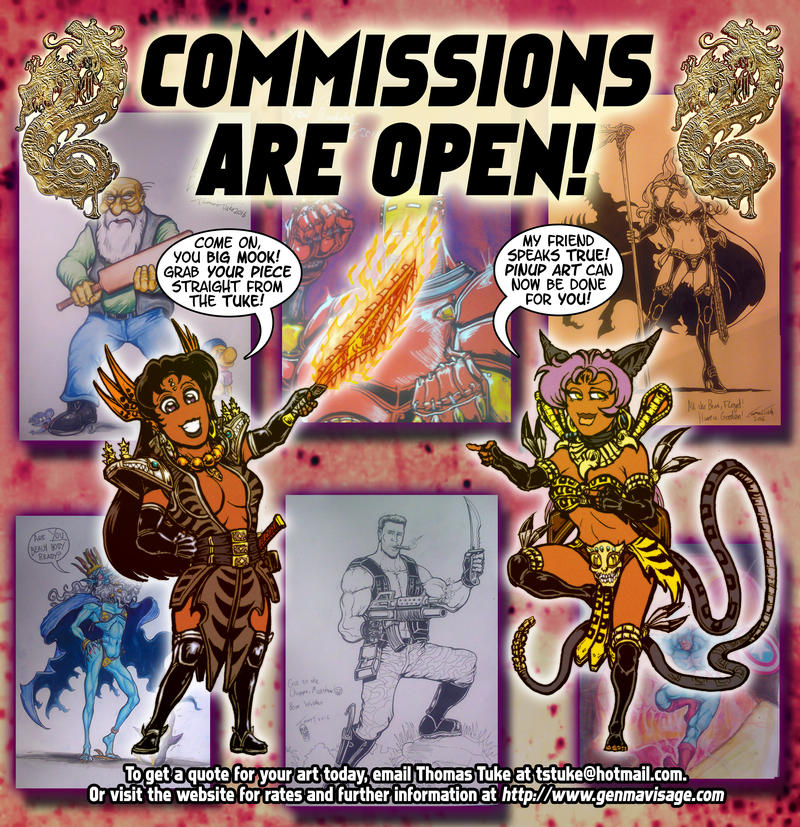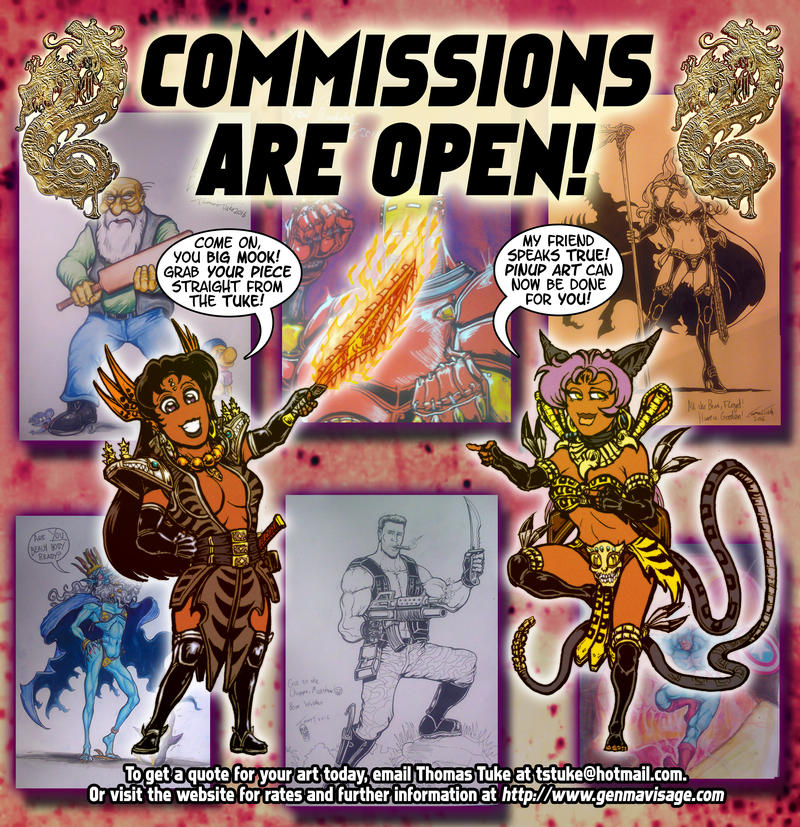 You heard it right folks. As of this moment in time the store is open. Whilst I am working on other projects, I can drop them for a bit if you need a quick spell.
Based on my experiences at conventions of which you can see sample artwork above, it's always a gas to break from the comic mould and try my take on new things, especially when it comes to meeting new and familiar old faces again. I always have a good turnaround at conventions and it'll be interesting to try my luck online as well.

www.facebook.com/pg/Genma-Visa…
So without further ado, the rates and the rules!
Commissions
Simple / Cartoony
Sketch:
£7
Inks:
£12
(
Per Additional Character:
£
7.50
)
Colours:
£18
(
Per Additional Character:
£13
)
Detailed / Realistic
Sketch:
£12
Inks:
£20
(
Per Additional Character:
£15
)
Colours:
£30
(
Per Additional Character:
£24
)
Guidelines and rules.
. As a general rule of thumb, relevant violence, some mild erotic, and swearing is cool but nothing that you wouldn't show to your grandmother, meaning no sick violence, racism\discrimination, obvious porn or cringe-worthy fetishes. I reserve the right to refuse any job also for any reason.

. Payment is made via Paypal to tstuke@gmail.com upfront, but buzz me on tstuke@hotmail.com first or send a note here. Bringing us to our next point.

. The time plan. I normally start it off as soon as payment arrives so its generally within a few days that I get it done. If there are multiple commissions and real life scenarios going on at the same time, I shall allocate you a time slot as and when necessary. I'll do my best to let you know ASAP if something arises.

. Sorry Kids. I don't do requests for free art. Art trades leans towards a very big maybe if I like your work. But that's a big IF.

. Fully painted artwork in the same vein as my cover art or a Magic the Gathering illustration counts as an Extensive Long Term commission (like 3 digits worth). Same goes for Comics, magazine illustrations and other similar professional publishing. By all means, email me all the same.

. For online coloured commissions, i don't mind chucking in a summary background (a basic "photo" ) to give it a little visual oomph. If you want me to portray a character interacting with it, such as a monster smashing a whole street, a character picking up a detailed car or a Hero bearing witness to castle of your spec and design, I treat that as an Extra chargeable character(s).

. Whilst I'll avoid dropping surprise extra charges during Commission time, between when the shop is open or closed I reserve the right to update my prices accordingly based on time, work and resources needed for art at a given moment.

. By default I upload finished artwork to my galleries here and on my website. If for some reason either personal, business or family related you don't wish me to do so, please speak with me.

. Lastly, please detail as much as possible the posture, style and idea of what you want at the start. I normally show sketches and WIP as I work and ask for more details if necessary, but don't expect huge revisions (e.g. starting all over again) once the ball gets rolling on a piece.

That's about it for now. Gimme a hoot if you need a scribble! Any queries, don't be too shy to ask.

Artwork, including the characters Usheana and Zulie from Genma are by me. Done in inks and photoshop.

Website for further comics and shenanigans: www.genmavisage.com