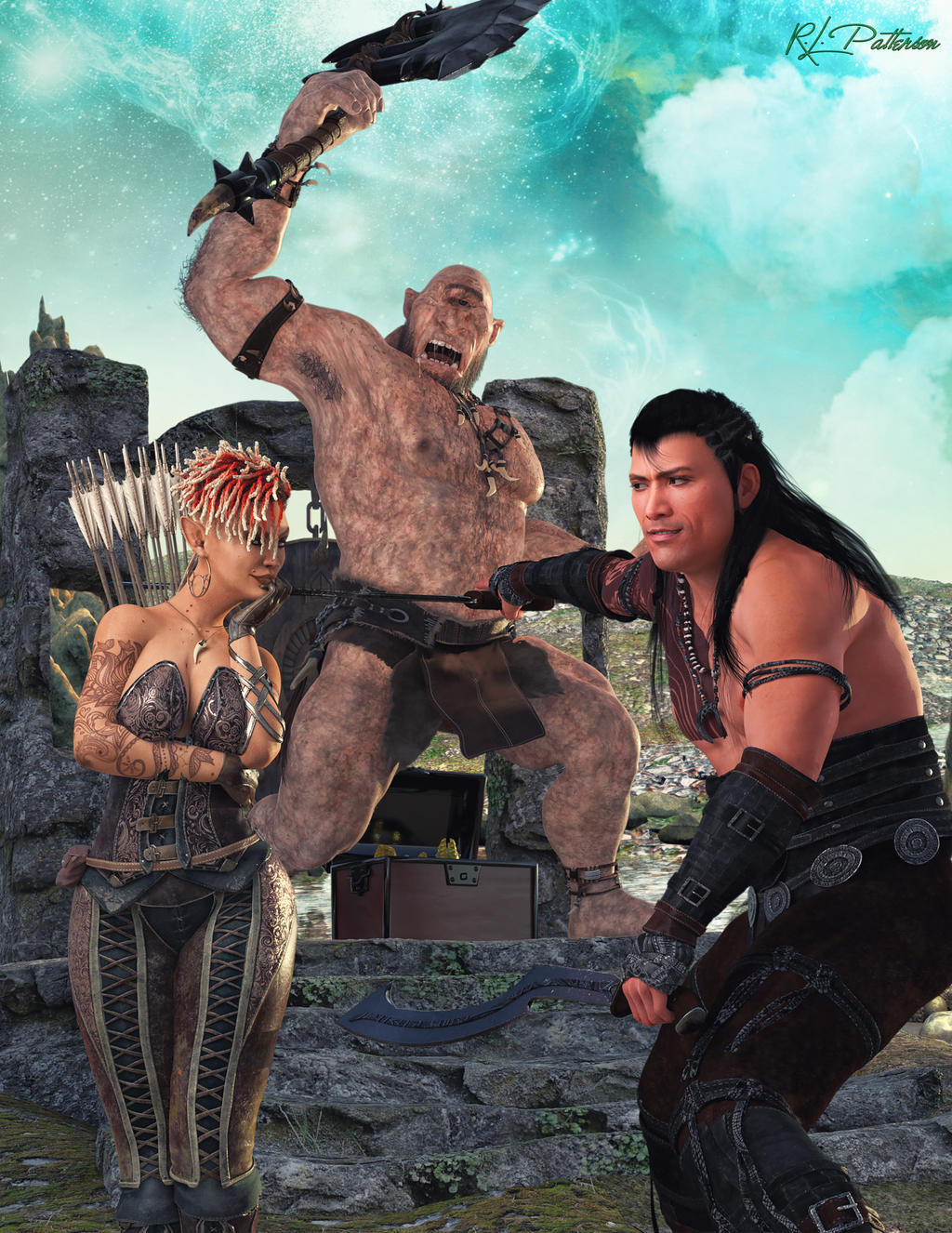 Watch
Barbarian: I got this Babe. You stay here.
Archer: Yeah, good luck with that. And don't call me Babe.

ROFL. I joined a D&D group a long time ago at the same time as another guy. He was playing a barbarian and I was playing an elf ranger: guess who got to live through the fight with the ogres? (Hint, not him.) - this definitely reminds me of that.

Reply

lol. my last D&D group had a Barbarian who acted just like the guy in the picture. lol.
Reply

I played with a Pathfinder group with a Barb like that too, but we also had a sword-mage and a rogue. In the Pathfinder pantheon is a Chaotic Neutral Goddess named Calistria: goddess of lust, trickery, and revenge. Her favored weapon is a whip and Luck and Trickery are two of her three domains (I forgot the other one, went for those two myself). Here's an Aiko3-based concept for the character I created and her Cohort: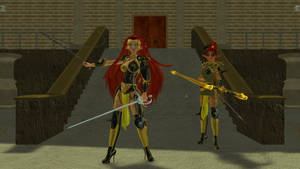 From Luck I picked up True Strike, and from Trickery I picked up Invisibility - each could be used once per day. In Pathfinder there isn't a penalty for using a weapon in your off hand - as long as you only attack with one weapon with each attack. So I specialized her in using the weapon to trip opponents: which in Pathfinder reduces their defenses against melee attacks by 4 points but increases their defenses against ranged attacks by 4 - AND if you are adjacent you get an attack-of-opportunity when they stand up at the reduced defense. It took a bit to teach the crew to go after the tripped guy, but they caught on. I would have the cohort use her bow attack as a combat Aid Another to give my character a +2 on her trip attempts. With True Strike I could guarantee at least one trip on anything of up to large size at least once.

It was a very amusing character.

Reply

That is so awesome!! I like the concept of your character. I've never played pathfinder, but I've always been interested in it.
Reply

It's D&D 3.5 on steroids. Not really OP so much as a lot more choices. For instance Sorcerer's pick a magical heritage that affects various things: they gain a little trick at 1st level which usually increases in uses per day by level; when they gain a new spell level they also gain a specific spell related to their heritage; they also gain specific feats and other things at various levels. I played an Elven Fey-Blood Sorcerer: my special trick was that with a successful unarmed melee attack (you are considered proficient with this attack so no AOO) the foe is paralyzed with laughter for one turn: they cannot move or make attacks including attacks of opportunity. So you can run away from a threatening enemy. I got waylaid by a Frost Giant who had to double move to reach me but was certain he had me dead, so I used the poke and ran away, and our shape-shifted druid who was using a Dire Bear form ATE him.

The extra spells I got were the Enchantment type spells like Sleep and Hideous Laughter - didn't use them a lot but they were fun to pull out when nobody was expecting them.

Reply

That sounds really fun. I didn't really play much D&D 3.5, but I wouldn't mind giving Pathfinder a try
Reply

There are a bunch of "Official" Pathfinder Society groups spread across the country, perhaps further; there is a chance there is one near you if you are interested. I'll note that one of their rules is that you have to own any books you use for your character/or PDFs of them - and be able to show them if asked. I haven't seen it yet but they are working on Pathfinder 2.0 which will bring the fantasy game more in line with Starfinder which is their fairly new SF RPG. Not sure where on the process that is but I'm assuming that at some point they'll switch over to 2.0. The game IS fun, not only are there a variety of classes like in 3.0/3.5 but the individual classes have enough diversity that two people playing the same class can have two different play styles and be equally viable and have very different feels.
Reply

Reply

Is that Dwayne Johnson, looks so real!
Reply