Dear all,
Welcome to a new
CRPhotography
project wherein I will be shedding light on the behind the scenes process of your favorite photographs here on DeviantArt! Each month the series will sync with CRP's monthly theme. This month we are focusing on APN photography. We hope you enjoy this special insight into these amazing images!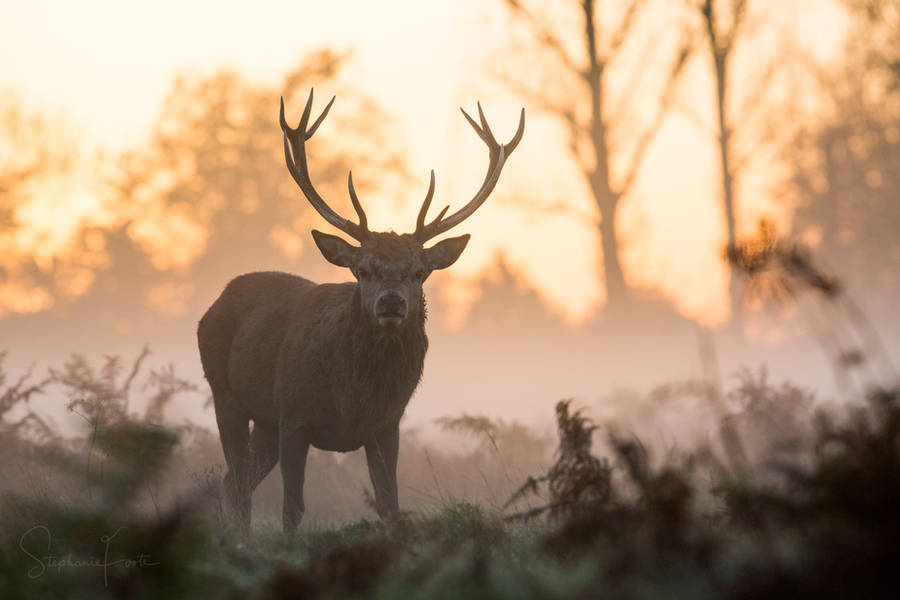 1. Could you tell us about how you were able to capture this photo? What is the location, did you know when going there that you would find a deer? How did you ensure it didn't run away from you? Tell us a bit about the process behind you capturing this.
I captured this photograph of a majestic red deer stag in Bushy Park, London. Bushy park is an oasis for wildlife and nature. Growing up it was a location I visited regularly with my grandparents who lived in Hampton, so I knew it was a great site to watch red deer during the autumn. At the time of this shoot the deer rut was at its peak and you could see stags bellowing and clashing their antlers together as dawn broke.

I captured this image using a 300mm lens, although the deer are used to people as the park is situated in the city, it is extremely important to remain vigilant at all times. As a wildlife photographer you can never forget that these animals are still wild and if you get in their way they can be potentially dangerous. While concentrating on taking photos I also had to focus on keeping enough distance between the stags, and myself. You must never get yourself between two stags that may charge one another!

To capture this image I left a friends house at 5am to ensure I would arrive to the park in time for sunrise. I actually found I arrived right at the moment the gates opened and was the first car in the car park! It was a magical morning and by keeping a close eye on the weather forecast I managed to pick an excellent day. As I walked through the park by torchlight I used the bellowing calls of the deer to guide me to the best location for photography. As I walked I could hear the calls of little owls overhead and there was a remarkably peaceful atmosphere. The conditions that morning were the photographers dream! I always prefer photographing on misty mornings with a bit of sunshine too, and these were the conditions I found in the park. If you get your position right you could see sun rays shining down through the trees and for a few minutes the light seemed truly magical. I took this photograph out in the open where a patch of fog lingered as the bright sun rose behind some trees. I used a low angle to isolate my subject against a soft background.
2. What equipment and settings did you use to capture this? (camera model, lens, filters, tripod, anything else?)
To capture this photograph I used a Canon 5D Mark III, Canon 300mm f/2.8 Mark II.
3. What would you say is the most challenging aspect of photographing wild animals, and how do you overcome these challenges?
It is difficult to say the greatest challenge for a wildlife photographer, sometimes it is the harsh weather conditions, financial cost of camera equipment or learning the behaviour of your subject and where to find them, other times it is the ridiculous time in the morning you have to wake up, but all the challenges are what make it such an enjoyable experience! For me what I find most challenging is the amount of time you have to wait for certain subjects or the hours you spend with zero luck looking for an animal. On a recent project I often spend a minimum of 4 hours looking for my subject, and some days I come home with no successful images after 7 hours. To cope with the long hours spent waiting silently I tend to use this time to relax and simply enjoy nature. So I would say for this challenge it is best to be patient. Another way to overcome this is to learn more about your subject. It is better to just focus on one or two subjects for a long period of time, that way you really get to know the animal and the hard work will always pay off and show in your final pictures!
---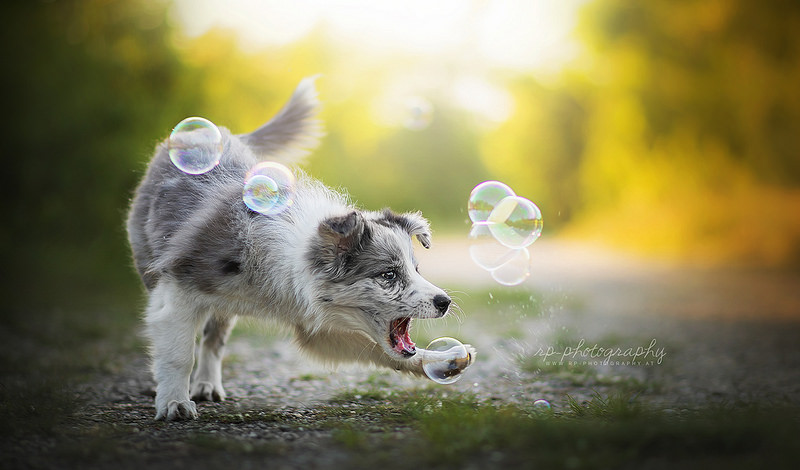 1. What did the behind the scenes look like for this shot, did you have an assistant blowing the bubbles or were you both blowing bubbles and photographing? Tell us about how you prepared for taking this shot.
This shot was from a paid shooting, the dog belongs to a friend of mine! It was not easy, because she handled the puppy and blew the bubbles at the same time, we had to make sure Alice, the dog, didn't run too far away from us since I was taking this with a 85 mm prime lens, so I couldn't´t zoom. My friend was not using a bubble machine, she was doing it just old fashioned way!
2. How were you able to ensure you photographed Alice quickly enough? Dogs tend to move very quickly, and sometimes don't necessarily listen to directions, so how are you able to control the situation and get the "pose" you want from Alice before she moves or walks away etc? Timing seems very important for this shot!
I just had the idea in my head "Puppy chasing bubbles", I had no special posing wishes and usually just let the dog do what it does, because puppies are cute on their own and they are not easy to pose! When I was taking the picture, I was laying down on my belly, facing directly with my camera to Alice. Taking such action shots needs patience and luck. I used the AF-C focus setting on my Nikon D800 and a low shutter speed so I can freeze the moment.
3. What was the editing process for this photograph? What did you do in the post-processing phase?
I actually didn't do a lot in this photo. I cropped it, removed some dirt on her fur and also a little branch on the ground, added contrast, a vignette and some brightness!