Welcome to Skinmasters! A series of interviews with top graphic designers and skinners on deviantART.
The fifth interview of the series features an artist who is top of his field. He creates some of the best cell phones themes out there but shows his true talent in designing web skins and interfaces. It's a pleasure to interview him and also call him a good friend. The famous Skinner/Themer I am talking about is of course Nigel Evans aka
EnzuDes1gn
Nigel Evans aka
EnzuDes1gn
is a name known in many deskmod forums and specialised sites on customization. He has made some great skins. You should definitely check out his works! I've selected a few of my favourites for your viewing

:thumb36040056: :thumb31572681: :thumb39197061:
Hello Nigel, for those that haven't heard about you... could you give us a brief biography?
Hi names Nigel Evans, I'm 32 going 33 years of age this year in april. I am happily married to my lovely wife Tanya. I'm a Taurus the bull, I don't drive a car, I prefer to ride my Scott mountain bike, or ride my skate board. I work full time during the day as a kitchen hand at a local hospital,
and in the evening I provide freelance services. I refuse to act my age, so give up trying to make me old

Cool, Now let's talk about your skins. When did you start to make them?
Lets see I haven't always been into computers in fact quite the oposite I hated them and I hated mobile phones too, I could not see what all the fuss was about, and then one day in early 2006, I bought myself my first mobile phone a T63 by Sony Ericsson, I learned to love it, but there was always a big
problem for me, I couldn't modify it, so it soon got boring for me to use,so I sold it, and got myself a Nokia instead.It is at this time I had also purchased my first computer a total shit heap, a HP Pavillion

, with this pile I learned to make my first phone skin.
yes thats right for those who don't know me, I started out making Nokia skins, long before I ever skinned Sony phones. So yea fast forward a few years later, and I now love making skins for both my personal use, and also to share with others.The rest as they say is history

.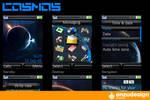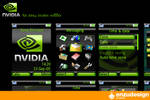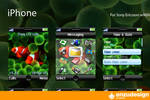 What graphic tools do you use? Any recommendations?
Mainly Adobe products, plus some freeware applications like Sony Theme Creator, Nokia Theme studio / Nokia Carbide Theme Studio.
And many more, depending on the project I am working on..
Where does your inspiration come from?
Well lets see, danillioc, dangeruss, skins studio, various movies, and my own warped imagination.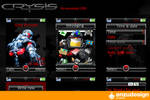 :thumb79732013: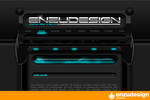 Has deviatART been an influence to you? How big was that influence?
Not really, as mobile skinning was not a big thing here, I have taken some influence in webdesign and interface from here, but thats it.
Who are your favourite designers on deviantART. Could you name a few?
Danillioc, Dangeruss, Tony Harris, Jimmy Bjorkman, Jeff, Patrik L, Karsten, JJ Ying, Gizcore, Xdreamer and many others.
Where did your nickname come from?
Ha ha i get asked this alot, it's really quite simple, I'm not a nice guy, I used to work as nightclub doorman, and have been into violence for many years, and well I theme shit

That said i have now shed this name, and go by the ID of enzudesign

What kind of services do you offer? I'm sure there is a lot of potential clients reading this interview

It ranges from webdesign, to interface, blogs, GUI skins, mobile skins, and more, my website contains all the relevent information

-
enzudesign.com
Any advice for those that are starting to create their own skins?
Sure, be creative, be original, join an active art community, which offers weekly competitons, as they will help you to improve and become a better artist. Also ignore the negative
childish crap that some may throw on you, use this to motivate you even more, but most all, remember photoshop is fun

Any final words to add?
Thanks to you Mrrste, and to all my freinds, and those that watch me, nothing is nicer than the feeling of others using and enjoying what you do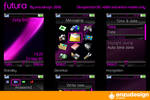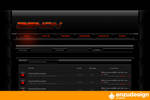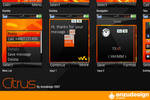 I hope you enjoy reading this as much as I enjoyed making it. Head on over to his website

Thank you,
Stephen aka
mrrste