First, let me do some features, because it's been a while.

-one HECK of a good artist for surrealist and frankly horrifying black-and-white art. Seriously good stuff, and I highly recommend for anyone interested in the strange and unusual.

-does a webcomic called Forest Spirits which i so far have found VERY fun to read. I highly recommend checking it out.
So lets talk about dream logic. When it fails, its usually because of the ol' "IT WAS ALL A DREAM WOOOOOOOOOOO" twist, wherein writers block and a lack of creativity are explained away by the subconscious of the characters. We see this done all too often, in which crazy sequences and filler episodes are explained by throwing the viewer under the bus and pretending that dreams are a good bit of deus ex machina (News flash: they aren't). But when dream logic is used as a pervasive and atmospheric tool to manipulate the senses and the viewer's imagination, dream logic is pretty dang effective, and can create something that is at the very least interesting.
We are back today to talking about Lucio Fulci, the godfather of gore, but more important, and experimenter with non-linear storytelling and movie productions built on dream logic and the subconscious. I find that, far too often, movies today are built around a political message or some moral namby-pamby nonsense or (worst of all) some imagined cultural critique rather than the true wellspring of creativity: the human mind. Great horror, even in its most nonsensical form, relies primarily on the manipulation of the human psyche, in which the viewer's imagination is used against them. Impressions go father than simple images, and images full of subversive and contagious impressions are more effective still. Thus, I hope the reader will understand that my thesis is NOT nor has it EVER BEEN that Fulci is a director without very clear and noticeable flaws: only that his work is misunderstood in its goals and intentions. I believe it was Stephen King in Danse Macabre who once bemoaned the fact that critics have a bad history with horror simply because most of them cannot, for the life of them, understand what it is they are viewing.
Which brings us to Fulci's best film, The Beyond. I enjoy most of Fulci's work, but the Beyond is really a standout film: it is the most comprehensible, it is the most consistent in tone (more or less), and it has the best effects and camerawork of any of his films. It really is a horror classic, and the fact that it is largely ignored by horror fans is really something of a shame. I think the Beyond is a taste of Fulci's best, and its obscurity as a film is really a tragedy. I review it now because only recently did I actually acquire a copy of this: my wife ordered a DVD of it for me for Christmas. God bless my plushy princess.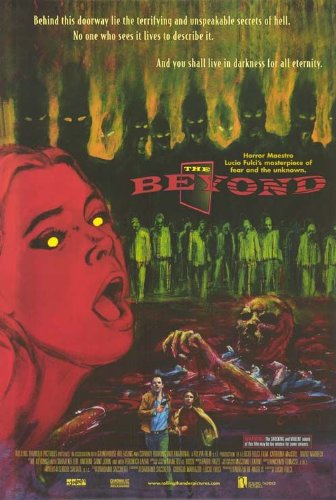 Crazy poster, huh? Well, the Beyond is a pretty DANG surreal movie, and I loved every minute of it. It has a lot of Fulci's best tropes: dark atmosphere, pervasive and unlikely gorey deaths, zombies that look gore-tastic and original, creepy sound track, and of course horrible things done to both eyeballs and Catriona MacColl. On the whole, most people find The Beyond to be the most watchable of Fulci's films.........which maybe isn't saying much.
So what's the plot? Well, if you've been paying attention to my little blogs on Fulci, the answer is typical: who knows? Basically, a woman named Liza inherits a worn-down hotel in New Orleans, and dreams of restoring it and using it as a means of turning her life around. Little does she know, the hotel sits on one of the doors to Hell, where a warlock named Schweik was murdered in a manner most ghastly. Soon, a terrible curse descends upon Liza and her staff, and the living dead begin to walk the Earth as the staff are one by one converted into the legions of the damned. Liza is warned by a blind woman named Emily that all is not well, but far too late to save herself. She attempts to find answers in the ancient Book of Eibon, a collection of prophecies that pops in and out of the movie, which warn her and her medico boyfriend that the end of the world is at hand.
Or at least.........I THINK that's what it's about.
Once again, Fulci focuses on subconscious messages, implication, and vague story telling to invoke something that stimulates the imagination more than the rational mind. Plot elements move in and out of the story at random, themes are prevalent but not necessary coherent, and for the most part, character backstories and motivations are told with glances and implications rather than outright statements or actions. In short, the bulk of the story telling is left to us the viewer: Fulci only gives us the bare minimum. In a sense, this works very well. We the viewer are allowed to interpret these events in any way we please, and to understand them through our own lens. It's clear that some horrible reality is invading Liza's world, although its nature is ambiguous. I am reminded of Clive Barker's version of Hell: less a place of judgement than a horrible state of existence for the unwary. The nature of this other reality and the forces behind the destruction of the hotel is never really revealed, except through a smattering of dialogue. Things happen because they happen, and we the viewer are left to put the pieces of the movie together however we fancy.
The tone of the film is largely consistent, and works very well. There is a VERY real sense of building dread, which is effective despite the film's surreal and sometimes confusing nature. The dark, gritty lighting, dusty and worn textures, and rubbery costumes really make the film something of a bloody, but gothic treat. The only bit of bitterness is the last thirty minutes, which essentially turn this into a Romero film or a less-than-exciting episode of the Walking Dead. Yet the finale, and the last two minutes, MOOOOOOORE than make up for it. I HIGHLY suggest you don't watch this film in clips or pieces, but wait until you can watch it in its entirety. The ending really is something amazing, if you're tuned in to the kind of atmosphere and subliminal manipulation that Fulci is going for. The writer, legendary gore meister Dardano Sacchetti, based the script largely on his own ruminations about death, the
"suffering of being born condemned to death... [of being] born to be erased."


Dang, how existential can you get?
Then, of course there is the gore. RARELY have I ever seen anything close to it, and it really is spectacularly done. Take note future directors of America: when practical effects go wrong, they make a movie endearing; when CGI goes wrong, it makes a movie pathetic. All of the effects in the Beyond are practical, and GOD is there something delightful about the film's rubbery, gooshy, splattery goodness. The death of Schweick is one of the most shocking things I have ever seen, and an ordeal in itself to watch. The film pulls no punches, and shows the brutality of man-against-man and the horrors of death in all their gory glory. Fulci is a fan of Atonin Artaud and his theater if cruelty: as such, much of the film exists to "shock" the view into questioning their views about reality, culture and spirituality. As stated, the film is largely an existential exercise, and exists as a commentary on the horrors of death and the senselessness of human ambition. It's pretty clear that Fulci's intention is not simply to tell a ghost story, but rather to create another reality entirely that forces us, the viewer to analyze our own ideas about death and its nature. It exists as a kind of catharsis by forcing the viewer to face the horrors of death in exaggerated form and to come to grips with the end of life as "the end" good and proper.
As I said, the last half hour of the film kinda falls flat, and is almost laughable in how it flubs, mostly because Fulci's arm was twisted by executives, who wanted another zombie film. Fulci, by this point in his life getting very old and very sick, didn't have the will to fight, and let them put about fifteen minutes of filler and pure horse manure into his otherwise spectacularly atmospheric film. It breaks up the tone in a very noticeable way, and its very clear that Fulci only put it in for perfunctory purposes, for the normies you might say.
And it cost him. Big time.
But even at its worst, the film is still enjoyable. There are man-eating spiders, little girls getting lobotomized by magnums, and of course, eye-gouging a-plenty. There is also the nice touch of Lovecraft-Clark Ashton Mythos in the inclusion of the Book of Eibon, the movie's McGuffin which essentially tells our heroes they are royally screwed. In essence, the Beyond works as a pure experience, a jaunt into something strange and bizarre that is, in many ways, unlike any other film. It is dodgy in places, but on the whole, I found it spectacular, and I highly recommend it. It is the clearest example I can give of why I love Lucio Fulci, a man who was a shameless experimenter and a legend of the splattery genre that I love.
Lucio Fulci died alone in 1996. His daughter, Antonello, had been paralyzed in a car accident, and his wife had committed suicide. His films were regularly panned and mocked by critics, and he was essentially ostracized by many other directors and professionals in the film industry. Towards the end of his life, diabetes began to take its toll on him, and his walking became so painful that he essentially had to go about in a wheelchair or on crutches. By the time the Beyond was released, he was beginning to feel the effects of his illness. By the 90's, his life was a battle against pain and sickness. He died in his apartment, and his burial was paid for by fellow director Dario Argento, who had always respected him. He went to his grave more or less rejected by his contemporaries, remembered only by a scattering of fans who have only just now really started to bring his work into the limelight (you may count Brad Jones a.k.a The Cinema Snob among them). Yet for all the flaws of his film making, I regard Lucio Fulci as an inspiration, a man who continued to create a vision he found to be worth his efforts in spite of continual negative press and the failings of his own body. If that doesn't deserve respect, I don't know what does.
RIP Lucio. Wherever you are, may you be free of ketoacidosis and the eye-ripping undead.
Here's a trailer:
Thank you all so much for reading.
yours,
RJR