Grems are getting a bit of an upgrade to match their more updated lore! There are now new traits and free mutations for you guys to play with, along with some more information about them. Hopefully this new refsheet helps clear things up much easier, as well as being more friendly on the eyes to anyone who is colourblind or colour deficient!
The soft serve trait has also been removed as it lacked popularity, but please don't fret! You can easily mix two neck traits to get the same effect of a soft serve neck! If your grem has any of these traits but are not shown on their masterlist, feel free to comment on the masterlist in requests to update your grem. If you wish to use any of the newer traits on your pre-existing grem, then feel free to, but it counts as a redesign and you will need to note me for evaluation before using your grem!
Please be sure to read everything carefully both here and on the species sheet before asking any questions!


:Gremcorps: Official FAQIndex
1. TOS
2.What is MYO,OTA,DTA?
3. Are grems an open species?
4. How do i get a grem?
5. Do you accept points?
6. NSFW Art?
7. Can you post grem seeking journals?
8. Myo/customs open?
9. When do myo/grem batches open?
10. Do myo slots expire?
11. Can i use rare traits on the guide sheet?
12. Are we allowed to mix traits?
13. what sort of journals are allowed in gremcorps?
14. Can i get a grem for free?
15. Ways to be involved in the community?
16. How much does a grem cost?
17. how do i get my MYO approved?
18. I want to redesign my grem, what is allowed?
19. Who can i commission to make MYO designs
20. How do i become a grem designer?

GremCorps RulesThis journal will now be linked from the front page of GremCorps and should cover any and all rules and terms of use within the group. We're sorry that various rules were scattered around a dozen journals in the past and hope that putting together something more complete and accessible will help you guys out in the future! Please take the time to read through, as some things have changed and been added.
GremCorps Rules
Sale/Trading of Grems

Soliciting other users for their Grems is not permitted unless it has been specified by that user that it is okay to do so.
Grems obtained via new-owner-only auctions and raffles cannot be traded until a period of 2 weeks has passed since the time of purchase.
Co-owning is not permitted.
When creating a journal to sell or trade your grem, you must have the masterlist link or image shown in the journal to show that your ownership of the grem is official.
Grems may only be sold for the price at which

Masterlist Hub (2.0)
Official Grem Masterlist (click here!)

FOR COSMETIC CHANGES (CLICK HERE)


This is the area where you announce your Grem Trades and Grem additions into the masterlist!
Grem sell Instructions
-comment with the link (can be link thumbnail) from the masterlist to the grems you are trading
-you must have the recipient Confirm with your comment for it to be accepted
-Provide proof of purchase from the current owner and also from the new owner.
Comment template example:
"i have sold (grem link) for (amount) , here is the proof of purchase (proof). (If there is no price listed on the masterlist, current owner please provide a proof of original purchasing)
Grem Overhaul Instructions
-Comment with the link (can be link thumbnail) from the masterl

How Do I Get a Grem2? - FAQ (Updated)There are a good number of options that you could go in order for you to attain a Grem, whether you are planning to buy or don't have the money, there is an option for everyone!
Here are your options:
Option One : Auction
You can buy them through auction from an admin who creates grems to sell, these admins being

MrGremble

,

Salisburies

,

Kasmut

,

MamaMii

, or

ToothlessEgo

. There are moments where guest Auctions do happen on other accounts, Please check

MrGremble

for status updates on situations like that!
The Autobuy Price of these grems can range from $250-$500 Based on Mutation or Rarity. 
Option Two: MYO Slot
You can buy a MYO slot from journals hosted by

MrGremble

, these journals are randomly posted to prevent others from sniping the journals, giving more people a chance to catch one. 
A MYO slot costs $60 for a "normal" one, $70 if the event is labelled "rare", meaning you get the option to acquire 1 mutation trait.
Journal Examples Shown Here:
MYO Slot Users

Please keep in mind that rarity is only a lore thing when it comes to any of these traits on this sheet. If you by chance have a normal MYO slots then you are open to use all and any of these traits shown above, mix and match as well! This goes the same for anyone wishing to redesign their grem and want to change traits.
---
What are Grem2?


Grem2 are a genetically modified species created before as a loyal companion and guardian, all specifically dedicated to the needs of humans. They had served this assistant role perfectly and deliberately for people until reaching an era where laws were revised to implement more freedom and independence for the grem2 species.

This newfound freedom did not hinder the bond between creation and creator, however it did provide space for growth to both species, allowing them to live equally with their human counterparts and relive a path of their own volition. Now grem2 are provided with a choice to either live with human companionship or to choose to live independently and create their own story.

(Disclaimer: A grem2 needs to be bought and to live with their destined family before given the freedom to do as they wish, just like a child growing up and leaving home once they are old enough to do so.)


Extra Info
-Grem2 are created to be sexless which prevents them from reproducing, their gender is based entirely on societal constructs and are able to decide on what gender they wish to be called on their own the older they become!
-Grems are omnivorous and can consume both meat (raw or cooked) and vegetables, but they have a stronger tendency to eat meat as it's easier to chew for them. Their favourite meat is chicken especially! (Grem Skeleton Below)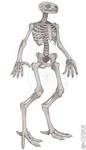 -A grem's lifespan ranges around 100 years, but there have been recordings of grems living longer than that.
-An average grem Weighs 200-280 Lbs, but can be larger based on their body shape.
Physical Features

An average grem2 is a sleek and slim bodied creature with strong "bird legs" resembling earth's birds like the rooster/emu/crow, they possess a thickness around the arms and thigh area, this thickness contains fat reserves for them to survive off of when times are rough. Grem2s can come in any colour you request, their other features like eyes,ears,tails, and blood colours can be altered as well, but can be limited to only a few changes. Their heads are soft to the touch, but are hard with skin close to the skull.

A grem's teeth are a mix of both carnivore with human molars positioned at the back of the jaw. (So pretty much omnivorous teeth)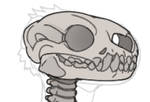 Grem Traits

All of the traits shown on this species sheet are open to use if you have a grem or have acquired a myo slot! The rarity only exists for lore purposes. You are not allowed to add any mutations that are not shown on the species sheet.

Any traits past the Extras box at the bottom of the sheet are superficial and do not warrant a redesign! feel free to add them on at anytime.

Blood rules

New version to be added in the future, for now look here for an example! Keep in mind that it is slightly outdated!

gremcorps.weebly.com/9826-bloo…



---
More info may be added in the future, this deviation will be updated is more information has been added!
Grem2 are closed species created by MrGremble , you can not make your own please!

You are allowed to take inspiration from my species sheet, but please do not copy the format word for word! It would be much appreciated!!
A massive credit to
BackwardsSnappy
for the help on writing, skeleton work, and inspiring me all throughout working on it~ Thank you for everything bud!
Image details
Image size
1300x8987px 3.73 MB