Name's Bolt. Just your Average Joe from the smoldering state of AZ.
Want to subscribe to me on YouTube? Click that little website link.
Want some more instant updates? Check out Twitter or Tumblr.
twitter.com/MrCrazyBolt5150
mrcrazybolt5150.tumblr.com
Got Discord? Add me at MrCrazyBolt5150#0841 or check out my server:
discord.gg/bsmbQSQ
3DS friend code: 3154 5964 0508
Nintendo Network ID: MrCrazyBolt5150
PSN: boltage14a
My Kazoku:

my cute, beautiful sweetheart


Possibly related by blood in some way? XD

a sister who is a wonderful artist
How much longer until my birthday?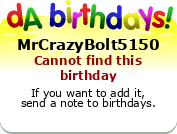 Become a Patron!
gibe moni plos
www.paypal.com/cgi-bin/webscr?…
Favourite Visual Artist
AnnaTheWonderGirl01, GWizard777, MochiAi06, and Blazikenpwnsyou
Favourite Movies
South Park: Bigger Longer and Uncut, Bruce Almighty
Favourite TV Shows
None since TV is bad in my opinion
Favourite Bands / Musical Artists
Metallica, Pantera, Godsmack, Psychostick, Disturbed, Volbeat
Favourite Books
The Call of the Wild by Jack London
Favourite Writers
AnnaTheWonderGirl01
Favourite Games
DOOM, Monster Hunter Generations, Any Smash Bros. game (after N64), Miitopia Tomodachi Life, Animal Crossing New Leaf, Garry's Mod, All Half-Life games in my Steam library
Favourite Gaming Platform
Nintendo 3DS/2DS, Wii, Wii U, PS3, PS4
Tools of the Trade
3DS and Adobe Photoshop CS6 for images, Premiere Pro CS6 and HitFilm Express for vids, and Audition CS6 for audio
Other Interests
Eating Taco Bell, I can go on.