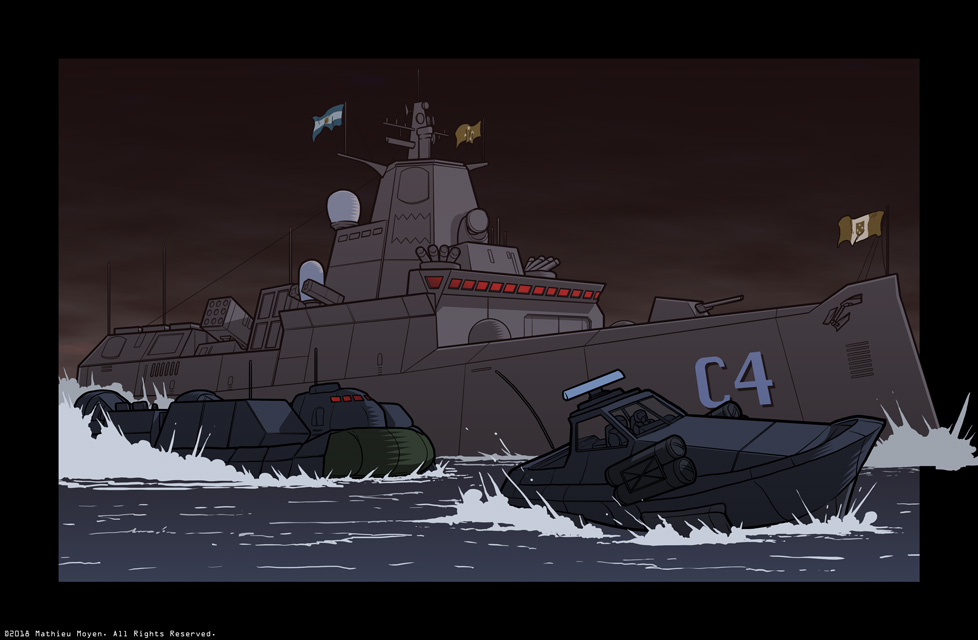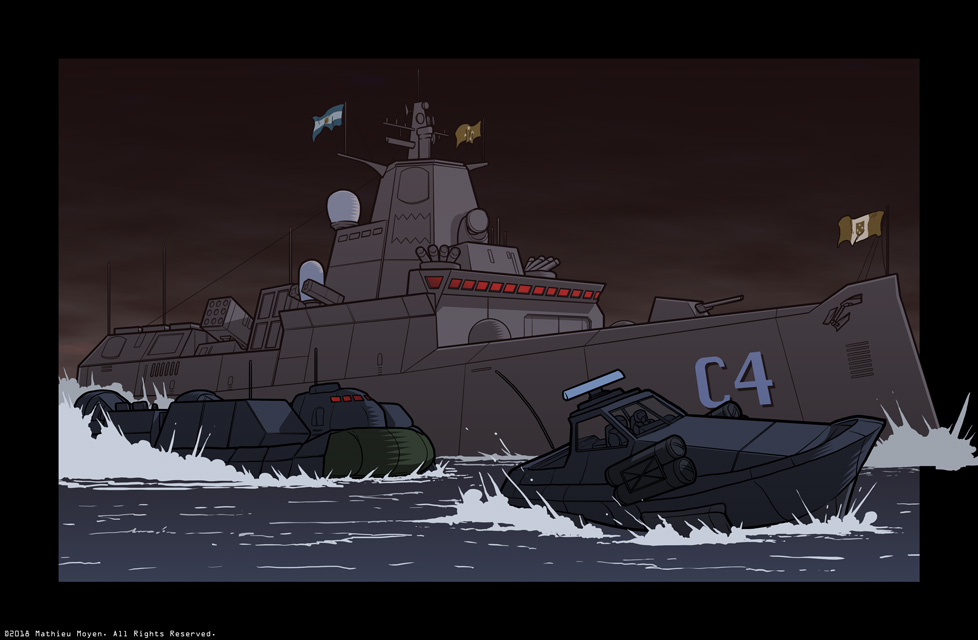 Watch
An Argentine heavy Littoral-Interface Combat Ship, which would probably be an easy rival for a Cruiser or a Destroyer in the "Real World." From the latest page of my comic
6-Commando
Note the Naval Jack indicating that it's a vessel of the Coalition of South American Nations or "CONASUR," one of four Atomic superpowers in the Commandoverse, and one that hasn't yet seen its full potential "on screen." I'm almost at the end of Chapter 7, so it's a good time to read up if you want to know more of what this comic is all about. Wink wink, nudge nudge, say no more.
Starting off the New Year with comics. Always with the comics.

Happy new year!

I really like the design of the corvette, it looks like something out of the Damen shipyard, since they're well known for favouring axe bows above all else. Also brings to mind the original protected cruiser "ARA Buenos Aires" built by Armstrong at their Elswick yard in 1895.
Reply

Happy New Year to you, too! I only wish the first few weeks hadn't been such a worktastrophe for me or the current chapter of 6-Commando would be over by now!

Yeah, inverted prows and tumblehome hulls are getting new interest for their radar-absorbing properties, evidently. Not being a naval architect I couldn't comment on their seaworthiness, but the Zumwalt seems to be okay in trials so far, and it sure does look cool!
Reply

Well, I'm not an expert either, but I did pick up a few things from my father, who is a bit of a naval buff, to the extent that he has published a couple of articles in "The Mariner's Mirror" (the quarterly academic journal of the Society for Nautical Research in the United Kingdom).

It's all about what you want in a design - a conventional v shaped bow and a flared hull will tend to ride over the wave and has a lot of righting momentum, meaning the ship will be hard to capsize, but will pitch and roll a lot in heavy seas. A ship with a reverse bow extreme tublehome like the French late 19th century designs will push into the wave and meaning it won't roll or pitch as much, especially at speed, but they could capsize very easily, because that type of hull doesn't have a lot of righting momentum. Finally, the modern compromise is the slab sided or slight tumblehome hull with an axe bow, which tends to be wave-piercing but neutral and still has plenty of righting momentum.

In the case of USS Zumwalt, for example, you can see the tumblehome is only a few degrees, starts just above the waterline and rises steadily, instead of curving inward sharply, which would have posed stability problems. Also interestingly, Zumwalt's bow is a bulbous reverese design reminiscent of a Greek trireme or a 19th century "torpedo ram" instead of an axe head. Still wave piercing though, so I'd say basing your design on the Zumwalt is about right.

The only thing I'm puzzled about is the anchor, if I may be allowed this small nitpick - not sure wherever it's supposed to be a stockless anchor (two flukes) or a Bulwagga (three flukes) but it looks a bit too small for the ship size and doesn't look too firmly attached - it looks like it could dangle in bad weather and scrape the side of the hull. But hey, it's their paint that's getting scratched, so it's no skin off my back... XD
Reply

Reply

Are they trying to take over the Falklands again?
Reply

That hovercraft looks like it means business.

Reply

Yes. But I wonder. Is it full of eels?
Reply

XD

It does have a mean look, in the end.
Reply

Why do I have a feeling these guys can't be trusted.
Reply