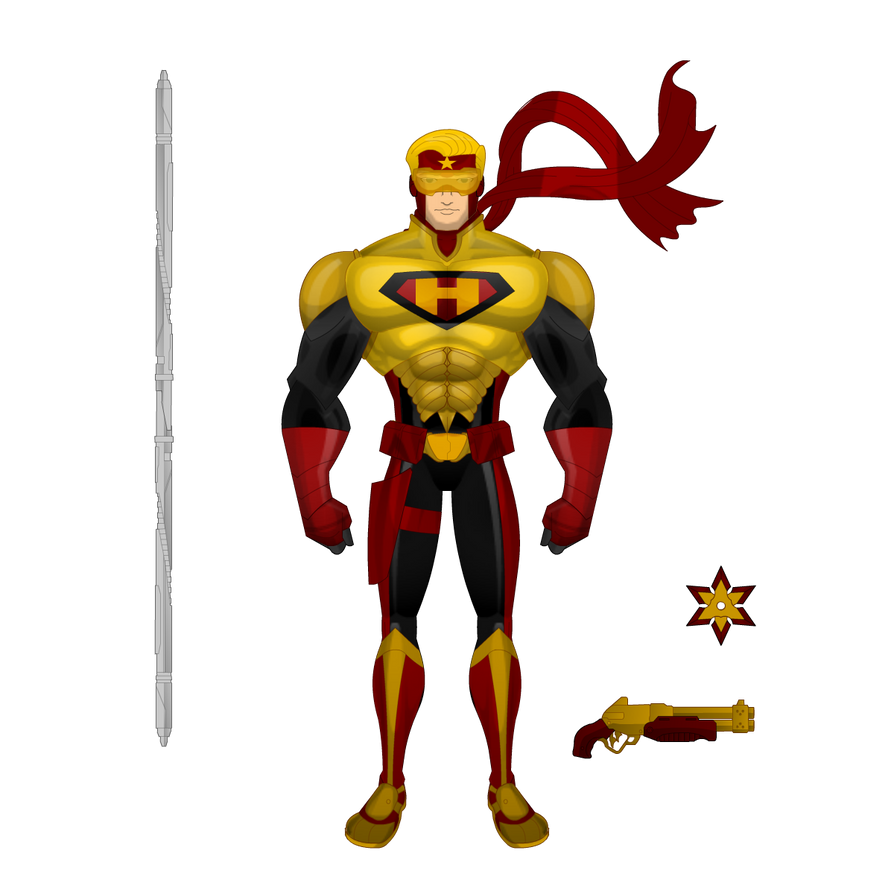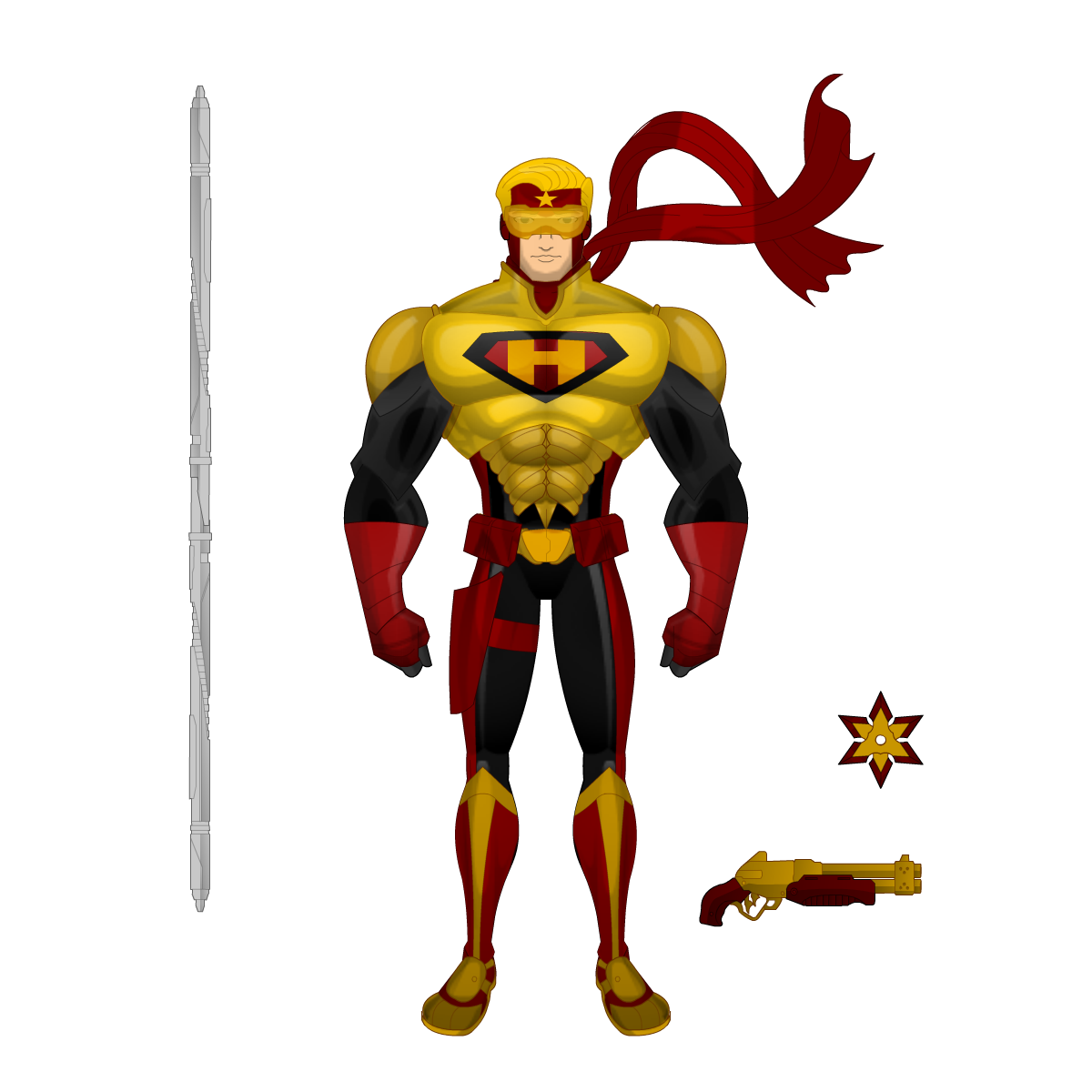 Watch
UPDATE 1/11/19: So, after putting the Renaissance together, I suddenly realized that Captain Hollywood didn't really have a redemption reason to be on the team. So I've updated his origin a bit to make him fit in with the other team members.
Meet the Golden Boy, Captain Hollywood.
Quick Bio:
Hank Thomas was the man who had the Hollywood life that everyone dreams of, but gave it all up to become a somebody who makes a difference. Hank's parents were a strict, old-fashioned California senator and an artist, free-thinking documentarian mother. Though his parents loved each other, they were just from 2 different worlds with different opinions about the world. They tried to make it work, but kept clashing at most of the little things. When his mother became pregnant with him she decided it would be best to raise her son by herself instead of having Hank grow up in a dysfunctional home. Though they both agreed it was for the best, Hank's father's biggest regret in life was that he couldn't make it work with the love of his life.
After Hank was born, his mother took him all over the world as she documented some of the most fascinating yet unknown people. Hank received a unique education from the people his mother filmed, including a decathlon olympian, a Noble Prize-winning scientist, a master magician/escape artists, a shakespearean actor, an enlightened philosopher, a military peace operative, and a notable sentai martial arts instructor. It was revealed at a young age that Hank was a polymath, meaning he could copy difficult skills after seeing it done once or absorb vast knowledge at an accelerated rate. Needless to say, he acquired a unique skillset that would help him later in life.
When Hank became a young man, he felt a desire to do something with his life. He wanted to be somebody, but didn't know where to start. Growing up with a documentarian mother, Hank had developed a deep love for cinema and film industries, both American and otherwise; so he decided to pursue a life as a performer. One challenge he decided to pursue was to become an EGOT Winner (Emmy, Grammy, Oscar, Tony). Though his mother was a bit hesitant on the path he had chosen, she nevertheless saw her son's drive and need for fulfillment, and gave him his blessing to move to Los Angeles; but giving him a warning of the type of place it was and people who lived there.
Unfortunately, Hank feel victim to the glamour of Hollywood like most people. Almost immediately upon setting foot in Hollywood, Hank was picked up by the biggest (and most corrupt) producer in Los Angels, Colin Crowe. Under Crowe's help and influence, Hank rose to the top of the celebrity A-list, and pretty soon he had adopted a care-free hedonistic lifestyle of fame-mongering celebrity, often making tabloid news. Hank's contact with his mother became less frequent, whether out of becoming more self-absorbed or because he was afraid to face her. Regardless, Hank was close to accomplishing his goal of being an EGOT winner, having won a Tony, Emmy and Grammy, and an Oscar around the corner towards turning 30 years old.
But on the night when he accepted his first Oscar, Hank got a call in the middle of his acceptance speech and learned that his mother had fallen terminally ill from contracting a rare disease while filming in Africa. He ran off stage to be with her in her final moments, but arrived too late. 3 weeks later, a celebratory funeral was held to honor all the lives his mother had touched and the impact she made through her films. Hank realized he hadn't become the fulfilled somebody he set out to be, in comparison to his mom who did so much. It didn't help that he had met his father for the first time ever at the funeral, and that his old man chastised him for not doing anything worthwhile (though this was more of a personal opinion since his father didn't appreciate the arts as much as Hank and his mother).
After the funeral, Hank took a real hard look at his life, determined to turn it around and do something worthwhile that made a difference like his mother had. He made up a list of ideas - charities, more impactful acting roles, even politics - but nothing seemed capable of making a real difference. Then, one day Crowe called him into for a discussion about capitalizing on his mother's death, which infuriated Hank. Less than half-an-hour later, Hank witness Crowe sexually harassing a new actress recruit into signing, and something snapped in him. He stormed up to Crowe and took a hard swing at him, which Crowe retaliated by declaring Hank ruined and Blacklisted forever in Hollywood.
That moment, from witnessing Crowe's bullshit and saving the girl, Hank saw for the first time what a horrible place Hollywood really was, and realized he could make a difference by cleaning it up and protecting others. It would prove difficult now that he was blacklisted, but seeing a tabloid of Earth's first and newest heroes (Empress, Zener, and Toonman), gave him an idea. That night he put all of his resources into private accounts and faked his death, believing he could only make a difference as a nobody rather than who he was now. He then got to work on an indy project he called "Captain Hollywood".
For a year-and-a-half, Hank began putting together two new identities: the first was in plain sight among normal people as crewman Jack Smith, a one-man film crew specialist who was able to gain access and knowledge of most unlawful things in Hollywood by working on the biggest projects thanks to his numerous skill set (stuntman, makeup artist, special effects director, prop designer, etc). The second was inspired by newly emerged superheroes Empress, Zener and Toonman. Hank/Jack created a superhero vigilante masked persona that combined flashy charisma of both American and Japanese films that would act as a beckon of change and a better tomorrow for Los Angeles. He called this masked persona, "Captain Hollywood"; and made his public debut with great success.
Now Hank Thomas/Jack Smith is the man who functions as a nobody while appearing as a somebody in order to make actual change in Los Angeles/Hollywood. He has put his skills, knowledge and resources into an arsenal and identity that he hopes can save the city and its people from themselves. In his career as a hero he has made allies among the heroes of the East and West Coast, most notably the Renaissance, but he has also acquired a walk-of-fame Gallery of Rogues, many superpowers but all of whom were once notably famous for something.
Powers/Abilities:
• Polymath: Able to absorb and retain vast amounts of knowledge and skills, can copy moves and abilities of people after seeing it preformed once.
• Olympic level athlete and Stuntman trained in parkour & martial arts with a high tolerance for pain.
• Master Thespian, Illusionist, Escape Artist, and Master of Disguise.
• Arsenal includes:
•
Captain Hollywood Suit
- insulated, fire & bullet proof, made for quick escapes and maneuvering.
•
Helmet
- Built-in communicator and different optical lens including x-ray, heat, inferred, night vision, and ultraviolet.
•
"The Prop" staff
- interchangeable weapon that can turn into any weapon imaginable
•
Tazer-Laser Blaster
- Combines hard light technology with taser electroshock energy to create a "laser beam" that can stun/immobilize opponents.
•
Hologram cubes
- technological marvels that can create realistic hologram illusions of anything of various shapes, figures, environments.
•
Star Shooters
- throwing star discs that can ricochet of surfaces and disarm opponents at sharp painful speed.
•
Spotlight Star Emblem
- Capable of releasing a bright flash of light that can bling opponents.
• "
The BlockBuster"
- high tech, all terrain stunt-vehicle with weapons and computer system.
• Jack Smith identity allows him to hear things in background and get into secure places through connections, while Captain Hollywood identity proves flash and focus to draw attention of criminals away from innocent bystanders.
• Film Fanatic and Dedicated Protector and Hero, a bit of a snob against famous people however.
BEHOLD THE NEW CAPTAIN HOLLYWOOD!!
So I should start off by saying that I've decided that Captain Hollywood is going to be part of my superhero team, the Renaissance, once again. The team, which consists of Zener, Empress, Toonman, Zoomorph, Blitz, Merauder, and Physique, all operate on the west coast of the United States, so I found it only fitting that Captain Hollywood naturally be added to the roster. But I realized before I could put him on the team I had to give him something that fit amongst the teams' theme/gimmick, which is second chances, rebirths and formers-turned-newers (if that makes sense). So I had to rehash Captain's origin so that he was given a new start in some way like the rest of the team.
That being said, Capt's new hook is that he gave up a celebrity life that he didn't even enjoy by
faking his own death,
thus starting fresh with 2 new personas that could help change the city of Los Angeles/Hollywood. I feel this works really well because it fits among the team's common histories, but also separates him from the other heroes because his story isn't so tragic/negative.
And of course, because I was changing his origin by giving him two new personas I realized it was high time I fully embraced the fact that Captain Hollywood has to be a flashy-vigilante as opposed to a dark one like I had original intended. I had to get away from the Batman-vibe, and of course that meant a complete redesign. This redesign was actually the toughest I've ever done because I honestly didn't know how to roll film industry, flashy, and superhero into one thing. So I decided to look up film industry from across the globe and eventually remember the lucrative film franchises of Kamen Rider, Super Sentai, and Ultraman. With their dynamic poses, costumes, over the top fighting and acting, I knew that had the look I was looking for. So now Captain's new look combines the film industry themes of two different cultures. And overall I am quite happy with what I produced.
With Captain's new revamp comes a new character direction. He is still the golden boy we all love, but now a theme among him is that he is a somebody who became a nobody in order to be a better somebody. The thinking behind this is that Hank Thomas felt he was only a somebody people loved purely for being famous and not contributing anything worth while. So he gives up his life and starts over by faking his death, the reason for this is because he believes if he were to become Captain Hollywood while as Hank Thomas and got exposed, people would think it was just a publicity stunt and all his work would be for nothing. His new life as Jack Smith allows him to have no ties to his old fame life so if people expose him, they think he is just some random guy actually trying to make a difference in the world.
As Jack Smith, captain is able to blend into the background but still gain the information he needs working and a crewman in Hollywood. Jack's crewman status allows him to blend in and hear all the corruption and seediness that goes on behind LA's glamour and in the underground without being noticed. His position in film indsutry as a jack-of-trades crewman allows him to gain access to secure location and restricted areas that are normally required with ID for projects. His Captain Hollywood identity allows him to be himself but also be a hero that serves as an icon and beacon of change in the city, slowly earning the public's trust. Both identities require great acting on Hank's part.
So, most of Capt's allies will also be getting a revamp of the Sentai treatment, including Super Star and PopStar, and I'm even thinking of bringing back Captain Bollywood.
FUN FACT: Captain's real name is a play on actor Tom Hank's name, who is the actor I respect and admire the most for doing The Whole celebrity thing right. His Jack Smith persona uses the most used first name and surname in movies.
NEW NOTES FOR CAPT'S UPDATED ORIGIN:
So, in regards to getting Captain Hollywood to better fit in with the Renaissance, I have now changed his origin in which Capt. does fall victim to a celebrity lifestyle before becoming Captain Hollywood. It gives him a fall from grace that he can rise up from and be a better person/hero for. I should point out that during his time as a celebrity he wasn't a complete asshole, but more like Tony Stark in the beginning for the first Ironman movie: carefree and love for being famous while taking for granted what he had.
COMMENTS PLEASE!!
Made using FH14
Hank Thomas aka Jack Smith aka Captain Hollywood is © of me!