It's been ages since I made a journal, so I figured I'd do one out of pure boredom.
Halfway through the second term of school, the last two weeks have been a tad stressful but I'm trying to take it easy. Of course there's a small window of opportunity to draw these days, but I try to keep it up, especially if I want to get into this sort of field in the future.
Anyway before I get into it, I'd like to thank you all for over 20,000 page views, over 100,000 deviant views, and over 350 watchers! I get a lot of my motivation from everyone here, so I appreciate that.
Okay so I've just had my 18th birthday and I've got a bit of cash to spend. I've decided to invest in a proper Wacom tablet, not sure what size or whatever yet, but I'd like it pretty big. Medium seems good for $500, but there's the large for $700 and that's too tempting. If I do get one, I'll be trying to work with programs like Open Canvas and Corel Painter and head into a smoother style. But I doubt I'll be able to completely ditch the Cell-Shading stuff, it's too much fun, and so is Toriyama's style.
Once I do get the tablet going I'll most likely be doing a lot of original stuff; original characters and scenes, or at least wider range of sources for inspiration, straying away from the Dragonball style for that sort of thing.
As for upcoming works, remember that
2d75.deviantart.com/gallery/#/…
finished SSj3 Gohan poster concept) I drew up? Well I've kick-started that back up, and I'm making progress. Once I finish it I'll put it up for sale on Ebay so people can buy it printed!
I'm also willing to do some more conceptual sketches for Dragonball characters that never appeared, like these: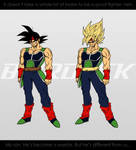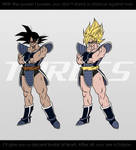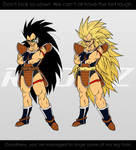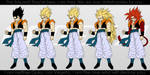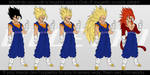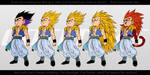 But keep them within reason, I won't draw a character no one knows/cares about who had no effect on the story and never could. The Vegetto/Gogeta ones were great ideas, that's the sort of stuff I'd like to hear from you.
Those are the only sort of 'requests' I'll take, feel free to make as many suggestions as you like for larger works, but I won't make guarantees.
So yeah, 'till next time, seeya's round.
2d75.
Tom.