Good news everyone!
First, I made a Patreon!
www.patreon.com/moxie2D
I really want to improve myself while helping others learn by sharing my digital resources and doing things like tutorials and guides. Creation runs in my blood and if there's a way for me to do it as a living then I have to try make it work. This basically is your chance to help me create and share content consistently and comfortably, while I share everything I can to help everyone else get better around me. This means tutorials, videos, brushes, PSDs, any type of digital resource I can give.
The big goal for the Patreon campaign is getting these posters and shirts selling internationally, and if we can hit the $1000 goal it will allow this to start happening extremely soon. For the artists, each pledge tier has heaps of cool stuff that I don't give out too often!
For $1 (that's like a cheeseburger) a month you get
Exclusive Patreon art
The Patreon activity feed to post and interact with me and all the other patrons
Voting on daily drawings
For $3
All of the above
Step by step process snapshots
Line drawings for you to practice colouring yourself
All my art from the month in high-resolution (and I work BIG)
For $5

All of the above
WIP pieces that I usually keep to myself
Sketches and art that is NSFW, which I've literally never posted before
1x entry in the poster commission raffle (you and your favourite character drawn together, printed and signed!)
For $10

All of the above
Raw, layered PSDs (so you can see my Photoshop tricks)
1x entry in the poster commission raffle (that's 2 chances at winning!)
I'll also be aiming to do things like tutorials, studies and video process walkthroughs
.
Also with the added financial stability Patreon can help me with I'll be able to spare more time for commission work so you guys can finally see what you want to see.
I'll even be giving out a free commission once we hit $200!
For those of you who don't know what Patreon is:
It's basically the Fusion Dance equivalent of Twitch Subscriptions and Kickstarter. You can pledge an amount that you specify for each month to help support my art
.
Becoming a patron helps me continue doing what I love.
If we can spread the word and hit the end goal, I'll be able to make international shipping for these posters and more happen fast! (I live in Australia)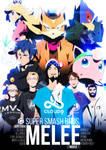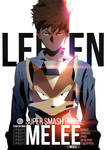 If you have more questions, ask in the comments and I'll help clear it up.
Second, daily sketch month is back for June!
Vote for the character you want to see on day 1!
www.patreon.com/creation?hid=2…
This was a ton of fun and got a lot of people interested. I basically draw whoever you guys choose in my style each day for the whole month.
You can join in on the voting over at the Patreon feed, as well as get full sized versions and all the other fun stuff that comes with the rewards!
If you missed the last one, check out the compilation from April: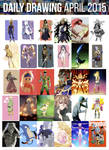 Thanks for reading, this is gonna be a crazy month so stay tuned!
Patreon:
www.patreon.com/moxie2D
FB:
www.facebook.com/moxie2d
Twitter:
www.twitter.com/moxie2d
Tumblr:
moxie2d.tumblr.com
DeviantArt:
moxie2d.deviantart.com
Instagram:
instagram.com/moxie2d