Journal Entry:
Sat Feb 4, 2012, 8:00 PM
So I figured out a way to justify using this skin & watch more Sherlock!
I simply told myself that I need to be caught up on Sherlock, so that I won't have to worry about spoilers! And having such an amazing epiphany means that I have to share it with all of you - hence I get to use this new skin! See how it all works out?
Plus, when I find fabulous work like this on dA:
:thumb283325580: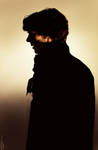 how am I supposed to stay away from the Sherlock??
So, I know what I will be doing most of this weekend. I regret nothing.

Cheers!
Watching: The Great Game
Eating: Frosted Lemon Cookies
Drinking: Tea

Watch
love the skin

Reply

John Watson knows how you feel

And what regrets could there ever be? (Have just rewatched Reichenbach for a sixth time.)
Reply

Yeah, I was going to try and savor them all, but I really don't like running into spoilers on here and Tumblr.

Anyway, how have you been? Haven't talked to you in awhile...
Reply

Well you can always return to the best moments. Or episodes. Or the whole lot.

Not spending much time here; did read your posts.
Reply

Yeah - I've been working quite alot, but I try to come on here to unwind. I just moved so I don't really know anyone. I'm lucky I have all of you!

Reply


Do you move a lot?
Reply

Yeah. I move loads! I've now moved more than once for every year I've been alive (on average). Because of my gypsy ways, I've finally been able to kick my pack rat habits and start living more minimally, which is good!

And - this might be the cheesiest thing I've ever said, but - it's nice to know where ever I go, you guys will be there. Even if go abroad, I know where to find you all!
Reply

Wow. For me it's about half the years... Minimal is good indeed.
Not cheesy at all - it's my anchor as well.

Reply

Haha. Yeah - people always ask if I grew up in a military house. Nope. Dad just quit his job & moved us around alot. I keep thinking it's a phase I will grow out of -- but the next few years don't look very promising. Especially since I want a job where I will basically be free lance. That will require me to be a little more flexible until I get established somewhere. But for now - I'm an expert at moving!
Thanks hun!

Glad to know I'm not alone.
Reply
(1 Reply)