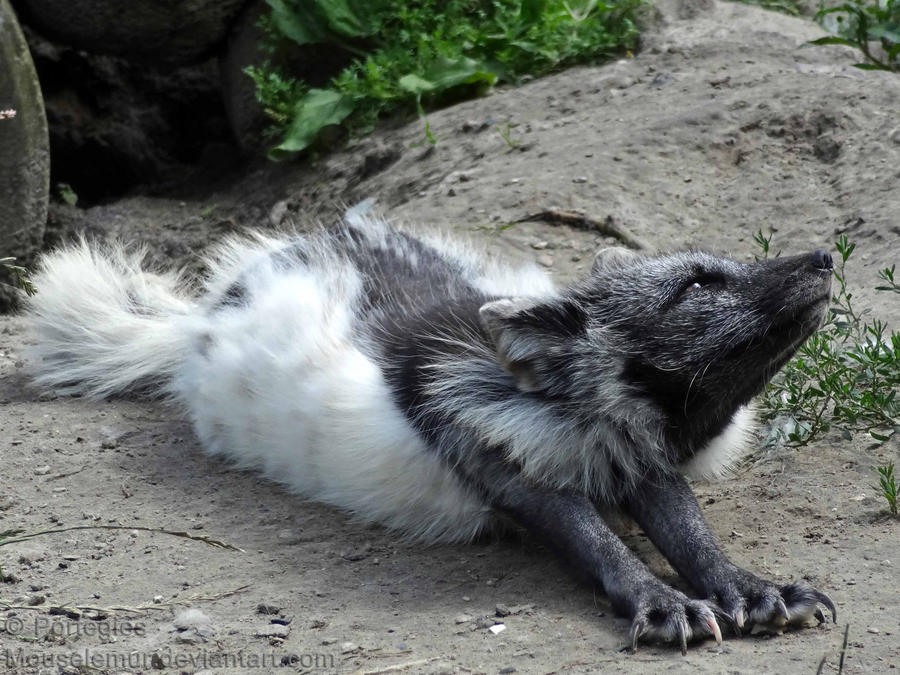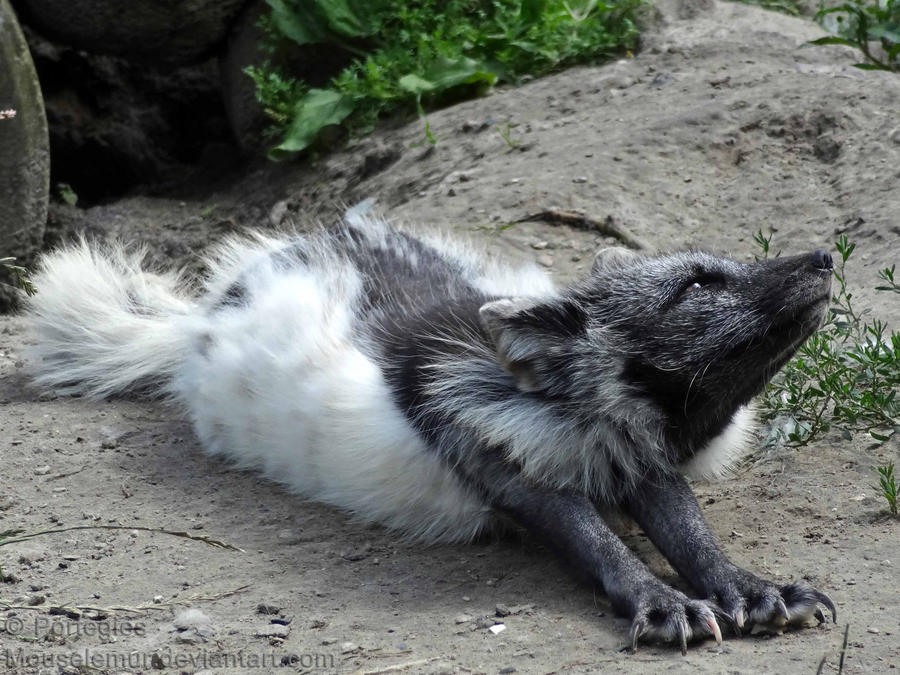 Watch
Photo taken in July, 2012 @ Zoo Dierenrijk, The Netherlands
EDITED
Cropped the photo a bit; it used to be upright, but there was a lot of nothing. Adjusted the colors a bit, too.
Missy the Arctic Fox doesn't even take the effort to actually stand up to stretch; she's practically still lying on her belly while she stretches so beautifully.
Even in Summer, she manages to look stunning

Sad thing to realize she's gone now - escaped the zoo, so have no idea how she ended up...
Species: Arctic or Polar Fox (Poolvos)
Latin name: Vulpes Lagopus
Originates from the Northern Hemisphere.
Current status: Least Concern
Did you know:
…Arctic Foxes shed their white fur in Summertime, for a shorter, grey or brown fur coat.
…Their body is generally of a round shape, as to minimize the escape of body heat.
© Me
I love it when you love my work, but please, if you want to use it in any other medium, ask my permission first.

Reply

It's the time of moult - shedding the white winter fur for the grey summer one

Or do you mean, since she escaped? I always hope they manage to keep themselves alive, but who really knows?
Reply

I mean, since she escaped

Reply

They always see foxes are champs in living of scraps and garbage, but we never heard about a number or even just one, arctic fox being spotted somewhere, anywhere.
There was this article once, shortly after the escape (which was announced at about that time) that they were spotted in a town 20 kilometers over. Maybe they crossed the border somewhere, or are living in the woods (my favorite fantasies to be honest) but it's just as likely that they were killed somewhere along the road.
They found the body of a wolf once - scared the entire country because it was in the middle of the country and they hadn't been spotted within our borders yet - but they found out the dead body was just dumped there. You'd think an arctic fox would make an impression, or at least make it into an article, but no such thing

Reply

streeeeetch, is what i thought when i saw this
Reply

Adorable capture.

Reply

awwww lookit her so pretty!

Reply

Very cute

Shedding winter fur?
Reply

She had her sweet moments indeed, and this is one of them

And indeed she's shedding het winter fur. She used to be all white, and last week when I saw her she had only two plucks of white fur left. But here she's still in the middle of shedding
Reply

so cute! The fur coloring of this fox reminds me of a rat...you know, that dark stripe on the back some rats have...
Reply

aaw. just aaw.

Reply