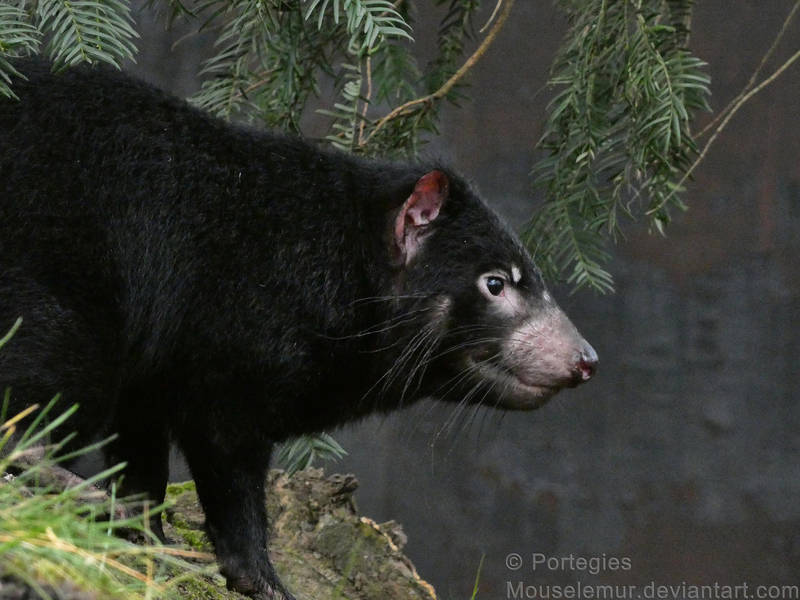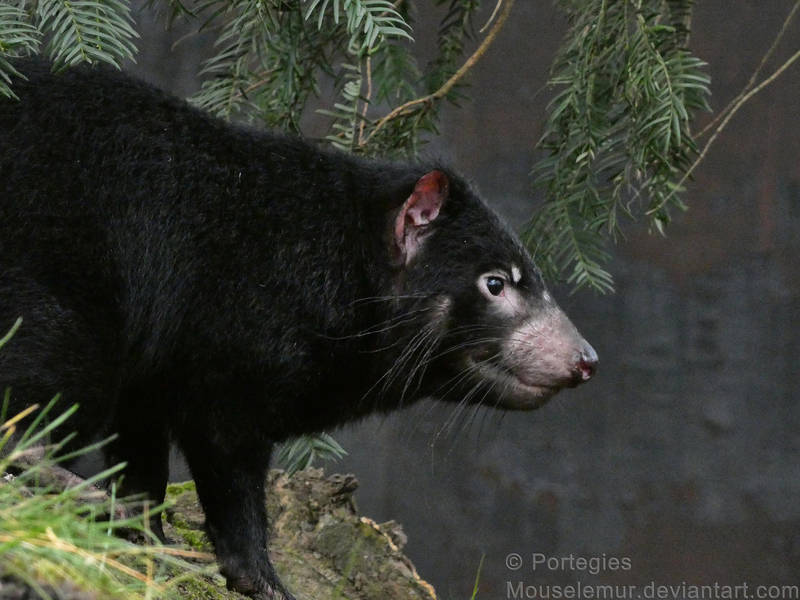 Watch
When: January 28, 2018
Where: Zoo Duisburg, Germany
We'd only had the oppurtinity to see Tasmanian Devils twice before - and we weren't very lucky in actually seeing them. This time, however, we were as they weren't just visible, but seemed to actually enjoy showing themselves.

My camera had basically started the day off with an error that ruins the stabilisation and is unsolvable, so with a lot of animals where we had to zoom in a bit, me and my camera were kind of useless... That's when you're really happy that it's not just you, but you're doing this with your sister because M got some amazing shots of these Devils while I enjoyed them mostly without my camera

Species: Tasmanian Devil (Tasmaanse duivel)
Latin name: Sarcophilus Harrisii
Originates from the island state of Tasmania.
Current status: Endangered
Did you know:
…Since the extinction of the Thylicacine, the Tasmanian Devil has become the largest carnivorous marsupial in the world. They are related to Quolls and distantly related to the Thylacine.
…The size of a small dog, they are characterized by their stocky and muscular buiold, black fur, pungent odor, extremely loud and disturbing screen, keen sense of smell, and ferocity when feeding.
…They are capable of surprising speed and endurance, can climb trees and swim across rivers.
…Devils have faced many threats to their survival; for a long time they were considered one of the biggest threats to livestock and other animals, as well as being hunted on for their fur. They became endangered and have since been protected.
…In the 1990, the Devil Facial Tumour Diseas has drastically reduced the population and now threatens the continued survival of the species. Programs are undertaken to reduce the impact of the disease, including an initiative to build up a group of healthy devils in captivity, isolated from the disease.
© Mouselemur's Photography - Portegiesje
I love it when you love my work, but please, if you want to use it in any other medium, ask my permission first.
To see more various animal photos, check out my gallery


Reply

Reply

They are! Only four zoos in Europe, and I happen to live close to 3 of them

Still, never a guarantee to see them, so every time you do is quite amazing

Reply

tasmanian devils are known to happen every day
Reply

Very nice capture of this cute fellow, reminds me of a little bear cub

Reply

Thanks

They have the most peculiar looks, I think - they're in between everything but also reminscent of a lot of different animals

Reply

Tasmanian Devil! That's an unexpected critter! (I am so enjoying your photos, never know what I'm going to see next!)
Reply

They're so incredibly cool - especially the group here, very active and fun to watch

That's a big compliment

We do our best to offer as much of a variety as we can - though we also have loads of the same kinds of animals, it's a lot of fun mixing those up with the unexpected

Reply