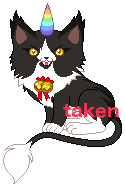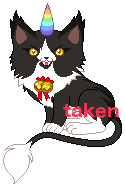 Watch
A custom I made for
LavenderSeaFairy
back in 2014.. She wanted a unihellcat based on an actual cat. x3
UniCats are a CLOSED SPECIES that belongs to mouldyCat and unicorngirl1.

You may get breeding rights once you bought 2 kittens - breedings rights can be requested here:
unicats.deviantart.com/journal…
Species Specs and Rules can be found here:


Daaawwww my baby Sly.
The one uni in my whole herd which I am selfish about not breeding with as he is so special to me.
If that's wrong I don't wanna be right XD

Thank you again for this. *pets her precious kitty*
--
"With out my friends & family I would truly be lost" ~


"U don't have to be blood to be family" ~


"Some of my best friends & the most interesting people are

insane people!"




"Cute but Psycho, Things Even out" One of my fav quotes from the Happy Bunny series


--
Avtar/Icon was made by StargazerSammie
--
Reply

glad you still like it so much c: i have a bunch of unicats as well that i will prolly never breed, for the same reason hehe >u>
Reply

Reply