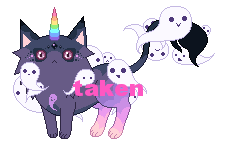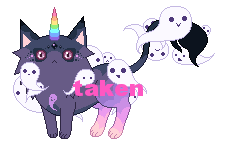 Watch
Here's another Halloween bbi, the ghost mutant, which I decided not to sell off, sorry. >u> I already made 2 breedings though! Will post them in a bit.
Mutant specs:
Surrounded by up to 13 ghosts (there will be less while the mutant is still a kitten, but once it is fully grown there will be 13 ghosts).
UniCats are a CLOSED SPECIES that belongs to mouldyCat and unicorngirl1.

You may get breeding rights once you bought 2 kittens - breedings rights can be requested here:
unicats.deviantart.com/journal…
Species Specs and Rules can be found here:


Reply

Super cute! I love the idea and of course the custom itself. Great job, dude.

Reply

I love this unicat, I even counted 13 ghosts on it. I'll eventually have to get one. I don't have any points right now so can't snatch any off of breedings you'll post. So I'll have to wait for friend to get one to breed.
Reply