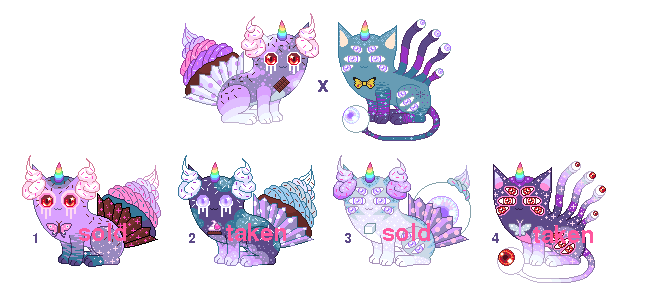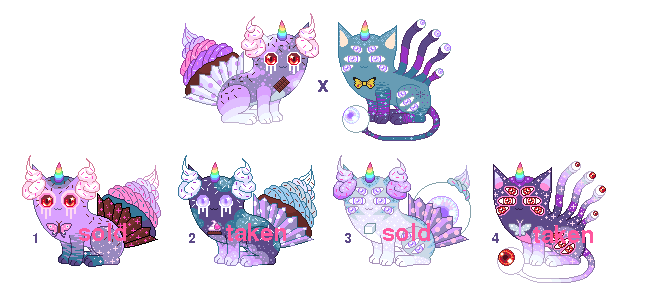 xxliquidrainbowxx
let me breed with her eyeball mutant and look, now there's an eyeball cupcake double mutant! much cute, very pastel goth, wow. xD

1. cupcake pastry butt mutant | pink butterfly | 250

|
LavenderSeaFairy
, ♀ Sprinkles

2. cupcake pastry butt mutant | strawberry cream chocolate |
xxliquidrainbowxx
, ♀ Creame

3. cupcake pastry butt x eyeball DOUBLE MUTANT | sugar cube | 350

|
PipzyPop
, ♂ Cyclops

4. eyeball mutant | grey butterfly | mine, ♀ Frye
I also accept Paypal, 100

= $1 USD, just add 50 cents for the fees please. ;3)
Wait for me to acknowledge your comment before sending any payment!
Points need to be sent through the commission widget payment panel on my profile page (unless I tell you otherwise).
I do holds, but only for 48 hours.
You will get a version without watermark.
Also once purchased, you'll have to give your kitten a name and gender and let me know what you picked.
♂ / ♀ / ⚥ / o (left to right: male, female, genderfluid, genderless/-neutral)
UniCats are a CLOSED SPECIES that belongs to mouldyCat and unicorngirl1.

You may get breeding rights once you bought 2 kittens - breedings rights can be requested here:
unicats.deviantart.com/journal…
Species Specs and Rules can be found here:


Reply

Ah ignore my hidden comment- I just was a bit confused ;u;
Reply

Reply

Reply

sure, please hit the 350 points payment panel on my profile page and let me know name/gender you picked :3
Reply

can I get #1 plz
--
"With out my friends & family I would truly be lost" ~


"U don't have to be blood to be family" ~


"Some of my best friends & the most interesting people are

insane people!"




"Cute but Psycho, Things Even out" One of my fav quotes from the Happy Bunny series


--
Avtar/Icon was made by StargazerSammie
--
The Cute but Insanely Psychotic Fairy Gummybear
Reply

yes, please hit the 250 points payment panel on my profile page and let me know name/gender you picked c:
Reply