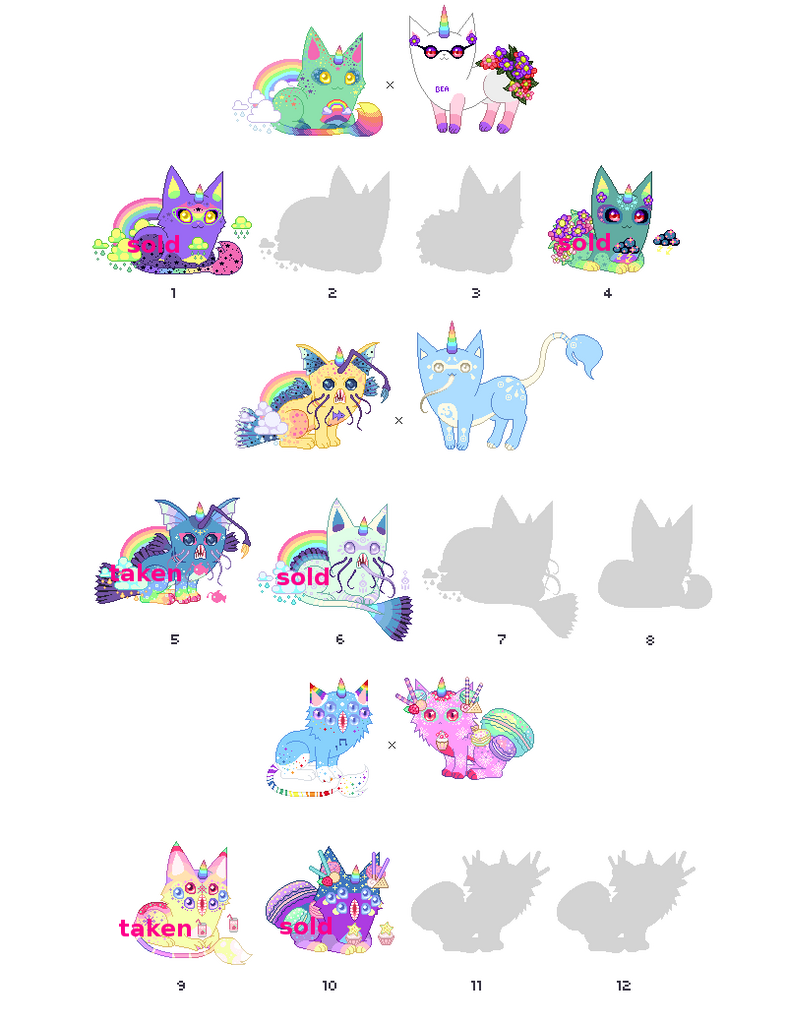 Watch
Here are 2 co-breedings with
Quapon
's lovely kitties, their half can be found here:
quapon.deviantart.com/art/Co-B…
Rizza x Bea

1. april weather mutant | acid cloud | 250

|
AriaThordia
, ♀ Iris

4. neoflower flower butt mutant | thunderstorm blossom | 250

|
xxliquidrainbowxx
, ♂ Ren
Colley x Milk Moon

5. angler fish x april weather DOUBLE MUTANT | pink angler fish | mine, ⚥ rainler

6. angler fish x april weather x spacecat MIX | alien sign | 350

|
Gothamed
,
⚥ Palace
Lyra x Johannis

9. nightmare mutant | strawberry lemonade |
Quapon
, ♀ Sprite

10. nightmare x macaron pastry butt DOUBLE MUTANT | carambola cupcake | 300

|
Gothamed
,
⚥ Kaz
(I also accept Paypal, 100

= $1 USD, just add 50 cents for the fees please. ;3)
Wait for me to acknowledge your comment before sending any payment!
Points need to be sent through the commission widget payment panel on my profile page (unless I tell you otherwise).
I do holds, but only for 48 hours.
You will get a version without watermark.
Also once purchased, you'll have to give your kitten a name and gender and let me know what you picked.
♂ / ♀ / ⚥ / o (left to right: male, female, genderfluid, genderless/-neutral)
UniCats are a CLOSED SPECIES that belongs to mouldyCat and unicorngirl1.

You may get breeding rights once you bought 2 kittens - breedings rights can be requested here:
unicats.deviantart.com/journal…
Species Specs and Rules can be found here:


Would it be possible to get both #6 and #10 w/paypal? ;v;
Reply

sure! c: please send $7 USD (includes 50 cents for fees) to mouldycat@gmx.de and let me know names/genders you picked for your kittens!
Reply

could i get number 4 please?
Reply

Reply