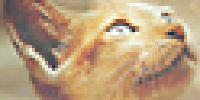 The fog thickens, the rain drizzles, and streets are shrouded in the crunch of leaves. Do you hear that? Is it just your imagination, or has Starclan's warnings continued to haunt your dreams? In celebration of these hair-rising, spine-chilling times, we're throwing a costume party! And our characters are invited!
The theme for this contest is a COSTUME CONTEST! Pick a character, ANY character, and dress them to impress. All forms of art are accepted (traditional, digital, write it out, collage it up, photograph that strut, etc!), as long as it relates to the topic! Some examples of a character in costume:
For this contest we are encouraging members to focus on the design of the costume first and foremost! So reference sheets of your character in the costume are encouraged! Or a sweet little scene of the costume in action is cute too! Once the contest has ended, members will vote to decide who wore-it-best!
RULES
Please read through all of the rules before you start your piece.
No "costumes" that would be offensive and/or insensitive towards other cultures.

No sexually explicit costumes.

You must be a member of The Apostles forum and DA group.

All forms of art are allowed for the contest, whether this is digital or traditional art (such as paintings, drawings, sculpture), written one-shots or poems, photography, etc. If DA allows it as a submission, it is allowed in the contest.

You may not use line-art, bases, or collaborate with someone else for your entry.

Only characters from TA are allowed.

One entry per member.

Submit your finished entry to the group in the Contests folder with 2021 October Art Contest somewhere in the title.

Entries will not be approved/revealed to the entire group until the contest is finished.

Entries must be submitted by 11:59 p.m. CST October 31st, 2021.

Once the entries have been collected, they will be compiled on the forum, and members will be able to vote for the entry that best embodies the theme.

Voting will take place from November 1, 2021 to November 7, 2021.

The winner and runner-up will be declared on November 8, 2021.

If there are any ties, we will do emergency tie-breakers as usual.

If you have any questions, reach out to a staff member on the Discord.
Prizes will be volunteer based, so if you want to offer your artistic services, please reach out to a staff member on the discord.
PRIZES Limited edition award
WINNER
Limited edition award

Full body from Canna, Wish, and Budgie

Two cat pieces from Lightning
RUNNER UP
Participation award

Headshot from Canna, Wish, and Budgie

One cat piece from Lightning
All participating members will also receive an award unique to the contest.