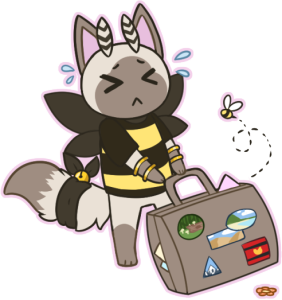 As you may have heard, many ARPG functions of Mothcats, including Mothcat Banks, are being moved to
Mothcats.com
. If you want to know more about the new site, please check out
this announcement
.
All currently owned items will be transferred over to the new site manually by staff using information from your Mothcat bank!
Before starting your bank transfer, please do the following:
Ensure that your Mothcat Bank is up to date, this includes updating any newly received items, and ensuring you have logged the uses of items such as MYO tickets, clothing slots, and any items attached to Mothcats via Mothcat trackers or other means
Register on the site, Mothcats.com, and connect your Deviantart account to your Mothcats.com account
Once you are ready, please reply to the appropriate comment below to start the migration process. The migration will consist of a few parts: Main Bank/Sticker Migration and Mothcat Tracker Attached Items (if applicable).
Please note, Main Bank/Sticker Migration is the priority, and Attached Items will be migrated at a later date
(though you may comment as soon as you are ready).
Once the migration process starts, your Mothcat Bank transaction log cannot be added onto or interacted with, any new activity must go through Mothcats.com
This process is being done manually, so please be patient while waiting for your comment to be claimed, and for bank to be migrated.
Staff will be thoroughly going through the Logs of your Mothcat Bank in order to verify items, and may follow up if there are any discrepancies.
We are aware that mistakes happen, w
e will be imposing corrections when needed, but
 there will be no punishment for discrepancies within your bank, unless there are extenuating circumstances. 
For discrepancies where you have any items that aren't accounted for in your log, we will follow up to track down the item if possible.
For discrepancies where you have an extra item in your logs that aren't accounted for in your bank, you have the option of whether or not to claim these items, and can specify what you would like to be contacted about.
If you decide not to verify and claim these items, you will forfeit them.
Each member's bank will be claimed by a staff member to process, please keep an eye out for any follow up questions regarding your bank from the staff member who is handling it!





We will be hard at work recording your items!
---